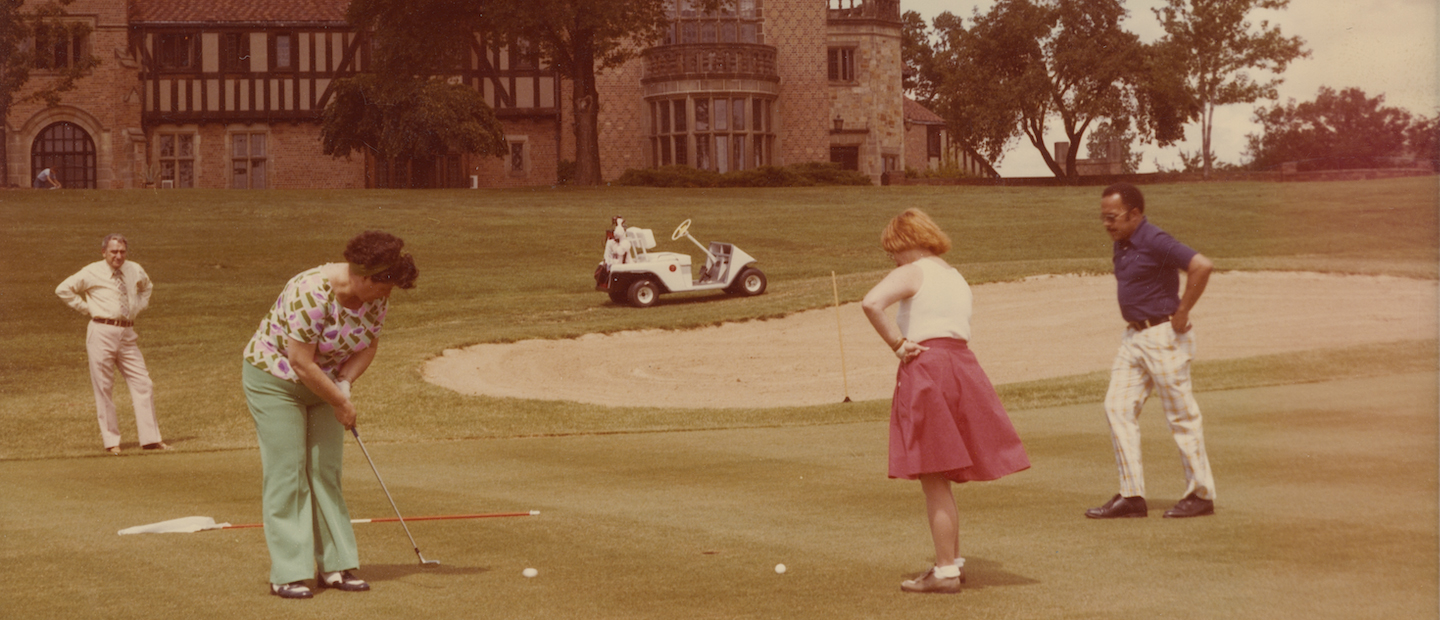 "Fore!" This expression echoed through the hills of Rochester long before anybody dreamed of the existence of Katke-Cousins Golf Course. Thanks to John Dodge's love for the game, golf has been a tradition at the Meadow Brook estate since the early 1900s.
Dodge was a fun loving, earthy, practical, hard-working, ingenious and quick-tempered man. He also was an entrepreneur and had his own way of doing things in business as well as in his personal recreation. Legend has it that he was "excused" from a few public golf courses for his salty language. Lucky for him, he had the means to create a personalized, nine-hole golf course in the backyard of his Rochester farmhouse, complete with a clubhouse. Whatever his motivations, there is no question that Dodge built a uniquely challenging course for himself.
"John took his golf game quite seriously," said Bill Rogers, OU golf and managing director. "Back then a bogey was the same as par is today, so his bogey 37 was a challenging round for nine holes."
Having his own private course had obvious advantages. It was a time when the young game of golf was an increasingly popular pastime for local businessmen, and courses were becoming crowded on weekends and holidays. The privacy of the Dodge course allowed Dodge and his friends to play a leisurely round of golf without the congested conditions of public courses. Stepping out the front door of his farmhouse, Dodge met with the conveniently placed first tee. He and his guests never needed to request permission to play throughout. The 3,081-yard course was designed with crossing fairways and could only accommodate one group at a time.
Similarities still remain between the Dodge and Katke-Cousins course. According to Rogers, the second green and the ninth hole of the Dodge course appear to sit very close to where Katke-Cousins' second green and ninth hole sit today. When Dodge closed the course for the season in 1919, little did he know that the next round of golf would not be played on the Meadow Brook grounds until 1977.
Dodge died of influenza on January 14, 1920, while on a trip to New York. After his death, his wife Matilda kept the farm running for the children's sake, but instructed her farm manger, John Cline, to "let the golf course lay, but don't let it go to ruin. Let the sheep run on the golf course." Matilda's wishes were carried out, and the Dodge golf course became grazing land.
Golf was not mentioned again until 1976, when Marvin Katke, a supporter of Oakland University since its inception, had the foresight to perceive a golf course as a beneficial investment for the university. Katke proposed an 18-hole course, offering to donate funds to build the front nine holes and find a financial backer to support the construction of the back nine holes. Oakland University welcomed the idea and pursued Katke's vision by hiring Robert Beard to design the course.
While the front nine holes were under construction, Katke recruited his good friend and next door neighbor, Harold Cousins, to donate funds for construction of the back nine holes. Surprisingly, during construction of Katke-Cousins, the Dodge golf tradition was uncovered when galvanized pipe used to irrigate the original greens was found on the site. Prior to that, there had been no visible signs of the old Dodge course.
The dedication of Katke-Cousins Golf Course took place in the fall of 1976 when the front nine holes were completed. In the spring of 1977, the course opened its doors for business with the additional nine holes.
The 72-par course includes points of interest on the Meadow Brook Hall grounds. The bridge on the 15th hole is believed to have provided access to John Dodge's pumping station. The 17th and 18th holes offer a magnificent view of Meadow Brook Hall while challenging the best of players. These historical highlights are enhanced by the course's natural beauty and abundant wildlife lingering in the wooded roughs and bubbling streams.
It has been close to 100 years since the first divot flew at Meadow Brook. And today, Katke-Cousins is rated among Michigan's most challenging courses by professionals and amateurs alike. Increasing golfer demand combined with the interest in attracting new university partnerships, the 18-hole R&S Sharf Golf Course opened in 2000. Golf Digest ranked the Sharf course 21st among Michigan's 855 golf courses.
"The R&S Sharf is pleasing because of the natural, wooded habitat," Rogers said. "The golfer can be taken in by its beauty."
But, don't let that fool you. Its elevated tees and undulating greens make it worthy of even the most seasoned veterans. Since opening, R&S Sharf has attracted well-known golf professionals including Lee Janzen, Frank Lickliter II, Rocco Mediate and Phil Mickelson.
The R&S Sharf Golf Course, designed by famed golf course architect and teacher Rick Smith, is hailed as a course rivaling those of old-style golf architecture often found in Europe. Smith limits his number of design projects to a select few. In deciding to work with Oakland, he said, "The university's commitment to developing a quality facility, their belief in the life lessons golf provides and the raw potential of the site were all big factors for me in pursuing this project."
The benefactors of Oakland's newest course, Stephan and Rita Sharf, have been loyal friends to Oakland for more than 25 years. Stephan Sharf is a former OU Board of Trustees member and an OU Foundation Board of Directors member. Rita Sharf, who passed away in April 2001, served as a member of the Advisory Board to Meadow Brook Theatre.
When the course was built, Stephan Sharf said, "We wanted to encourage Oakland to strengthen its partnerships and ties to the community. We hope our gift will inspire even more program growth and provide creative new opportunities for students in the future, building on the success of the university in recent years."
The passion for golf has meant more than simply carrying on a tradition, more than just a game. The course represents an investment in the university's future and cultural programs. It's a vision that John Dodge never could have foreseen.
(Excerpts taken from "The Dodge Golf Tradition Continues" by Lynn Elliott, Charlie Gehringer Memorial, Meadow Brook Golf Classic Program, 1993)