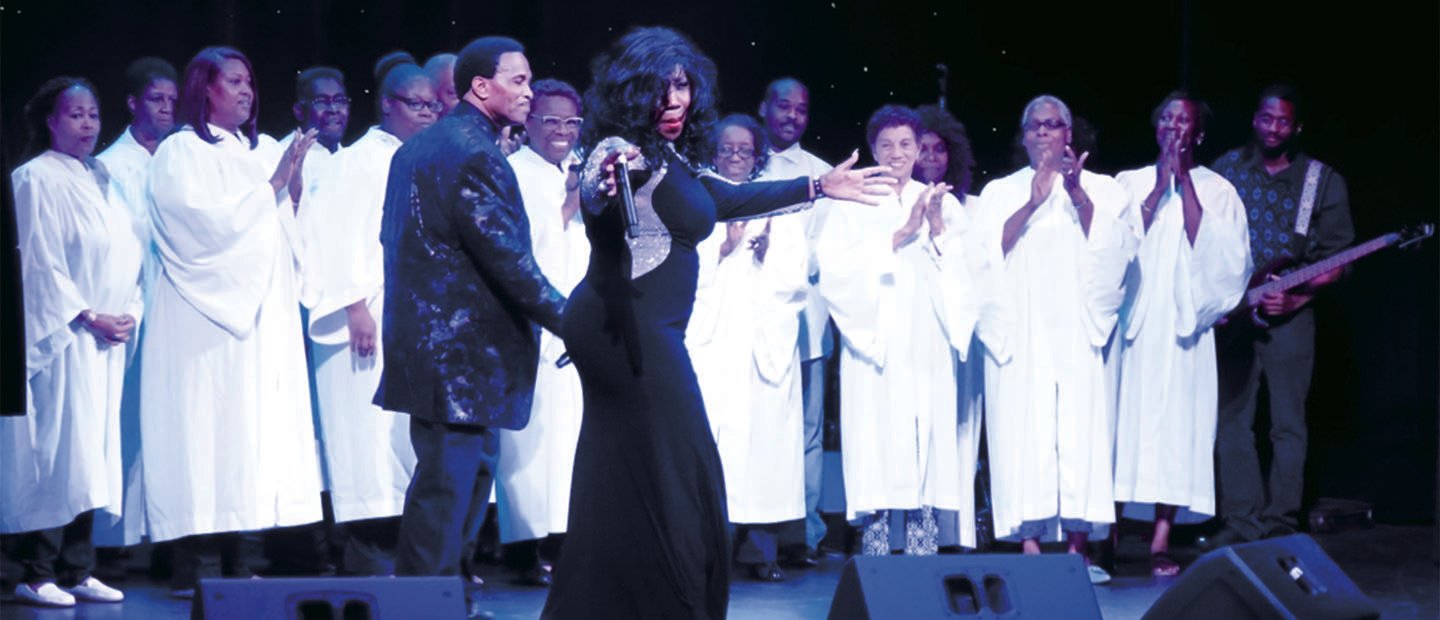 The Arts and Culture pillar works to promote performance arts to elevate Grizzly and Pontiac Pride. Pillar leads consist of locally recognized musicians that work to connect and heal spirits through the arts.
Pillar Leads

Mark Stone
OU Lead
Professor
World Music and Percussion
stone@oakland.edu


Irma Hayes
Pontiac Lead
Pontiac Arts Commission
irmahayes@gmail.com

Audra Pieknik

Community Partner
The Art Experience
audra@theatrexperience.org
Objectives
Increase the presence of, and access to, arts events in Pontiac
Promote and build a community that supports arts education in Pontiac
Provide community-engaged learning opportunities for Oakland University students in the fine and performing arts field
Elevate the spirit of our communities through the unifying power of the arts
Initiatives
Gospel Explosion
The Project Upward Bound Gospel Explosion is an annual event in which PUB scholars present their self-authored/choreographed/produced artistic expressions in conjunction with performances by local singers, dancers, mimes and more. The OU-Pontiac Initiative looks forward to hosting Gospel Explosion II to benefit Project Upward Bound Scholarships.
For more information contact Project Upward Bound Director, Geraldine E. Graham at
geri@oakland.edu
.
Soul Food Concert
In order to celebrate the oneness of humanity with artists of varied cultural, spiritual and faith backgrounds, Pontiac Arts Commissioners Dwayne Lyons and Mark Stone initiated the Soul Food Concert Series in 2017. In December 2018, Soul Food received the OU-Pontiac Initiative Community Impact Sponsorship Award for its inspirational music and words to nurture the soul and elevate the spirit.
Events
Music
OU Jazz and World Music with Regina Carter
Wednesday, March 30 - Saturday, April 2
Residency at the Flagstar Strand Theatre


Akwaaba, Ngoma, and Pan-Jumbies with Regina Carter
Wednesday, March 30 at 7:30 p.m.
OU African Ensemble (Akwaaba) will present Dagara gyil xylophone music of Ghana; World Percussion Ensemble (Ngoma) will perform Dagomba praise drumming of Ghana, along with original arrangements; and Steel Band (Pan-Jumbies) will feature Caribbean music arranged for the steel pan. Mark Stone and Patrick Fitzgibbon, directors. 


Oakland Jazz Singers, Golden Grizzly Jazz Singers and Jazz Band with Regina Carter
Thursday, March 31 at 7:30 p.m.
The Oakland Jazz Singers and Golden Grizzly Jazz Singers, led and accompanied by Scott Gwinnell, are close-mic vocal jazz ensembles dedicated to performing contemporary and traditional jazz vocal arrangements. The OU Jazz Band, led by Tim Blackmon, continues to uphold the American Big Band Tradition with a collection of fine soloist and ensemble players performing jazz music from the past, present, and the future.  


Latin Jazz Ensemble, Jazz Combo and Creative Jazz Ensemble with Regina Carter
Friday, April 1 at 8 p.m.
The Latin Jazz Ensemble, directed by Enrique Rios-Ellis, performs dynamic selections featuring a variety of Latin rhythms, celebrating the breadth of the Americas, spanning from the United States to Mexico, Cuba, and Brazil. The Creative Jazz Ensemble, directed by Mark Stone, explores improvisation within the American experimental jazz tradition, taking an organic approach to musicking that transcends but includes jazz. The Jazz Combo is directed by Marion Hayden and performs jazz styles from traditional to contemporary in a small ensemble setting. 


Community Jazz Workshop with Regina Carter
Saturday, April 2 from 12 - 2 p.m.
This interactive workshop will give students and community members an opportunity to engage with Regina Carter on the fundamentals of musicality and improvisation. Participants are strongly encouraged to bring their instruments as there will be opportunities to play.
To attend, RSVP via email to smtdboxoffice@oakland.edu.


Oakland University Jazz Collective with Regina Carter
Saturday, April 2 at 3 p.m.
The OU jazz faculty — including Mark Stone, Tim Blackmon, Scott Gwinnell, Mark Kieme, Marion Hayden, Gayelynn McKinney, Terry Kimura, and Enrique Rios-Ellis — will perform with OU artist-in-residence and acclaimed violinist Regina Carter. Featuring compositions by Djavan, Geri Allen, Sara Cassey, Thad Jones, Mark Stone and Scott Gwinnell.