YOUR GOLDEN OPPORTUNITY AWAITS
Are you driven to work in one of health care's most in-demand professions? Are you inspired to help others amid unprecedented times in the medical field? Are you seeking a career that is both rewarding and lucrative? No matter your motivation, Oakland University School of Nursing (OU SON) - ranked among the state's best - will prepare you to excel in the nursing field - and now with more opportunities than ever before!
To help support student success, our Bachelor of Science in Nursing (BSN) program offers:
The NEW Corewell Health Nurse Scholars Program, which provides up to $20,000 per recipient as well as guaranteed job placement at a Corewell Health hospital in Southeast Michigan for two years after graduation. Corewell Health is the new name for Beaumont. The Corewell Health Nurse Scholars Program begins for the ASD BSN students who start in Fall 2023 (application deadline, June 1, 2023) and for the Basic BSN students who start in Fall 2024 (application deadline, June 1, 2024).

Expanded BSN (pre-licensure) programs — additional seats now available

Direct Admittance (pre-licensure) to the School of Nursing out of high school.
Over 350 different scholarship opportunities available for students to apply for each year with 30 different scholarships specific to the School of Nursing.
The Accelerated Second-Degree Bachelor of Science in Nursing (ASD BSN)

for students who have a bachelor's degree in another discipline. The ASD BSN program takes 16 months to complete. The track admits students three times a year, start as early as Fall 2023.
Here, you'll develop the expertise necessary to apply the highest standards of nursing care and be connected with diverse clinical experiences throughout Southeastern Michigan. You will become a critical thinker and learn to use the best evidence to provide high-quality, safe patient care. We will also prepare you with the necessary knowledge and competencies needed to pass the National Licensing Exam (NCLEX-RN). 

There's never been a better time to be an OU nursing student!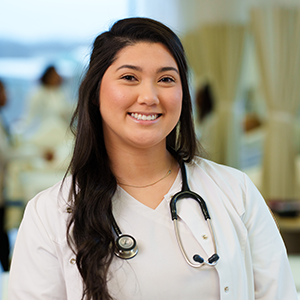 Natalie D.
The OU School of Nursing's affiliations with hospital partners enabled Natalie, a senior on the Basic-BSN track, to gain exposure to different patient populations and discover her "dream unit": Cardiovascular Surgical Intensive Care. Also passionate about helping those without easily accessible or affordable health care, she works with OU's nonprofit MEDLIFE-Oakland chapter to support low-income communities both locally as well as across borders. Bolstered by the extensive opportunities and support provided by OU's faculty and peers, Natalie plans to give back by mentoring future generations of nurses. "It is an honor and a privilege to work as a nurse," she says, "and I take great pride and joy in taking care of others in their most vulnerable moments in life."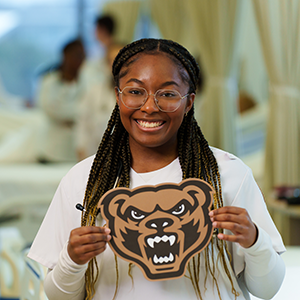 Tyra W.
By embracing extensive opportunities for financial assistance both from OU and the School of Nursing, Tyra, a senior on the Basic-BSN track, will graduate debt-free. She earned a freshman merit scholarship and later received both the Nursing Workforce Diversity ASPIRE grant and Nightingale Legacy Award. Initially drawn to OU's nursing program because of its outstanding reputation, Tyra also went on to serve as vice president of the Student Nurses Association of Oakland University and president of the Black Student Nurses Association of Oakland University. She chose to go into nursing because she wants to "be hands-on and make a difference in people's lives medically and emotionally."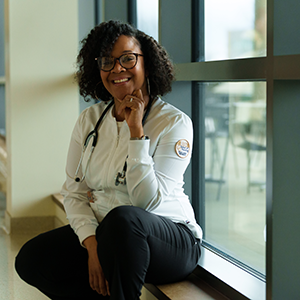 Tameka S.
Accelerated Second-Degree student Tameka earned a Bachelor of Integrative Studies degree in 2021 with a minor in Human Resource Development before shifting her focus. Now on the fast track to becoming a nurse, the OU alumna looks forward to integrating her core values—being intentional, resilient and empathetic—in her new career. As a member of the Black Student Nurses Association of Oakland University, Tameka wants to build on her legacy at OU as well as pave the way for those to come. She hopes to work as a pediatric nurse practitioner and take advantage of "endless" opportunities to "help, encourage and give back to others while staying humble, yet confident."