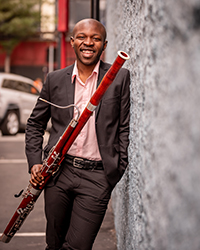 DSO Affiliate Applied Faculty, Bassoon
sloan@oakland.edu
No stranger to low notes, bassoonist/contrabassoonist Jaquain Sloan enjoys making the ground rumble when in performance. He has performed with a number of orchestras, including the Los Angeles Philharmonic, Detroit Symphony Orchestra, 2018 Video Game Award Orchestra, Baltimore Symphony Orchestra, Southwest Symphony, Debut Symphony, and the American Youth Symphony. He can be heard playing with orchestras on Naxos under the batons of Marin Alsop and Carl St. Clair.
Jaquain began his musical studies at age twelve as a percussionist when he participated in band in middle school. He stumbled upon the bassoon at age 15 and was self-taught until transferring to the University of North Carolina School of the Arts where he received his high school diploma studying under the supervision of Saxton Rose. Now his ease over the bassoon has earned him awards and recognition in competitions from organizations such as the Lenoir Community Music Club, Appalachian State University, Plowman Chamber Music Competition, and most recently with the Detroit Symphony Orchestra as an African-American Orchestra Fellow.
A native of North Carolina, Jaquain holds a Bachelor of Music degree in Bassoon Performance from the Peabody Conservatory of the Johns Hopkins University where he studied with Phillip Kolker, and a Master of Music degree and Performers Certificate from the University of Southern California as a student of Shawn Mouser.
When his instrument is not in hand, Jaquain can be found singing with various choral ensembles. He can be heard raising a voice for social justice through music with "Tonality," an ensemble based in Los Angeles, L.A Choral Lab, and "Laude" at the first Congregational church of Los Angeles.