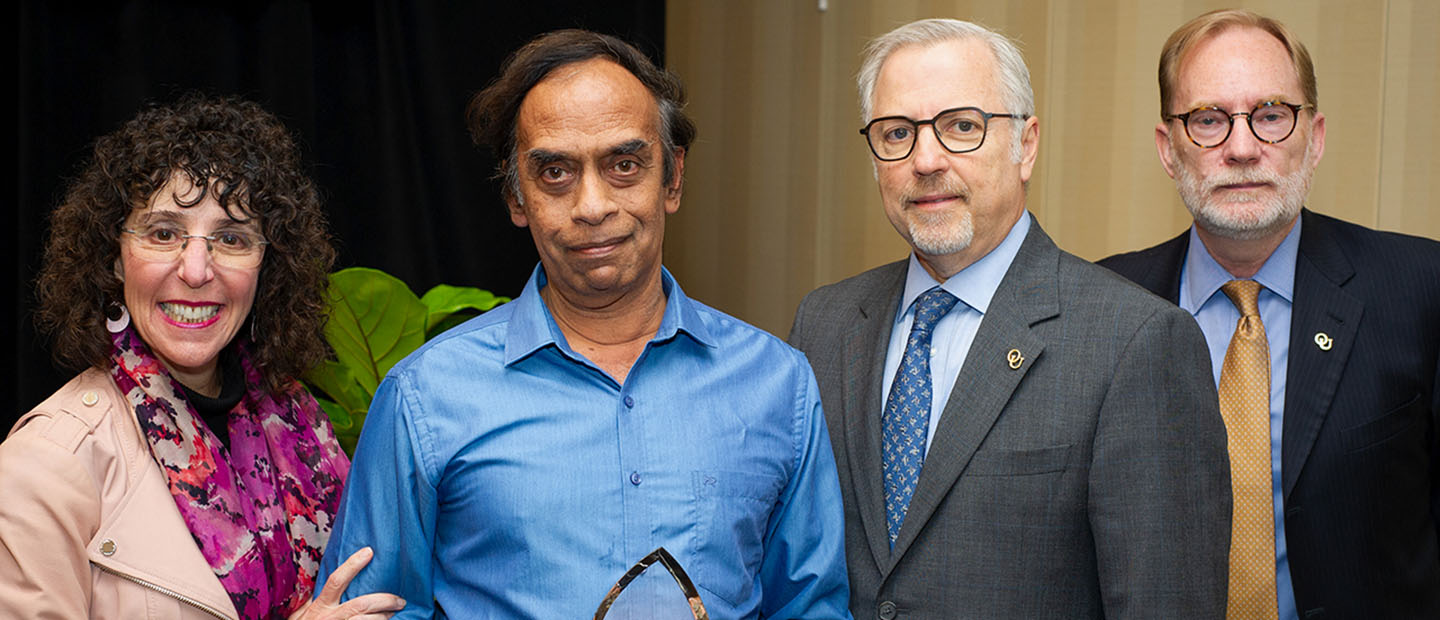 The Research Office holds an annual Research Town Hall to recognize outstanding research and initiative at Oakland University. Join us for our virtual Fall, 2022 Research Town Hall on November 3! (Details below)

"It's important to celebrate the hard work and the success of our faculty who seek external funding to support their research, their scholarship, and their artistry," said Dr. David Stone, OU's chief research officer. "The strong research environment generated by our outstanding faculty supports our strategic goal of maximizing student success and helps us live up to our mission of impacting the world through research."
Upcoming Research Events Around OU
Graduate Student Research Conference call for abstracts
The Graduate Student Research Conference will be held on the morning of Friday, March 10, 2023. Current graduate students and fall 2022 graduates are invited to submit abstracts of completed research projects. The conference will be held in-person.

The purposes of this conference are: 1) to provide an opportunity for Oakland University graduate students to present their scholarly work in a peer-reviewed poster or oral presentation format at a professional conference, and 2) to help prepare students for post-graduate scholarly opportunities.

Graduate Students: To submit an abstract click here.  The submission deadline is 1/15/23.
Healthology Symposium 
This year's focus:  Building a Foundation of Health through Lifestyle Behaviors
with focus on Interdisciplinary Health Sciences
March 23, 2023 | 2:00-8:00 p.m.
For more information, visit the website:  https://www.oakland.edu/shs/community/healthology/
Past Research Events Around OU
Fall 2022 Research, Innovation and Engagement Town Hall  
All 2022 Research Award Winners were honored at this virtual event.
Thursday, November 3, 2022
2:00 p.m. - 3:00 p.m.
A recording of the Town Hall can be found on espace: https://espace.oakland.edu/mod/page/view.php?id=131440

School of Engineering and Computer Science 2022 Faculty Research Expo
Friday, October 7, 2022
8:00 a.m. - 4:00 p.m.
Oakland Center (OC)
Healthology Symposium 
This year's focus:  Human Health related Research by Undergraduate Students
ECLIPSE is working with the OU School of Health Sciences 2022 Healthology Symposium on May 12th & 13th to bring undergraduate student 

research

 to the event. The Core Value of the Healthology Symposium is: Through 

research

 and engagement, Healthology enables students, faculty, and community partners to make meaningful connections, affecting positive change and impacting the needs of citizens within the campus community and beyond. This year's focus is Human Movement Sciences. We ask that all 

research

 be related to health sciences.
7th Annual Graduate Student Research Conference
Friday, March 11, 2022
Oakland Center or Virtual – TBD
SAS Day: Workshop on Visual Analytics, Machine Learning and Open Source Integration in SAS Viya (under Center Events tab)
Saturday, March 19, 2022
9:00 a.m. – 4:00 p.m.
Elliott Hall, Room 202
Engineering Research Expo
Friday, October 29, 2021
OC Founders Ballrooms
Departmental Seminars/Lecture Series