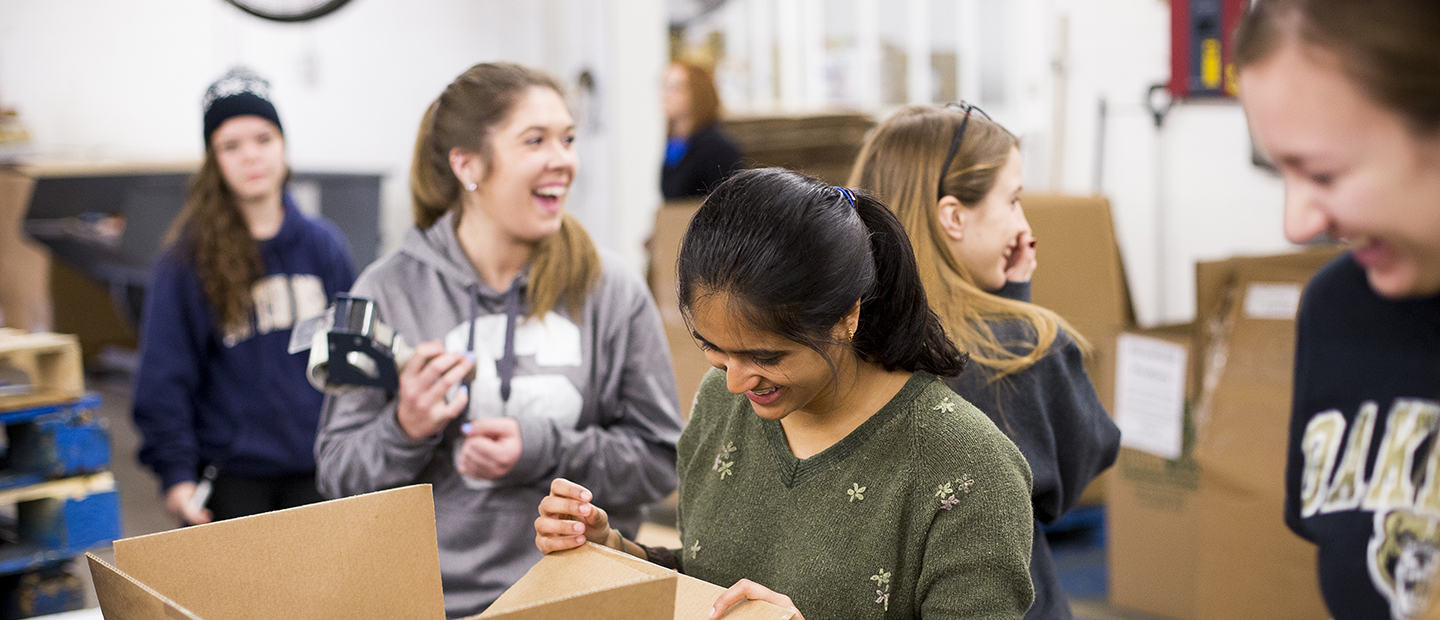 The Golden Grizzlies Pantry continues to provide food assistance to students through the Student Emergency Relief Fund. If you need assistance, please apply for the Student Emergency Relief Fund.
The University strives to equip students with resources to overcome obstacles. To help students achieve the utmost success, the Golden Grizzlies' Pantry tackles the barriers related to food insecurities.

An average of 36 percent of university students nationwide report experiencing food insecurity at some point in their college education (Goldrick-Rab, Richardson, Schneider, Hernandez & Cady, 2018).

The Golden Grizzlies Pantry assists those in need by providing food and community resources to positively impact their success at Oakland University. Students shouldn't have to worry about where their next meal is coming from.
For Shoppers
Who can shop in the pantry?
Any current Oakland University community member can shop in the pantry.
Do I need to complete any paperwork to shop in the pantry?
Yes, first time shoppers are encouraged to submit a Golden Grizzlies Pantry Intake Form. 
How much does the food/toiletries cost from the pantry?
Nothing! The pantry provides FREE food and toiletries. 
Do I need to schedule an appointment to shop in the pantry? 
For Donors
How do I donate to the pantry?
Appointments are encouraged, but not required. Donations may be dropped off in the pantry or you can schedule a contactless drop-off HERE.  
What can I donate to the pantry?
The Pantry accepts nonperishable food items, toiletries, and gift cards to local stores. 
What should I avoid donating? 
Expired food, perishable food items, food that contains alcohol, homemade food (canned jams, etc.)
In-demand Items:
Canned meats (tuna, chicken)
Spices
Snack bars (nutri-grain/granola bars)
Canned fruit 
Microwaveable soups
Rice/Pasta sides
Condiments (Jelly, Mayo, Spices, Salad Dressings)
Gluten-free/Vegan/Vegetarian options
Gift cards to local grocery stores (Walmart/Meijer/Kroger)
Toiletries (toothbrushes, toothpaste, paper towel, toilet paper, etc.) 
Interested in hosting a food drive? Contact us at oupantry@oakland.edu
Hours of Operation/Contact Information/Volunteers
Hours of Operation:
Fall Semester 2023 (September 2023 - December 2023)

Monday: 10 am - 5pm
Tuesday: 11am - 5pm
Wednesday: 10am - 5pm
Thursday: 10am - 5pm
Friday: 10am - 5pm
Walk-ins are welcome Monday-Friday, 8 am- 5 pm! Please enter through Office for Student Involvement (Room 49) for assistance.
Contact Us: 
Email: oupantry@oakland.edu
Phone: (248) 370-2731
Location:
Oakland Center, Room 49G 312 Meadow Brook Road Rochester, Michigan 48309-4454
Volunteering
Our volunteers play a key role in the success of our food pantry. Before volunteering in the pantry, please complete the following:
Volunteer duties include:
Answering walk-in inquiries
Assisting with check-out, weighing items and updating the online database
Helping load, unload, and pick up at various sites across campus
Counting items in the food pantry and helping maintain an inventory sheet
Maintaining the cleanliness of the pantry
Sorting through food items
Resources
Follow the link to our community resource guide. We have compiled a list of different resources that you may need for your convenience. If you are not able to find what you need, please reach out to oupantry@oakland.edu and we will do our best to help you find resources!
Care Package Request
We are unable to process Care Package requests at this time. Thank you for your understanding.