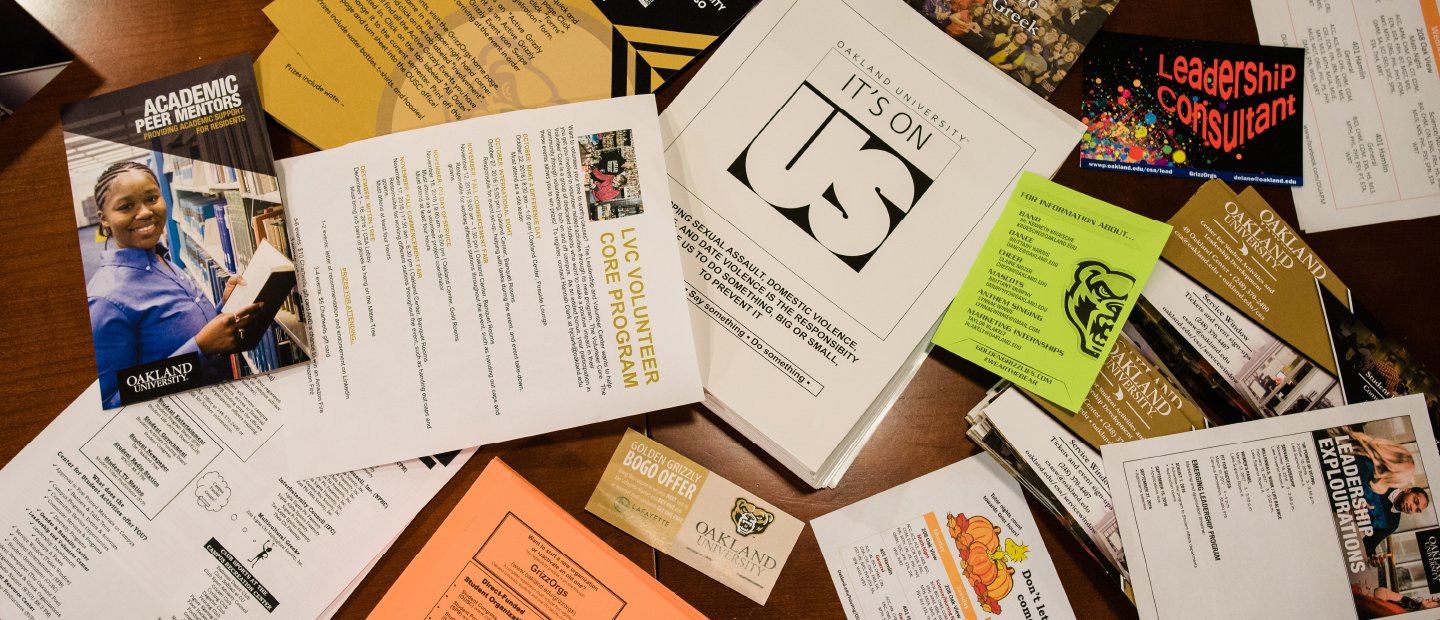 The Office for Student Involvement offers a number of services for students and departments at Oakland University including banner printing, equipment loan, posting printed materials, student organization mail services, storage units and room reservations. For more information, contact the Office for Student Involvement osi@oakland.edu.
Services
Advertising:   Banners and A-Frames
Student Organizations or OU Departments that want to purchase a banner must fill out the Banner/A-Frame request form through GrizzOrgs.  If you do not have an account with GrizzOrgs, you can create one using your OU email and login information. If you need assistance with your design please email osi@oakland.edu.  
Banners are hung in the Oakland Center for one week prior to an event. If space is available, requests can be made for an extended period of time. Banners are printed on white paper that measures 36" high by 84" wide. Other size banners and posters may be requested, and prices vary depending on size. All requests for colors and graphics will be taken into consideration, but final approval is at the discretion of the Office for Student Involvement. Banner costs start at $15. If a banner uses more than the average amount of ink additional charges in $15 increments. Requests received within one week of the date needed will incur a rush fee of $10 per banner. 
Organizations are responsible for contacting and obtaining permission to hang banners in buildings other than the Oakland Center, such as the Campus Recreation Center and Housing. Personal banners can be ordered but not on a priority basis, and must be paid for in full by check or cash upon receipt.
A-Frames are printed on white paper that measures 24" high by 36" wide. Design needs to be done in PDF or Publisher.  A-Frames are charged by the ink that is used and requests received within one week of the date needed will incur a rush fee of $5 per A-Frame.
Equipment
Equipment is reserved on a first come, first serve basis. It is recommended that equipment requests be made at least one week in advance. To reserve equipment you must fill out the OSI Equipment Checkout form through Grizzorgs.  It is the student organization's responsibility to pick up and return the equipment to the OSI. Equipment will be cleaned before pickup.  Please clean equipment before returning to the OSI. If the Office for Student Involvement is closed for the starting or ending time of the event, please return cleaned equipment to the Oakland Center Welcome desk.  Organizations are responsible for all damages or lost equipment. 
tables (8ft)
canopy
A-frames used for advertising
card swipes 
Various board games 
Bulletin Board Postings
Student organizations can advertise on the many approved OSI bulletin boards on campus by contacting the Office for Student Involvement. The OSI must approve all postings, and posting regulations must be followed or materials will be removed.
Printing/Copying
For student organizations, OSI is able to print 25 free copies of your flyer.  Student organizations must use University Printing Services for larger quantities of printing or copying.  Student organizations cannot use FedEx/Kinko's or other printing services off-campus. All materials must have prior approval before printing from the Office for Student Involvement.   
Faxing
The OSI sends domestic faxes for personal use at a cost of $1.00 per page, excluding cover sheets. The OSI will send and receive domestic faxes on behalf of student organizations for organization-related business at no charge. Faxes are placed in the organization's mailbox. 
OSI Fax number: (248) 370-4337.
Mail Services
Each student organization has a mailbox in the OSI for both on and off-campus mail. The mailboxes may be used with approval for distributing notices promoting on or off campus activities, products or services. Organizations must remove their mail once per week. Mailboxes may not be used as storage. You will receive an email from the OSI that your organization has received a package. 
Locker/Storage Units
You may rent a locker for fall and winter semesters in the Oakland Center lower level near the OSI office for $10. Locker availability is based on first come first serve bases.  Please email the osi@oakland.edu for more information.  Space is limited.
Storage units are currently unavailable through the Office for Student Involvement.
Availability and assignment of space is determined annually. If an organization receives storage unit privileges they must agree to the following:
All university policies and procedures apply to the use of the assigned storage space.
The storage of food and beverage is not permitted.
The storage of flammable materials is not permitted.
Student organizations cannot decorate the outside of their storage space.
There is no painting or writing permitted on any storage space.
Keys for the storage units can be signed out only by the organization's executive board members but must be returned to the OSI.
There is a charge for lost keys.
Room/Lawn Reservations/Bonfires
Rooms/Tables Inside Oakland Center:
Room and table reservations for inside of the Oakland Center are coordinated by the Reservations office located in Oakland Center, room 118. To request a room or table in the Oakland Center please , please fill out the Room and Table Reservations in the OC form on GrizzOrgs.
Rooms/Table Outside Oakland Center:
Currently, meeting rooms outside of the Oakland Center are not available.  Please check the OSI weekly news letter for current information.  When rooms become available please fill out the Non-OC Room Reservations form on GrizzOrgs.  
Lawn space: You can reserve lawn space around the OU Campus  Please see the Lawn Reservation form on GrizzOrgs for further information.
Bonfires:  You can reserve your Bonfire for your organizational members through GrizzOrgs with the OSI Bonfire Request form.
Forms
Information about university offices and services can be found in the Office for Student Involvement. Many forms are now paperless and online. For more information, contact the Office for Student Involvement.
Frequently Used Forms
Performance contracts: This should be used for performers, including DJs, speakers, bands and musicians. The Office for Student Involvement reviews, negotiates and approves all performance contracts for student and Fraternity & Sorority organizations. If you have questions, please email osi@oakland.edu.