Friday, Aug 04, 2023
'Day I've been dreaming of:' White Coat Ceremony held for OUWB Class of 2027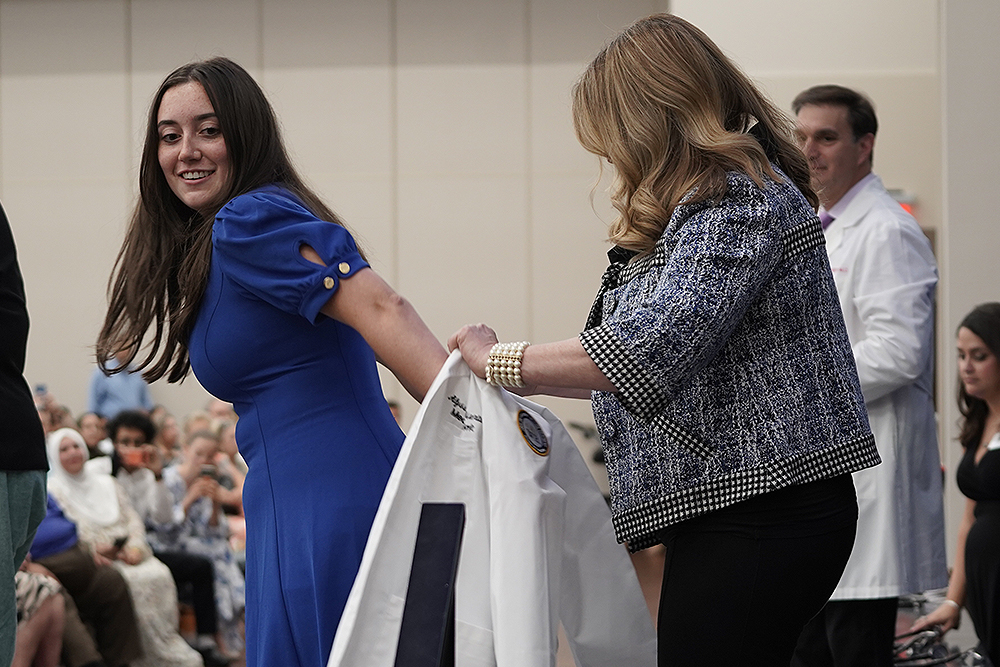 Alyssa Cadez-Martin receives her white coat from Barbara Herzig, M.D., a psychiatrist serving as a Prism mentor for some members of the OUWB Class of 2027.
Oakland University William Beaumont School of Medicine's 13th class celebrated its White Coat Ceremony Friday as members of the Class of 2027 took a huge leap toward becoming doctors.
The ceremony featured remarks from Oakland University President Ora Hirsch Pescovitz, M.D.; Jay Fisher, M.D., president, medical staff, Corewell Health William Beaumont University Hospital, Royal Oak; Abhinav Krishnan, Ph.D., associate dean, medical school admissions and enrollment management; and Berkley Browne, Ph.D., associate dean for student affairs.
About 750 people attended the event in person, with another 250 viewing the livestream.
"In the months ahead, your world will be changing quickly and you will amaze yourself at how you put into practice the new techniques that you've learned," said Duane Mezwa, M.D., Stephan Sharf Dean, OUWB, in a pre-taped video.
"You will be fully prepared to make a complete patient diagnosis that you will deliver – the OUWB way – with kindness and compassion," he added.
Fisher talked about how the medical students each have just begun a journey to serve humanity and make a profound impact on the lives of others.
"Your medical school experience is just the beginning of a lifelong journey of growth and development…of continuously striving to be the change that you want to see in the world," he said. "Never lose sight of the compassionate, devoted healers that you're destined to become."
Joey Solomon, M2, and president, OUWB Medical School Government, also spoke and urged the M1s to always remember their why, make time for memories and friendship, and that being a great physician begins with being a good person.
"I challenge each of you to make a habit of embracing your values and having the courage to stand for what is right," he said.
'The day I've been dreaming of'
The ceremony marked the end of a jam-packed week of orientation for the class.
Throughout the week, students took part in a crash course on all things OUWB — from the school curriculum to campus tours and meeting faculty. Students also participated in team-building activities.
By the time Friday's ceremony rolled around, students were ready to receive their white coats — an event that has become a rite of passage for aspiring physicians.
"This is the day I've been dreaming of. I'm sure tears will be shed," said Jookta Basu. "It feels surreal…it's just the beginning of something really big."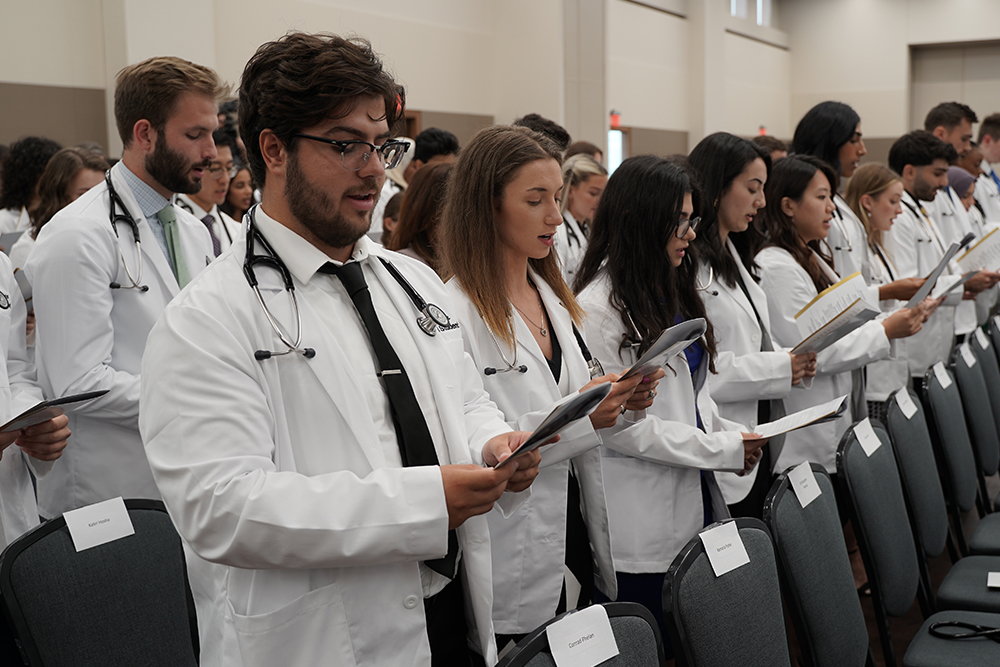 OUWB's Class of 2027 recites the Oath of Geneva during its White Coat Ceremony held Aug. 4, 2023.
"It's really humbling. You see this ceremony over and over…when you're applying. You're dreaming about it," said Corey Zhang. "You get to this point and you realize all the work that you put in….it feels really good."
As part of the event, Browne highlighted the various backgrounds and interests of members of the class, and noted that they collectively already have more than 106,000 hours of community service.
"There are far too many wonderful stories to share here today, but I can assure you that they all have one common theme: the passion for service to others and wanting to make a difference," she said. "We're looking forward to all the many positive ways you will service and contribute to the OUWB community."
Throughout the ceremony, officials from OU and OUWB addressed the significance of the event – which also includes recitation of the Oath of Geneva – and the white coat.
"Putting on the white coat is symbolic," said Pescovitz. "It is accepting the challenge to do your part to heal those in need. It is seeking the truth and making your decisions based on a scientific understanding of the world."
"And wearing the white coat means that you stand for integrity, high ethical standards and selflessness, which are at the heart of the altruistic endeavor to improve health and prevent diseases," she added.
Krishnan talked about what makes the OUWB white coat special.
"(The OUWB patch) represents the knowledge and technical skills that you'll acquire and master," he said. "And it stands for the attributes of an OUWB trained physician…the attributes that contribute to a compassionate, collaborative, and engaged physician."
Solomon also talked about the white coat and what it means.
"People respect this white coat and listen to those who wear it," he added. "That carries with it, an immense responsibility to walk courageously – to be good to those around us."

'Really, really grateful'
The post-event celebration was characterized by feelings of surreality, pride, gratitude, and excitement.
"For so long, medical school has been something that's so far in the future," said Mehreen Manikkoth. "So being here and having the white coat on now — it's like it's all coming to fruition. It's all actually happening."
For Neel Patel and Shreya Desai, the ceremony was a signifier of one chapter for the couple closing and another opening — the pair also attended Wayne State University together for their undergraduate studies.
"It means a lot to me that I'm able to go to school with my significant other and I'm able to make my parents proud, because they worked so hard to get me to where I am today," said Desai.
"I'm also proud of myself because I worked super hard to get here as well. I'm very excited, and I'm looking forward to continuing to work hard for the next four years."
"I'm really, really grateful to be here today," said Patel. "I'm here because of the sacrifices of so many people, including myself and my family. I'm really excited to start this medical journey."
For Tina Izad, the event was marked with gratitude — to her parents, community, and OUWB itself.
"I'll be a first generation physician in my family. It meant so much to see my parents here during the ceremony," said Izad. "I'm so grateful to Oakland for giving me this opportunity…I'm going to be a doctor."
"I'm just so excited to build a community with the people at Oakland. All my classmates are so nice, so kind, so compassionate," Izad added. "I'm really excited to get started."
Qihua Sun echoed a similar sentiment.
"I'm looking forward to the next four years. They're going to be very challenging, but I'm ready for it," said Sun. "(I'm excited to) learn the knowledge, make friends, and have a strong relationship with my class, the faculty, and the professors."
Families of the students were equally excited about the big day.
Jason Russek, father of Emily Russek, was emotional before the ceremony even began.
"It's emotional because it's here…it's happening," he said. "We were watching several of the YouTube videos from prior years just trying to toughen up and be ready."
Russek said he views his daughter getting to this point as a huge accomplishment.
"From what I understand, once you get to this point the odds of succeeding are much more in your favor than actually getting here," he said "It's a huge accomplishment."
Mohammad Jaura, father of Faisal Jaura, said he was already looking ahead to when his son becomes an M.D.
"A lot of hard work was put in by Faisal and his mother," he said. "Today is an exciting day, and we can't wait to see the even bigger joy that comes from all of this in four years."
Jeanine Neuenschwander, mother of Eva Neuenschwander, said it was amazing and "kind of surreal" to watch her daughter receive her white coat.
"The years have passed by too quickly," she said. "I remember when she was little and talked about being a doctor and wanting to help others."
"To be here today and see the beginning of that dream starting to come true was really amazing," she added.
To request an interview, visit the OUWB Communications & Marketing webpage.
This work is licensed under a Creative Commons Attribution-NonCommercial 4.0 International License.