Thursday, Aug 03, 2023
Learning the ropes: Adventure Park fosters bonding amongst OUWB's newest class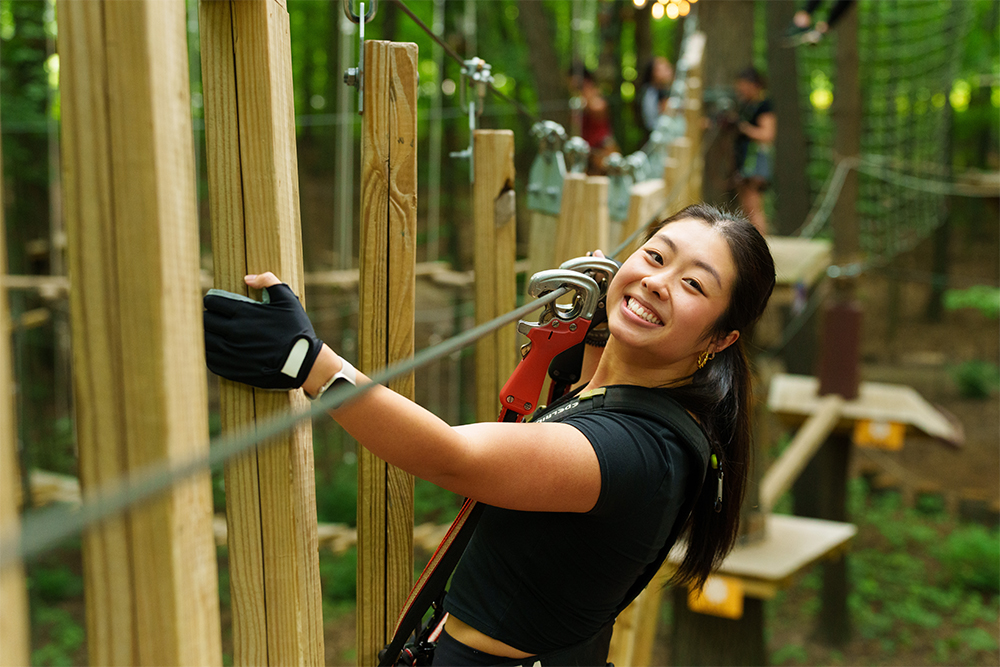 Lydia Duong climbs the ropes course at Oakland University on Aug. 1, 2023.
OUWB's matriculating class took to the trees during orientation week at TreeRunner Adventure Park, located on Oakland University's campus.
On Aug. 1, the incoming M1s spent the day in the park, zip-lining through various obstacles. The event was organized by OUWB's Student Affairs team.
The event has become a tradition that forms the bonds the students develop as classmates. Prior to the opening of TreeRunner on campus, the matriculating class would head to Ann Arbor for a similar activity. 
'The students really enjoy it because it gives them an opportunity to not only do something fun during the week when there's a lot of information they're taking in," said Katy Torma, administrative coordinator, Student Affairs.
The sense of comradery the TreeRunner course gives is backed by science.
Cameron J. Davidson, Ph.D., assistant professor, Department of Foundational Medical Studies said that the excitement brings the students closer.
"This could increase their heart rate and potentially provide a good basis for collaboration and connectedness among the medical students, which is super important when you're considering the long-term success of their outcomes," he said.
It all comes back to the foundation of OUWB — community.
"One of the things that is really important to us is instilling that sense of belonging because that, in turn, can affect their retention, how well they do, if they reach out for help, and utilize support services and the people around them as support," said Torma. "Community is what we're about. This was really the basis or the foundation for that going forward."
"It really enhances that belonging and the feeling of community, which are two huge things that we strive for (at OUWB)."
Working as a team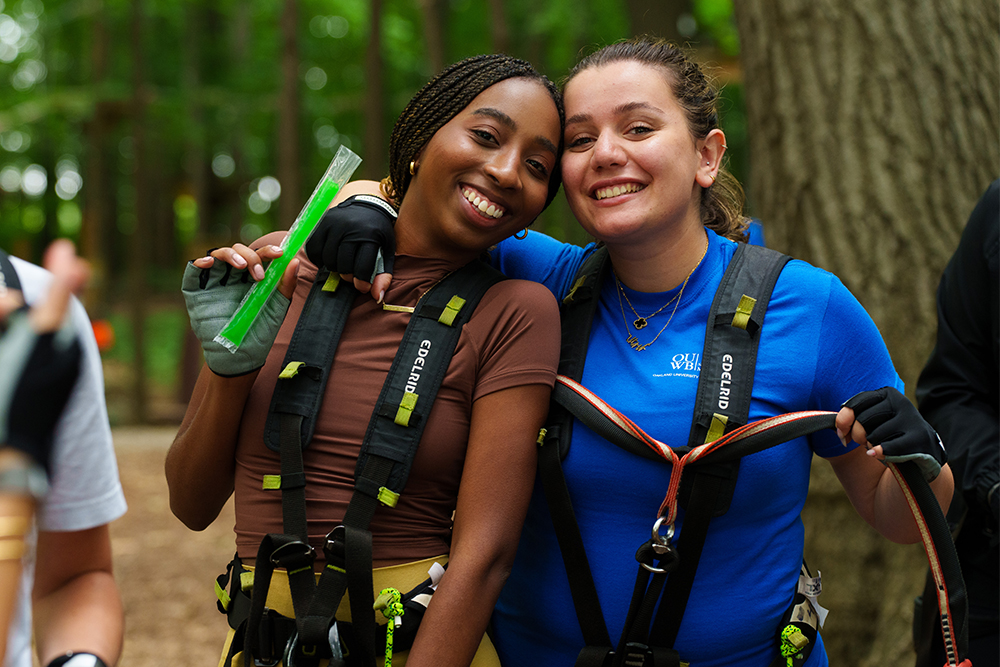 Sarah Nortelus (left) and Serly Tomas (right) take a break to have a cool treat during the team-building session.
TreeRunner features 24 ziplines, 65 climbing elements, and eight obstacle courses of varying difficulty levels — from the beginner course Daisy and the expert course Black Panther. Participants move between the platforms installed on the trees using various bridges, ziplines, climbing walls, and more.
Other team-building activities took place with feet placed firmly on the ground. In small groups, students had to find a way to get each member of their group to have their feet on a 2-foot-by-2-foot platform, help each other jump between three wooden platforms until everyone was on the same side, and more.
The students expressed their excitement to be getting to know their new classmates through the day's activities.
"It's really exciting. Everyone's always so open to meeting new people and saying hi and introducing themselves," said Chi Phan. "It's really nice because we're going to be taking every class together and taking exams, and I think this is a really great team-building experience."
"(This) eases your mind and confirms it's not a super competitive environment," said Eva Neuenschwander. "Everyone's willing to collaborate."
"I had a great time. We did bonding exercises…that really broke the ice because I didn't know some of the people that were in my group," said Sarah Nortelus. "It was fun seeing that side of people. We're going to be colleagues, but right now, we can just be friends."
Sarah Ibrahim said that the excitement of the activities helped her bond with her classmates.
"There's a little bit of a kick in the activities," she said. "It makes us communicate and help each other out when needed. It's nice."
Lydia Duong added that the support that the class gave each other brought them together.
"We were cheering each other on and working together," said Duong. " I feel a lot closer to my classmates than I did an hour ago."
To request an interview, visit the OUWB Communications & Marketing webpage.
This work is licensed under a Creative Commons Attribution-NonCommercial 4.0 International License.