Wednesday, Aug 02, 2023
Orientation for OUWB Class of 2027 continues, excitement builds for White Coat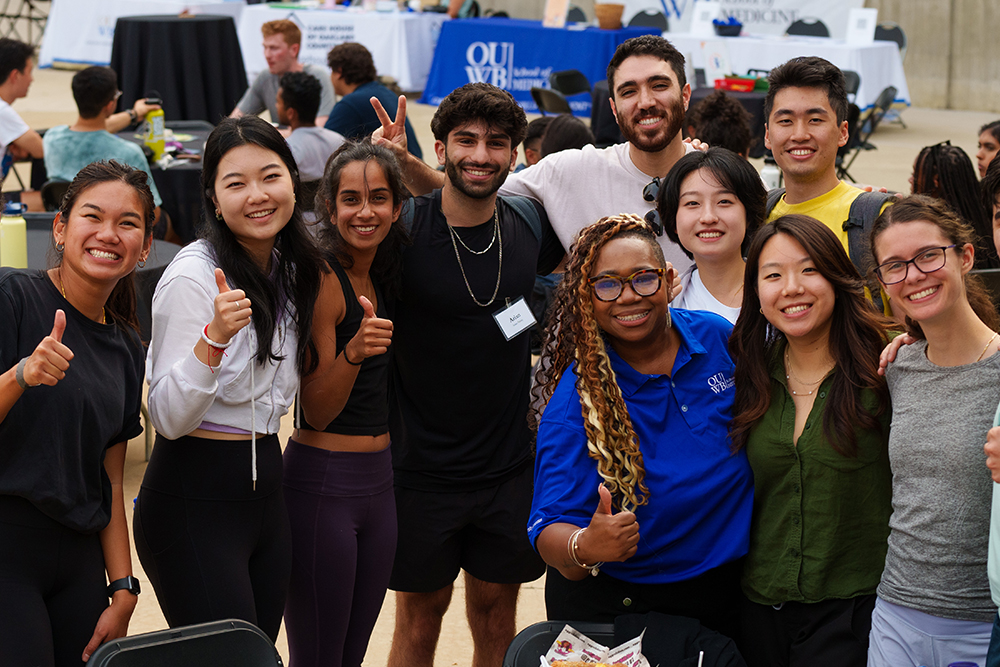 Tonya Bailey, Ph.D., associate dean for Diversity, Equity, and Inclusion & Community Engagement, and members of the OUWB Class of 2027 pose for a picture at the D&I mixer event held Aug. 1, 2023.
It's been a whirlwind week of orientation for the newest class at Oakland University William Beaumont School of Medicine, as excitement builds for the White Coat Ceremony set for Friday.
The week started on Sunday, July 30, with an event called "Sundaes on Sunday."
Students enjoyed ice cream treats and networked with each other as they filled out important paperwork and even wrote a letter to their future selves.
General feelings expressed by them that day were nervousness and excitement.
"I'm excited," said Mary Zylinkski. "Ever since I decided to become a doctor, I've been waiting to go to med school. Now, finally, it's like the first real step. I'm very excited to start…I'm excited to meet new people."
"It feels really awesome and surreal and a little scary because we see the week we're about to have," said Jonathon Stearn.
"It's just become a more tangible goal," said Zaynab Ketana. "This is a huge step towards our future."
"It's great to finally be around everyone," said Trenton Reinicke. "I'm super appreciative for the opportunity for us all to get together before we go into orientation week."
"We've worked so hard to get to this point and now it's happening, so it's very exciting," said Sama Joseph.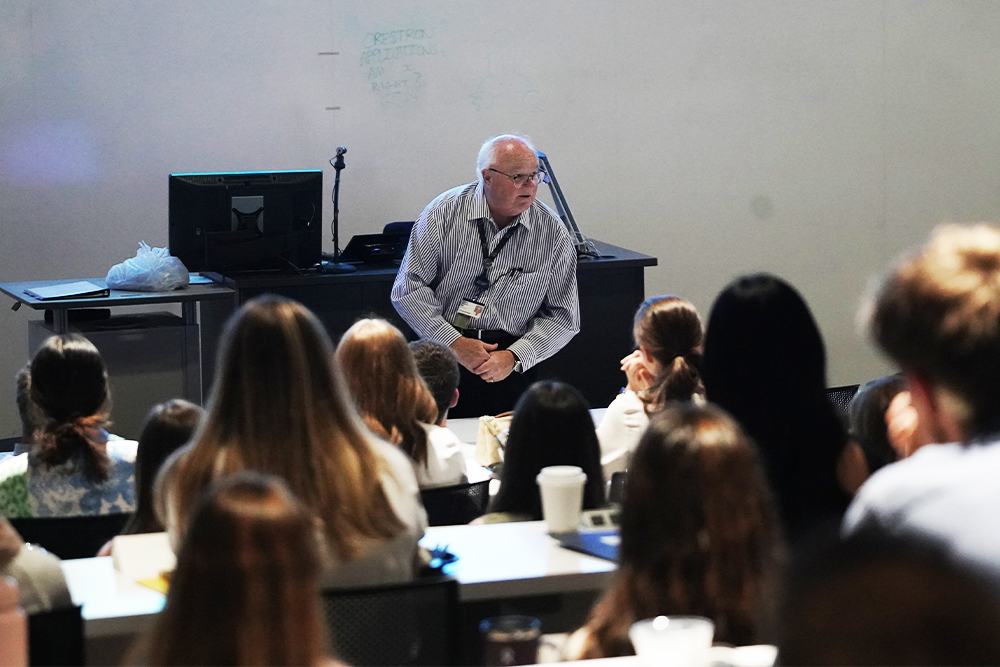 Duane Mezwa, M.D., Stephan Sharf Dean, OUWB, welcomes the Class of 2027 on July 31, 2023. 
In general, orientation is intended to introduce students to faculty and the curriculum as well as representatives from the various offices and departments students will interact with while at OUWB.
Things kicked off early Monday with a welcome from OUWB's Student Affairs team.
"I want to make sure that all of you know that you are here because we wanted you," said Berkley Browne, Ph.D., associate dean for Student Affairs. "We believe undoubtedly that you fit within our community, our mission, and our vision to produced physicians who are clinically competent…and also understand the importance of being kind."
Topics covered throughout the day included introductions from OUWB's academic success and mental health teams, a brief rundown of Anatomical Foundations of Clinical Practice (AFCP), and the first of three sessions throughout the week led by the Office of Diversity & Inclusion.
Tuesday the class split into two to allow for them to visit the Tree Runner Adventure Park (on the campus of Oakland University) to climb and for bonding exercises. At the same time, the other half of the class continued learning about the OUWB curriculum and departments. In the afternoon, the groups switched.
Members of OUWB's Class of 2027 work together on a team-building exercise at the Tree Runner Adventure Park on the campus of Oakland University on Aug. 1, 2023.
By the early evening, class members were ready to relax and continue connecting with their colleagues at a mixer sponsored by the Diversity & Inclusion team. The event was held in the middle of OU's campus, under Elliott Tower, and featured a DJ, two food trucks, ice cream, and plenty of fun.
"Our first-year medical students need to know that they belong, and that education is fun and challenging, and that they matter to us," said Tonya Bailey, Ph.D., associate dean for Diversity, Equity, and Inclusion & Community Engagement. "We wanted to put this event together to celebrate community and unity."
Nerves had started to calm down a bit since the first event of the week held Sunday.
"I'm super excited," said Soumya Chennupati. "You can tell that OUWB picked a good class because I've loved meeting everyone. Everyone's been super friendly."
Angelica Alexopoulos expressed similar thoughts.
"I really love the OUWB community, and our class has been really great," she said. "We hung out with each other even before orientation started…I've really just enjoyed everything."
Patrick Gabriel said he loved how everything seemed "high energy."
"I love it…the orientation material has been fantastic," he said. "You're never going to be fully confident when you're going to a new place, but I don't see myself struggling given the people and resources that they've made available to us."
Wednesday saw the class continue to learn more about the OUWB curriculum with sessions on the school's Biomedical Foundations of Clinical Practice (BFCP), Medical Humanities & Clinical Bioethics, along with more from D&I, and career development.
Later in the day, students from the Class of 2027 had the opportunity to see research from OUWB's upper classes. Specifically, 38 presentations from M2s who had internships at Corewell Health and in the community this summer.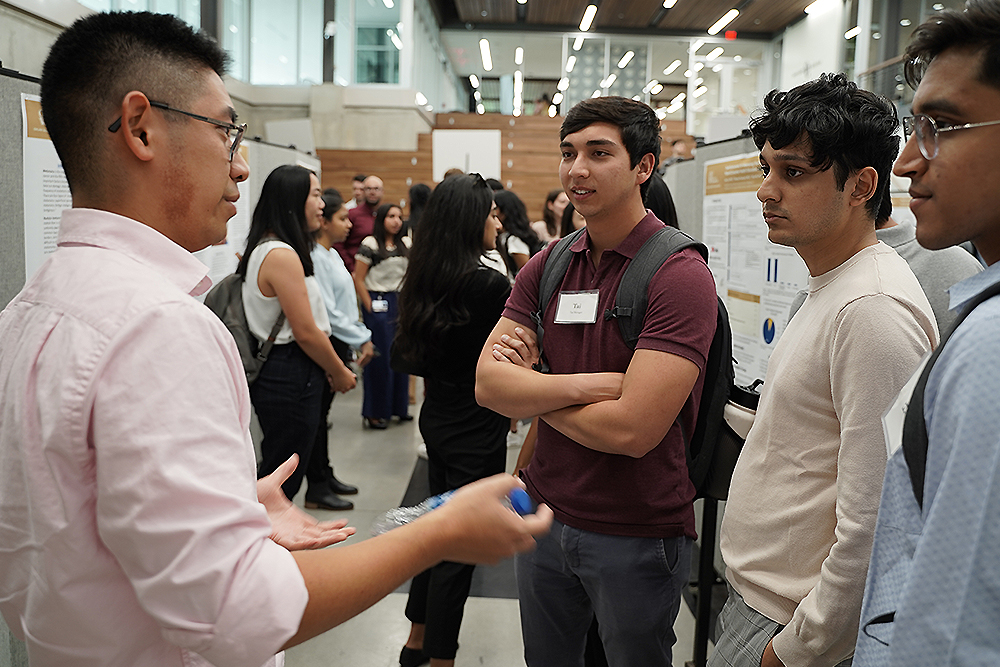 Max Kuang, M2, (left) talks with members of OUWB's Class of 2027 about the project that resulted from his urology internship at Corewell Health. 
Tracy Wunderlich-Barillas, Ph.D., director of Research Training, said the purpose of having the matriculating class see the research is to inspire, and allow them to see what they can do in the next year.
Further, she said, with Step One now being pass/fail, medical students are looking for additional ways to differentiate themselves from others.
"These kinds of opportunities are a way to stand out," she said. "And it can give others an idea of what can be done."
Members of OUWB's Class of 2027 said they generally felt inspired.
"It's really exciting," said Kate Workman. "I like seeing what they're all doing so we can see the kind of things that we can be doing as soon as next summer."
Amanda Henderson shared similar thoughts.
"It's exceptionally interesting to see how they were not only able to get these internship opportunities, but either grow as individuals or incorporate what they were previously interested in with the internships," she said. 
Orientation for the class continues Thursday, as it moves one day closer to its White Coat Ceremony.
The OUWB Class of 2027 White Coat Ceremony begins at 2 p.m., Friday, Aug. 4. The in-person event is being held at Oakland University's Oakland Center. Also, the event will be live streamed here.
For more information, contact Andrew Dietderich, marketing writer, OUWB, at adietderich@oakland.edu.
To request an interview, visit the OUWB Communications & Marketing webpage.
This work is licensed under a Creative Commons Attribution-NonCommercial 4.0 International License.