Wednesday, Jul 19, 2023
'Once-in-a-lifetime learning opportunity:' Medical students from OUWB head to Poland for Study Trip to Auschwitz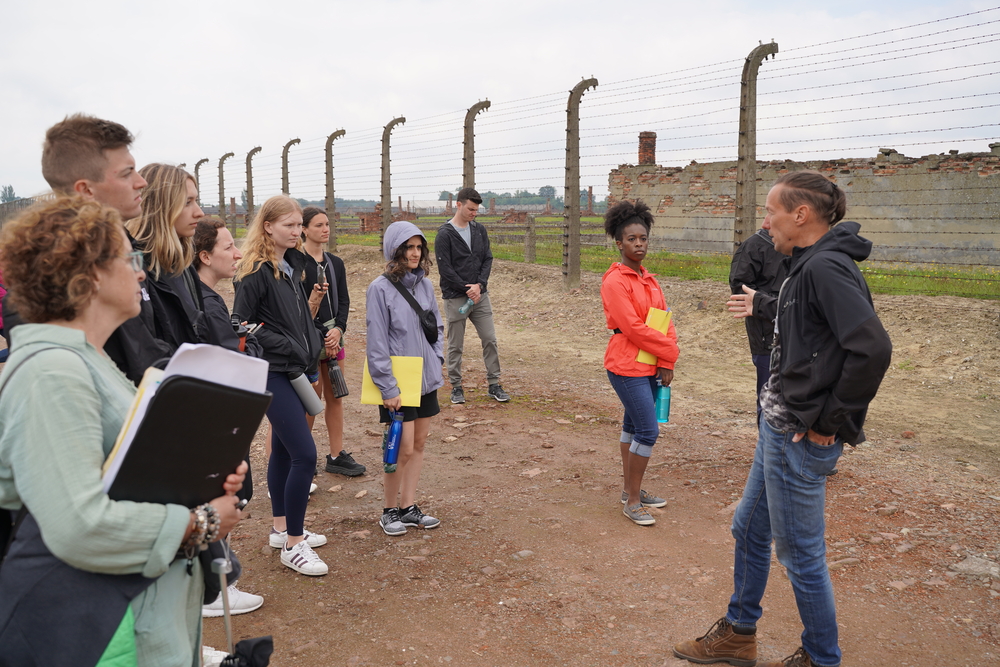 Krzysztof Antonczyk, head of Auschwitz's digital archive and tour guide, leads the first cohort from OUWB on a tour of Auschwitz-Birkenau on June 16, 2022. A second group from OUWB will take the same tour later this week.
For the second time, a cohort of OUWB medical students is headed to Poland to study the Holocaust and medicine — and search for the meaning of humanism through a "once-in-a-lifetime" learning opportunity.
The Oakland University William Beaumont School of Medicine Study Trip to Auschwitz is taking place July 19-26. Twenty rising second-year medical students will make the trip to Poland. (See graphic below for full list of students.)
Through the first-of-its-kind program, students will spend two days in Krakow with the duration spent in Oswiecim, home to the sites of the former Auschwitz 1 and Auschwitz-Birkenau concentration camps.
The overall goal is to prompt students to reflect on the implications of the Holocaust for one's own personal and professional development within the medical profession.
Jason Wasserman, Ph.D., professor, Department of Foundational Medical Studies, and program co-director, has clear expectations.
"I hope we're going to continue what we're establishing as a legacy of high quality, humanism education at OUWB," said Wasserman. "I'm excited to take another group. The first trip was impactful, and I expect this trip to be just as impactful, if not more."
Among other things, students will learn Jewish heritage and history, the extent of the Holocaust and how physicians reacted on all sides, take part in reflective writing sessions, read testimonials, and begin developing plans to share what they learned with others.
Rising M2 Joey Solomon is among the group of students going on the trip.
"Overall, I'm looking forward to the experience," he said. "I feel like the group of us that are going will come back a little different, which is good…that's what you hope for."
'A good start'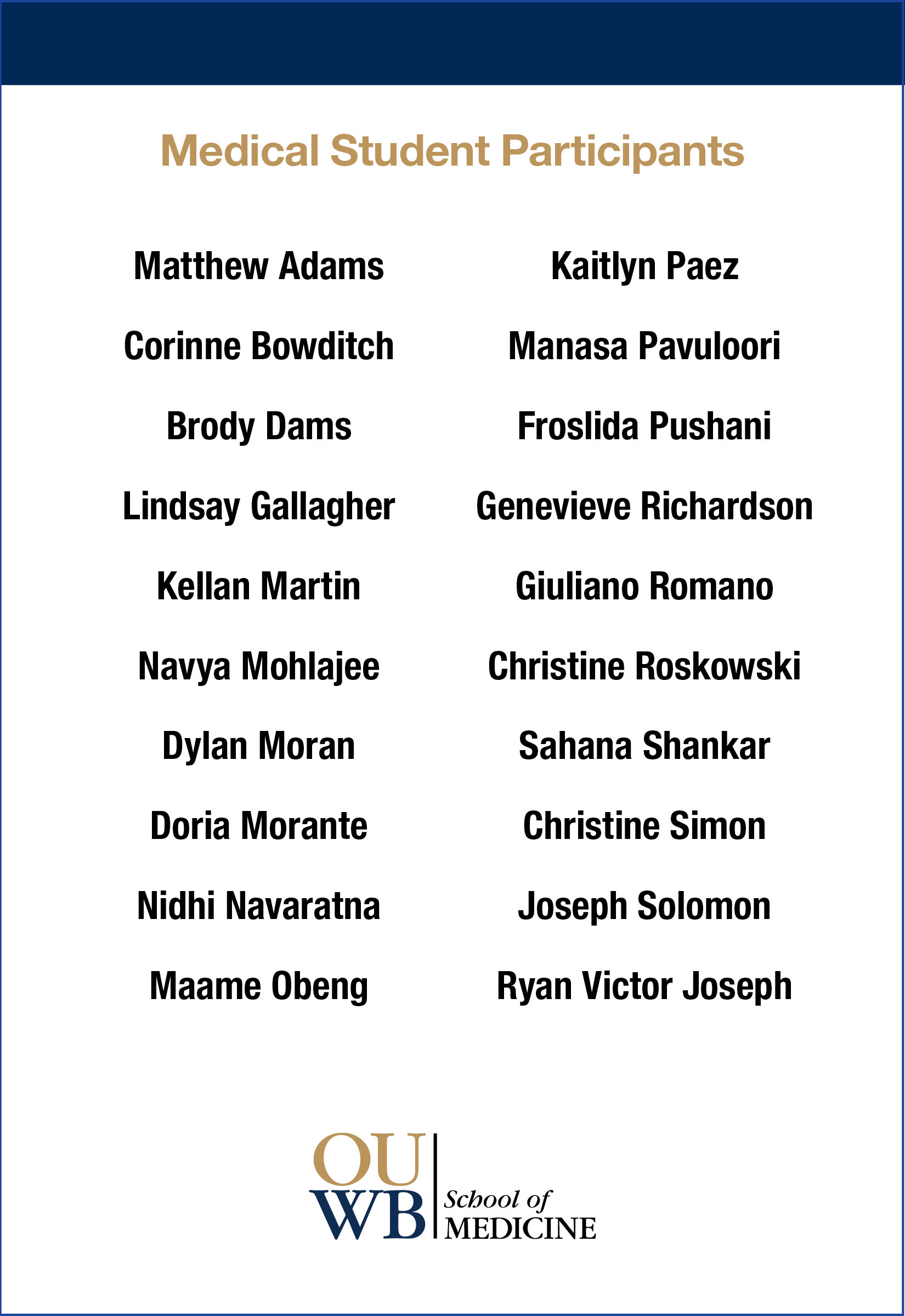 In June 2022, Oakland University William Beaumont School of Medicine began offering a new transformative learning opportunity to its medical students through the OUWB Holocaust and Medicine program.
Part of the program -- the OUWB Study Trip to Auschwitz -- is designed to prompt students to delve into this distinctive and tragic era in the history of medicine and critically reflect on its implications for one's own personal and professional development within the medical profession. The study trip is entirely donor-funded.
A seven-week seminar follows the OUWB Study Trip to Auschwitz, taken for credit as part of the Medical Humanities and Clinical Bioethics (MHCB) 3 course, in which students discuss and reflect upon the trip experience, the relevance of this history to contemporary medicine, and develop projects to disseminate what they learned at a symposium dinner as well as to other community groups at OUWB, OU, and beyond.
For example, Wasserman and program co-director Hedy Wald, Ph.D. — along with rising M3s Amanda Bachand and Garrett Peters — presented "Holocaust and Medicine Education: The Educational Impact of a Study Trip to Auschwitz" at the American Society for Bioethics and Humanities National Conference. The event was held in Portland, Oregon, last October. About 40 people attended.
Rising M3s Darshana Blaise, Paoula Choobchian, Skylar Sundquist, Amanda Romaya and Jessica Krone presented "Because I Felt It Had to Be Done: Reflections from the Inaugural OUWB Study Trip to Auschwitz" at an ethics education session held for Corewell Health East. About 90 people attended.
The topic of the inaugural OUWB Study Trip to Auschwitz was featured in several other presentations, too.
Wasserman called it "a good start," and said the plan is to encourage the second cohort to reach an even wider and more varied audience.
Deep dive into Jewish life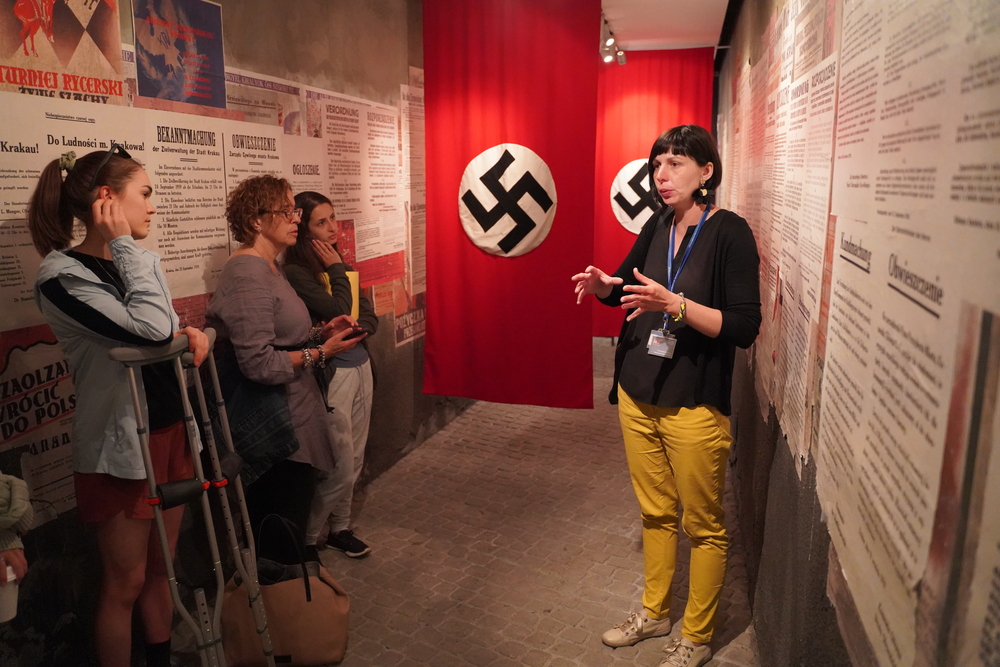 Members of the 2022 OUWB cohort that went on the study trip to Auschwitz listen to a tour guide at Oskar Schindler's Factory.
Upon arrival, the cohort will spend two full days in Krakow, where they will take various tours intended to help the medical students better understand how Jewish people lived pre-war, and how things changed with World War II.
Sites to be visited in Krakow include the Galicia Museum, Eagle Pharmacy, Ghetto Heroes Square, and the Oskar Schindler Factory, which features a permanent exhibition called "Krakow under Nazi Occupation 1939-1945."
Wasserman has called the time in Krakow a "ramp up" to tours later in the week. Last year, a Krakow tour guide said it's important to have such understanding and "remember the past to not allow it to happen again."
The deep dive into Jewish life and history will continue the third day of the trip when the group moves to Oswiecim. The cohort will visit the Oshpitzin Jewish Museum and learn more about the town.
On the fourth day of the week, the group will visit Auschwitz 1. English-speaking tour guides will lead students through the site of the former concentration camp. Many former cellblocks have been turned into exhibitions, each designed to help people better understand the atrocities that once took place within the very walls. Later in the day, students will hear a lecture from Teresa Wontor-Cinchy, Ph.D., from the Auschwitz Department Research Center, and participate in a reflective writing session.
The following day, the group will tour the massive site of the former Auschwitz-Birkenau concentration camp.
Much of the last day will be spent reflecting on the week. It will include a lecture from Krzysztof Antonczyk, head of Auschwitz's digital archive and tour guide, that will be titled "Why am I here? The meaning and human value of our work in Auschwitz." Time also will be dedicated to allow students to discuss trip-related projects they will pursue upon their return to the U.S.
'A once-in-a-lifetime learning opportunity'
Thirty students applied to go on the trip this year, according to Wasserman. The application process included writing several essays. Students were selected earlier this year.
In preparation for the trip, students were required to study several modules, read memoirs, and participate in reflective writing. Many students also toured the Zekelman Holocaust Center in Farmington Hills.
Rising M2 Maame Obeng said that her interest in the Holocaust dates back a decade, to when she moved to the U.S. from Ghana. Specifically, she said, an English class that helped her draw parallels between what the Nazis did during World War II and some of the things that are happening in the world today.
"I heard about this trip and got really excited because this is a topic I was thinking of looking into more," she said. "I'm very excited that this is coming into reality for me."
Rising M2 Giuliano Romano will be leaving the country for the first time as part of the OUWB cohort.
"This is a once-in-a-lifetime learning opportunity," he said.
Romano said he expects to spend a lot of time reflecting on how studying the Holocaust in such a unique way will one day make him a better doctor.
"Moral courage is a lesson that I hope to see and reflect on throughout the trip," he said. "Taking those lessons of moral courage and applying them to practice, speaking up for injustices, and working for the betterment of man."
"I really hope to draw from those stories and use that as motivation," he added.
For more information, contact Andrew Dietderich, marketing writer, OUWB, at adietderich@oakland.edu.
To request an interview, visit the OUWB Communications & Marketing webpage.
This work is licensed under a Creative Commons Attribution-NonCommercial 4.0 International License.