Wednesday, Aug 16, 2023
First-year medical students from OUWB bond at baseball game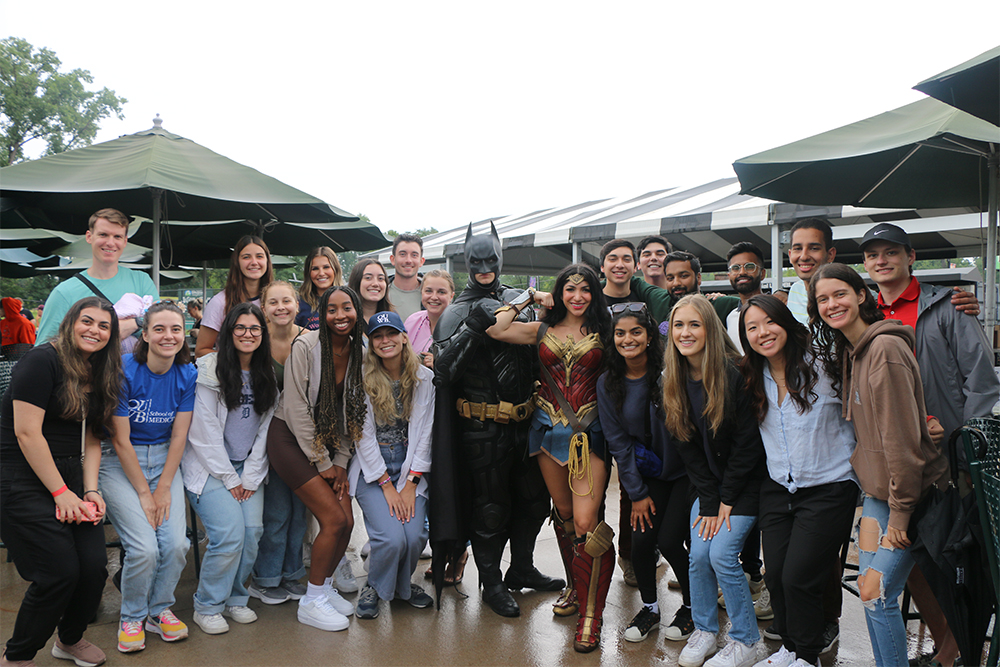 OUWB Class of 2027 members pose for a picture at the baseball game on Aug. 6, 2023. The theme of the day was super heroes, which is why Batman and Wonder Woman are with the students.
Oakland University William Beaumont School of Medicine's Class of 2027 closed out a busy week of orientation by unwinding Aug. 6 at a local baseball game.
The M1s came to watch the Eastside Diamond Hoppers, who won 8-2, compete against the Utica Unicorns, at Jimmy Johns Field, which is about 9 miles from campus in Utica.
This is the second year that the event has been held as part of orientation week.
"It was Dean Mezwa who wanted to do some kind of social event that would be fun in the summer right away," said Steve Collard, vice dean, Business and Administration.
Collard said that after all the information the students have taken in during orientation, the event is a great way to relax and spend time with the newest OUWB class.
"After a pretty intensive week of orientation, the ones that were able to come today, seem like they're already really bonding as a group of students," he said. "This is a great setting because it's so informal, and they don't have to organize it."
Collard added that it's a way to get the students' families and friends involved as well.
"Some (students) brought guests — spouses, boyfriends, girlfriends. It's nice because they're able to introduce people in their life to other students, right off the bat," he said.
The event was also an opportunity for the faculty to mingle with each other and their new students.
"I'm meeting several of the staff's significant others and their kids…it's just a really good bonding experience," said Collard.
'Much Appreciated'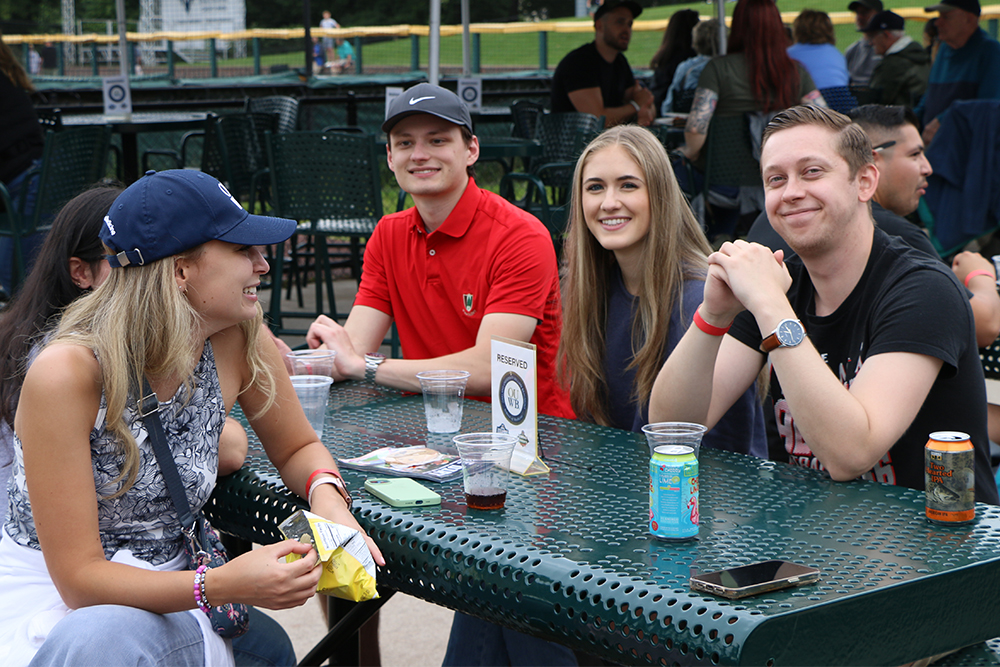 Despite rainy weather, many student attendees said they appreciated the chance to get to spend time with their new classmates.
For M1 Mary Zylinski, this was her first time going to a baseball game.
"I thought this would be a fun way to enjoy the sport but also talk with everybody on the side and get to know people in more of an informal setting," she said. "Even though we got to know each other at orientation, we were still all business casual…that's why I decided to come."
"It's nice to see everyone just be relaxed and hang out without anything else preoccupying (our heads)," added Kate Workman, M1.
M1 Emily Mazier said she attended the event to get to know everyone personally before getting to know them in an academic setting.
"OUWB gave us a lot of opportunities throughout the week to get to know each other on a personal level before jumping right in and getting into classes and getting super stressed out," said Mazier.
M1 Alyssa Cadez-Martin echoed a similar sentiment.
"OUWB has been very unique in the sense that they've done so many different things to make sure that we're able to feel welcome and we're able to get to know our classmates, staff, and faculty," said Cadez-Martin.
"We haven't even started classes yet, and I already have friends in our class, and I already feel comfortable enough to go up to different faculty members and have conversations with them," she added.
"I felt it was important to take advantage of the opportunities that they give us to foster that community. The fact that (OUWB) hosts (events) like this makes you feel like they genuinely care about you as a person…it's much appreciated by the students."
To request an interview, visit the OUWB Communications & Marketing webpage.
This work is licensed under a Creative Commons Attribution-NonCommercial 4.0 International License.