Friday, Jun 16, 2023
Professor from OUWB receives national award for excellence in teaching and innovation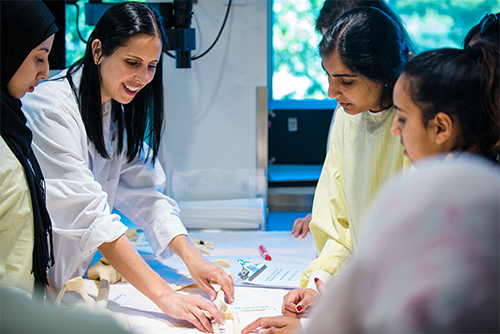 Attardi explains anatomy to high school students during the Future Physician Summer Enrichment Program.
An Oakland University William Beaumont School of Medicine professor was recently recognized by the International Association of Medical Science Educators (IAMSE) with the Early Career Award for Excellence in Teaching and Innovation.
Stefanie Attardi, Ph.D., assistant professor, Department of Foundational Medical Studies, was formally recognized at IAMSE's 2023 Annual Conference, which took place in Cancun, Mexico, June 9 - 13.
"(It was) surreal," said Attardi. "I was in disbelief when I heard the news…I've always looked up to the people who have won these. I'm very, very honored."
According to IAMSE's website, the award "honors an IAMSE member who has made significant innovations to the field in the short time they have focused their careers toward enhancing teaching, learning, and assessment." The award is given to an individual who has "less than 10 years of educational scholarship."
"This is probably the most satisfying thing that happens in my days, to see the faculty meeting with great success in their careers, particularly when they're of national or even international recognition," said Douglas Gould, Ph.D., chair of the Department of Foundational Medical Studies.
"It speaks to our maturation and progress as a medical school that our faculty are getting involved and being recognized by these larger, more prestigious, and competitive organizations," he added.
"(People) see that our faculty are amongst the top tier in the country."
"To be recognized on a national level this early in her career is truly an honor, but it brings all this recognition to OUWB as well," said Duane Mezwa, M.D., Stephan Sharf Dean, OUWB. "We're extremely proud."
Hitting the ground running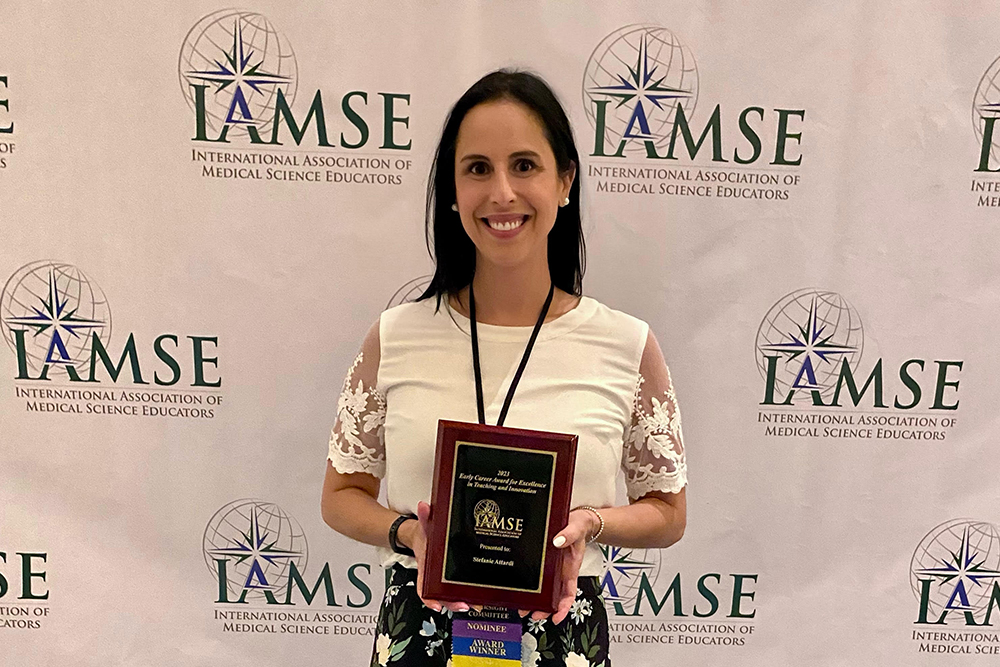 Attardi was recently recognized by the International Association of Medical Science Educators (IAMSE) with the Early Career Award for Excellence in Teaching and Innovation.
Attardi said that she was always interested in teaching, even if she "didn't realize it at the time." When she was in high school, she taught swimming lessons and loved it.
"I loved learning about the curriculum…I loved trying to think of creative ways to make all the students engaged and excited," she said. "I loved making lesson plans and I loved writing their report cards, and then seeing them progress."
"When I was in university, I always thought I wanted to be a physician because I loved anatomy so much…I thought that the only way to learn about anatomy was to go to medical school to become a doctor," she added. "I realized the thing that drew me to being a physician wasn't necessarily patient care…it was more teaching the patients. That's when I changed directions."
Attardi received her Ph.D. in Clinical Anatomy from the University of Western Ontario. She began working at OUWB in 2015. She was drawn to the "unique" organization of the Department of Foundational Medical Studies, which places an emphasis on the educational community.
"The Department of Foundational Medical Studies has a very unique and special setup," she said. "It's full of people whose life commitment or work is education…. I thought it'd be really cool to be in a department with a whole bunch of different kinds of educators."
"It's helping me to better integrate my teaching…I thought I could really excel here in that track and also learn a lot from other educators," she added. "We're all dedicated to running the curriculum, so it's a really unique and cool environment. Very inspiring."
Gould said that Attardi "hit the ground running" at OUWB.
She is a member of the Curriculum Committee, M1M2 Subcommittee, chair of the Curriculum Evaluation, secretary of the OUWB Faculty Assembly, and chair of the Admissions Recruitment Scholarship Committee.
"She's really well-liked by the students. Her teaching is innovative — it's organized and she receives tons of really positive comments on her student feedback," said Gould. "She's just an outstanding go-getter faculty member… (the award) is well-deserved."
A great place to grow
Looking ahead in her career, Attardi hopes to take more leadership roles in the school and to "inspire the faculty to think about new innovations and directions."
Attardi said the COVID-19 pandemic was eye-opening with regard to offering "more flexible options for students."
"(The pandemic) really showed me that there's different ways to do things, and we have a diverse student body," she said. "We should be offering them more options for participation."
During her time at the University of Western Ontario, Attardi designed, implemented, and evaluated a fully online anatomy course for her doctoral thesis. She also lectured in an undergraduate histology course and led microscopy laboratory sessions in an online format.
"Since the pandemic, we've learned about different ways to run the curriculum and do more of a hybrid curriculum. My plans are to really narrow in on online medical education, specifically try to figure out using data when it is best to use online education, how, and for what things that the students have to learn," said Attardi. "There is no face-to-face is better, online is better. To me, it's all about who, what, when, where, why, and how."
Overall, Attardi said she's "extremely grateful" to OUWB for the support, and credits that support for assisting her in achieving her success.
"Working at OUWB specifically helped me to achieve this award. We have an outstanding group that's in charge of faculty development opportunities," she said. "I would have never had these experiences or even had the knowledge and the skills to pursue some of these things without the opportunities at OUWB."
"I'm extremely grateful for what OUWB does for faculty and what they offer the faculty. It's a great place to grow as an educator."
To request an interview, visit the OUWB Communications & Marketing webpage.
This work is licensed under a Creative Commons Attribution-NonCommercial 4.0 International License.