Tuesday, Jun 06, 2023
First-year OUWB students present on anatomical variations at national conference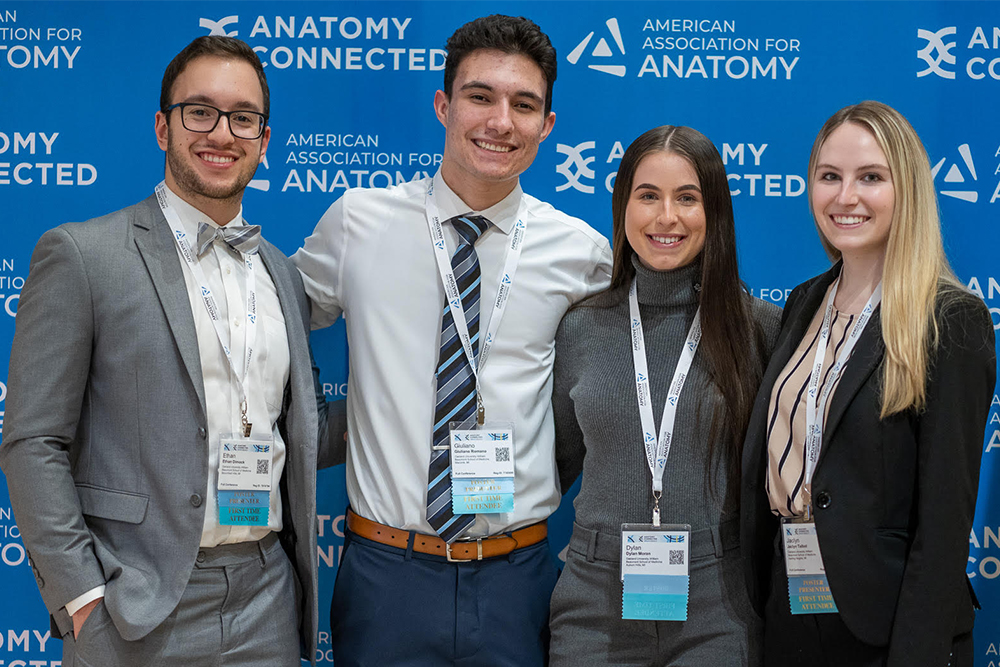 From left, Ethan Dimock, Giuliano Romano, Dylan Moran, and Jaclyn Talbot, all attended the American Association for Anatomy (AAA) conference in Washington, D.C. (Not pictured, Nika Bakshi)
First-year medical students don't always have the time to take on an additional research projects, but that didn't stop five OUWB M1s from recently attending Anatomy Connected 2023.
Jaclyn Talbot, Giuliano Romano, Dylan Moran, Nika Bakshi, and Ethan Dimock all attended the American Association for Anatomy (AAA) conference in Washington, D.C.
The conference, according to AAA's website, aims to "(inspire) educators, researchers, and students to explore the latest research, expand their knowledge and skills, create valuable relationships, and discover what's ahead in anatomy."
The students all found the subjects for their research during their first semester at OUWB. Specifically, the subjects were in the school's Anatomy Lab, where students discovered donors with significant anatomical variations.
"A lot of people think of anatomy as a field like, 'It's a human body. It hasn't really changed that much over the last 1000 years,'" said Romano. "But it's so cool to see people who are just really passionate about teaching anatomy and discovering new things about our bodies, to be around a group of people."
Romano presented his group's research regarding a donor's singular lung, and said it was "surreal" to attend the conference as a first-year medical student.
"A lot of us come into (medical school feeling) imposter syndrome, that we haven't really done much yet to feel like we deserve to be recognized as a high level like that."
"It was a very rewarding and very validating feeling that we were there."
Starting off strong
For some of the students, such as Talbot, who presented on her group's research on cryptorchidism, this type of research and attendance at a conference is a first.
"I went in with a lot of unknowns as to how to best prepare and what the conference will entail," she said. "Reflecting on it afterwards, I had an amazing time…everyone was very pleasant and just genuinely interested in what I had to say. I felt like I met a lot of professionals from all different aspects of anatomy, and had great conversations."
Talbot added that being able to present at a conference so early in her medical school career was a "pleasant surprise."
"I am extremely grateful to the donors in the anatomy lab for providing an experience like this and making this anatomical research possible," she said. "It means so much to me to be able to travel to a national conference with professionals from all over, and represent OUWB."
For Dimock, who presented on Meckel's Diverticulum, it was his first time presenting at a large conference.
"It's one thing to learn about stuff online and do a little bit of research on it, it's another thing to present it to professionals in the field that learn for a living and are really passionate about anatomy and different aspects of the body," he said.
"Getting to learn from those people and present in front of them has helped me develop as a student and a person."
Dimock added that he is looking forward to future research opportunities as the result of his positive experience.
"I really enjoyed the whole process of developing something that I was interested in and seeing it through from start to finish," he said. "There is something really rewarding about that."
Similarly, Moran, who was a part of Dimock's group, had never been to a conference before.
"It was interesting to hear about different people's perspectives… it was just nice to know that other people support us from different places," she said.
"People were able to walk around and ask us real questions (about our presentations)," Moran added. "I was super excited. I'm the first person in my family to do all this kind of stuff… It allowed me to show my family from the eyes of someone who is actually involved with these things what we do."
Bakshi's poster examined a bifurcated rib in a donor. She said that although she has a history with research and research conferences in inorganic chemistry, the fact that this project centered around a human body.
"The experience gave me a great appreciation for individuals that donate their body for research, because if it weren't for them, we wouldn't ever be able to gain information like this," she said. "It's such a selfless act."
Bakshi added that the experience felt special because it was her first conference and medical school and that she appreciated the insight from people within the field.
"There are a lot of people who came up to me afterwards and shared their own experiences with the variation," she said. "It gave me a great understanding of the project itself."
"You're surrounded by all these doctors and Ph.D.s and they know so much about it, but it was nice because we got to learn so much even though we know so little…it just goes to show no matter where you're at in your education, you still have something to contribute and you always have something to learn."
Exploring curiosities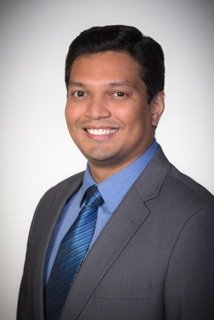 Barremkala
Malli Barremkala, M.D., associate professor, Department of Foundational Medical Studies, also attended the conference. Barremkala oversaw the research done within the anatomy lab and is listed as a co-author on the students' abstracts.
He said that this research experience is invaluable for students.
"If they start to learn about this human diversity from the beginning, early in their career, and it's more likely that it's ingrained in them that yes, there's going to be some variations," said Barremkala. "Research, as we know, helps to increase or promote patient outcomes, and what better way for our students to do research in their practice and improve the patient's outcome?"
"The key thing for them to go onto this national stage and present (their research) is to share with the rest of the anatomical community what variations they have found."
Barremkala added that although the projects were fairly big commitments, especially for first-year medical students, the students' genuine interest propelled them to the finish.
"It does take a lot of time and effort, but because our students are so engaged and interested in learning from their donors, any time they see these variations, they are genuinely curious," he said.
"This is an opportunity for them to get out of medical school and present to the rest of the world, the rest of the anatomical community, what they have learned. It opens them up for a lot of opportunities and a lot of possibilities."
Dimock echoed Barremkala's perspective, adding that he didn't view the work as a burden.
"I didn't really see it as an extra commitment, I saw it as a different way to learn about a subject that I was already passionate about," said Dimock.
"It's important to have those curiosities and explore them, even if it takes a little extra time and commitment."
To request an interview, visit the OUWB Communications & Marketing webpage.
This work is licensed under a Creative Commons Attribution-NonCommercial 4.0 International License.