Monday, Mar 15, 2021
Surgical symposium hosted by OUWB student org goes virtual for 2021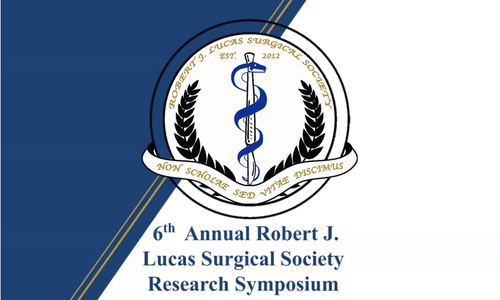 Students from five medical schools across Michigan took part in a symposium hosted Tuesday by one of Oakland University William Beaumont School of Medicine's student interest groups.
The 6th Annual Robert J. Lucas Surgical Society Research Symposium drew participants from OUWB, Wayne State University School of Medicine, Central Michigan University College of Medicine, Michigan State University College of Human Medicine, and University of Michigan Medical School.
The virtual event was hosted by the Robert J. Lucas Surgical Society (RJLSS) — an OUWB student organization that aims to provide students with exposure to the surgical field through guest speakers, mentorship, and events.
The annual event usually is held at Beaumont Hospital, Royal Oak, but went virtual for 2021 as a result of the COVID-19 pandemic. Camilla Cascardo, president, RJLSS, said cancelling the event was never an option.
"It's always a great opportunity for students to be able to demonstrate the work that they're doing outside of the classroom, specifically research in the surgical field, and learn how to present material and advance their careers," said Cascardo.
"We felt it was important to keep the event alive, despite the pandemic."
OUWB third-year medical student Brett Friedman was among those who presented a poster.
"This event was a unique opportunity to have so much time and feedback from several attending surgeons on my research," he said. "Now I get to bring their feedback to the drawing board as we finish our full manuscript." 
'What would Dr. Lucas do?'
RJLSS was previously known as the "Surgical Society" until about six years ago. That's when the Surgical Society members decided to rename the group after the late Robert J. Lucas, M.D., longtime chief of general surgery, director of the surgical residency program, chief of surgical services, and medical director of Beaumont Hospital, Royal Oak. He retired in 1999.
Frikker
Mark Frikker, M.D., chairman of Surgical Services, Beaumont Health, and chair of OUWB's Department of Surgery, spoke during Tuesday's event about the influence of Lucas.
"Every couple days of my life — maybe every day of my life — as a surgeon, I have found myself asking, 'What would Dr. Lucas do in this situation? What would Dr. Lucas think about this thing that I'm thinking about?'" said Frikker.
Frikker complimented all of the participants in this year's symposium.
"We're proud of all of you," Frikker said at the end of the event. "It's terrific that early on in your medical school careers you get involved. It ultimately makes you better candidates for residencies…and it also makes you a better doctor eventually because you learn early on to look at everything critically."
Presentations
Twelve posters were presented by participants in this year's symposium with seven from OUWB students, three from Central Michigan, and one each from Wayne State and Michigan State.
Seven oral presentations were given with four from Michigan State, two from OUWB, and one from University of Michigan.
A total of eight judges evaluated presentations. Judges were Felicia Ivascu, M.D., associate professor, Anthony Iacco, M.D., assistant professor, Begum Akay, M.D., assistant professor, Anthony Stallion, M.D., professor — all from the Department of Surgery. Other judges were Jacquelyn Pastewski, M.D., Samer Kawak, M.D., Alex DeMare, M.D., OUWB Class of 2015 — all surgeons with Beaumont — and OUWB Stephan Sharf Dean Duane Mezwa, M.D.
Lior Kopel, a third-year medical student from OUWB, won the best poster award for "Perioperative Antibiotic Use in Neonatal Surgery." Co-authors on the poster were Kevin Roby, third-year medical student, OUWB, Patrick Karabon, biostatistician, OUWB, Akay, and Pavan Braahmamdam, M.D., pediatric surgeon and Kopel's Embark mentor.
Kopel said he has spent the last three years studying the topic because there is a lack of literature available to guide proper antibiotic stewardship for neonates that minimize negative outcomes.
"Not only am I extremely honored to be recognized by my peers but winning provides a great platform to disseminate the findings even more," he said.
Three awards were given for oral presentations.
Best oral presentation went to Noah Kuhlmann, a first-year medical student at Michigan State University College of Medicine, for his poster "Dexamethasone decreases postoperative opioid and antiemetic use following shoulder arthroplasty: An RCT."
Friedman's presentation came in second. It was titled "Intraoperative MAP, Vasopressors, and Opioids in TF-TAVR patients undergoing Conscious Sedation vs. General Anesthesia." Friedman thanked Wei Lau, M.D., and Karabon for their mentorship on the project.
"It's great to be recognized for research," said Friedman. "Research is a long, arduous endeavor but I believe it's one of the only ways we move forward."
Limi Sharif, a second-year medical student at University of Michigan, came in third place for "Prognostic Factors Associated with Survival in Surgical Patients with Sarcomas."
For more information, contact Andrew Dietderich, marketing writer, OUWB, at adietderich@oakland.edu. 
To request an interview, visit the OUWB Communications & Marketing webpage.
NOTICE: Except where otherwise noted, all articles are published under a Creative Commons Attribution 3.0 license. You are free to copy, distribute, adapt, transmit, or make commercial use of this work as long as you attribute Oakland University William Beaumont School of Medicine as the original creator and include a link to this article.