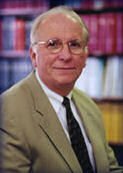 Clinical Professor
William Beaumont Hospital
(248) 288-2280
mgit46@aol.com
Biography

Dr. Trese received his undregraduate degree from the University of Michigan, his O.D. from Pennsylvania College of Optometry and earned his M.D. degree from Georgetown University, School of Medicine.  Dr. Trese served as Director of Vitreoretinal Surgery at the University of Kansas prior to joining Associated Retinal Consultants in 1982. He currently is Clinical Professor of Biomedical Sciences at The Eye Research Institute of Oakland University, Clinical Associate Professor at Wayne State University School of Medicine, and Chief of Pediatric and Adult Vitreoretinal Surgery at William Beaumont Hospital.
Dr. Trese is an internationally recognized expert in retinopathy of prematurity and pediatric retinal disease. His current basic science and clinical research interests encompass both pediatric and adult retinal disorders, including participation in National Institute of Health and National Eye Institute sponsored trials. He has spoken all around the world, delivered several named lectureships, and has authored numerous publications and textbook chapters.
He has been named to
The Best Doctors in the Midwest
,
The Best Doctors in the United States
, and
The Best Doctors in America
. He is currently President of the Retina Society and a member of the American Society of Retina Specialists, Club Jules Gonin, the American Academy of Ophthalmology, the Association for Research in Vision and Ophthalmology, the Michigan Ophthalmologic Society, American Medical Association, and Oakland
Dr. Trese has received numerous awards.  Most recently, in 2006 Dr. Trese received the Outstanding Physician Achievement Award, Crain's Detroit Business Magazine, Healthcare Heroes Awards and in 2007, he was honored with the prestigious International Biographical Centre Award, Cambridge, England Outstanding Health Professional Worldwide.
Publications
2007  Wu W, Drenser KD, Trese MT, Capone A, Dailey W. Retinal phenotype-genotype correlation of pediatric patients expressing mutations in the norrie disease gene. Arch Ophthalmol; 125:225-230.
2007  Quiram PA, Drenser KA, Lai MM, Capone, A, Trese MT. Treatment of vascularly active familial exudative vitreoretinopathy with pegaptanib sodium (Macugen). Accepted, Retina.
2006  Tasman W, Kaiser R, Patz A, et al. Retinopathy of prematurity: the life of a lifetime disease. Am J Ophthalmol; 141(1):167-74. Review.
2006  Shastry BS, Trese MT. Reply to Bottomley et Al. Eur J Hum Genet; 14(1):7-8.
2006  Joshi MM, Trese MT, Capone A Jr. Optical coherence tomography findings in stage 4A retinopathy of prematurity: a theory for visual variability. Ophthalmology; 113:657-60.
2006  Prenner JL, Capone A, Ciaccia S, Takada Y, Sieving PA, Trese MT. Congenital X-linked retinoschisis classification system. Retina; 26:S61-S64.
2006  Drenser KD, Dailey W, Capone A, Trese MT. Genetic evaluation to establish the diagnosis of X-linked familial exudative vitreoretinopathy. Ophthalmic Genet; 27(3):75-8.
2006  Capone A Jr, Trese MT. Stage 5 retinopathy of prematurity: then and now. Retina; 26(7):721-3.
2006  Joshi MM, Drenser K, Hartzer M, Dailey W, Capone A Jr, Trese MT. Intraschisis cavity fluid composition in congenital X-linked retinoschisis. Retina; 26(7):S57-S60.
2006  Joshi MM, Ciaccia S, Trese MT, Capone A Jr. Posterior hyaloid contracture in pediatric vitreoretinopathies. Retina; 26(7):S38-S41.
2006  Trese MT. Pediatric retina current thinking. Retina; 26(7):S1.
2006  Lai MM, Joshi MM, Trese MT. Spontaneous resolution of traumatic macular hole-related retinal detachment. Am J Ophthalmol; 141(6):1148-51.
2006  Lutty GA, Chan-Ling T, Phelps DL, et al. Proceedings of the third international symposium on retinopathy of prematurity: an update on ROP from the lab to the nursery. Mol Vis 12:532-80.