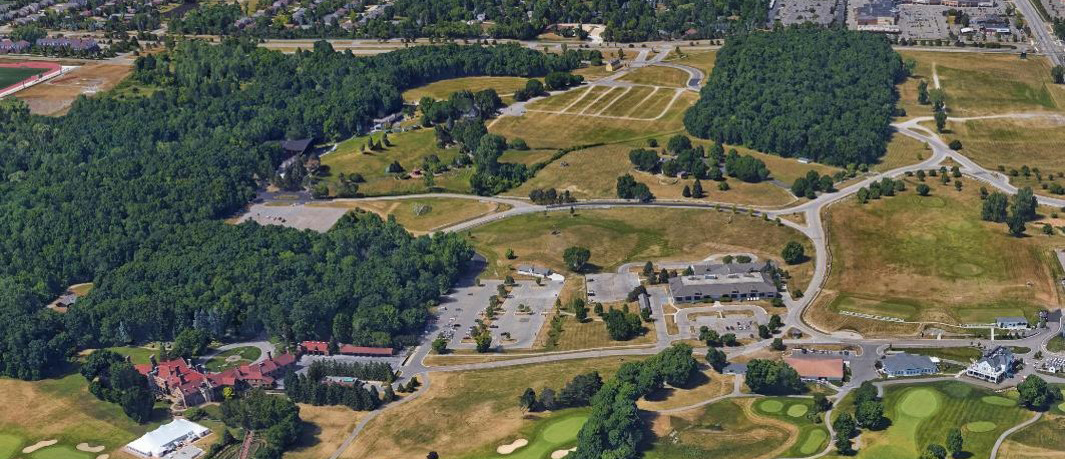 Oakland University is gathering information regarding the potential mixed-use development of the corner of Walton Road and Adams Road.   The university has retained the national consulting firm of Brailsford and Dunlavey to facilitate a market analysis and developer engagement to explore potential opportunities that would directly and indirectly support the university's mission, generate a consistent revenue stream for the university, and be complementary to the surrounding community.  Once completed, this information will be shared with the OU Board of Trustees at which time the board will make a final determination on next steps, if any.
Please share any questions and/or feedback to cornerquestions@oakland.edu.
Goals
Oakland University began this process with four goals in mind:
Leverage Underutilized Land
OU seeks to maximize the value of its campus-edge land
Support Future Campus Investments
Net revenue stream from this development will support other campus projects & initiatives
Transform Eastern Campus Gateway
OU's East Campus is home to major historical, and cultural attractions and assets, but lacks a compelling gateway

district
Create Campus & Community Assets
Enhance campus culture and community engagement
Leverage Underutilized Land
OU seeks to maximize the value of its campus-edge land
Support Future Campus Investments
Surplus revenue from this development will support other campus projects
Transform Eastern Campus Gateway
OU's East Campus is home to major cultural attractions and assets, but lacks a compelling gateway district

Create Campus & Community Assets
Align directly and indirectly with the mission, values and goals of the university
Timeframe
Oakland University has completed a comprehensive market study and site feasibility assessment to explore various potential offerings on the corner and ascertain revenue potential ("Phase 1"). The timeframe noted below describes Phase 2, which is currently in progress. It will gather stakeholder information, explore potential development partnerships, create a detailed draft  development plan for the site, and initiate potential partner feedback/solicitation. Once all information is gleaned from this process, the OU Board of Trustees will make a final determination on next steps, if any. The timing is subject to change as information develops. This page will be updated regularly.
Item
Timeframe

Campus Master Plan
Spotlighted the Walton-Adams Corner

Completed/Updated
2016/2019

Market Study
Weighed potential for development of various uses including housing, retail, hotel, performing arts, office, and others.

Completed
2021

Due Diligence and Conceptual Development Plan
Confirming interest from potential development communities and physical/programmatic guidelines plus first round of faculty and university stakeholder group concept consultation.

Ongoing
April - June 2022

Proposal Solicitation
Multi-stage process. Includes request for qualifications ("RFQs") from potential development partner teams, shortlisting of preferred teams, request for development proposals ("RFPs"), evaluation and scoring of >draft project design, draft program, and financials.

Upcoming
June - August 2022

Proposal Review
Evaluation of mission alignment, long-term value proposition to the university, and environmental impacts. Seek faculty and university stakeholder feedback on top proposal via second consultation round. Potential selection of preferred master developer by OU Board of Trustees followed by negotiations.

Alternatively, if none of the proposals is deemed satisfactory and not in the best interests of OU, the board may decide not to proceed.

Upcoming
Fall/Winter 2022

Pre-Development
Further negotiations, due diligence, and verification of financing.

If approved
2023
As of May 9, 2022
Collaboration
OU Work Group
Mike Westfall - VP University Advancement
Jim Hargett - Interim VP Finance & Administration
Boyd Farnam - Vice President Legal Affairs
Siraj Khan - Interim Associate VP Facilities Management
BOT Work Group 
David Kramer
Dennis Muchmore
Bobby Schostak
Campus Community Groups
East Campus Stakeholder Committee
Campus Development Environmental Committee
Senate Budget Review Committee
Senate Planning Review Committee
Steering Committee of the Campus Alliance for Sustainability and the Environment
Senate Steering Committee (May)
Full Senate (May)
East Campus Stakeholder Committee Roster
Amy Banes-Berceli - Provost Office
Rochelle Black - Government Relations
Ethan Bradley - BOT Student Liaison
Ashley Dewling - Golf and Learning Center
Red Douglas, Student
Mallory Kean, Student
Siraj Khan - Facilities
Dave Dulio - Faculty, Community Engagement
Evan Derminoff - Athletics, Subdivision
Amy Gould - Staff, Subdivision
Jayson Hall - Office of Legal Affairs
Jim Hargett - Interim Vice President Finance & Administration
Jeff Insko - Faculty
Michelle Knox - Finance & Administration
Bill Matt - Meadow Brook Hall
Joe Shively - College of Arts & Sciences
Steve Stanton - Faculty, Campus Development & Environment Committee
Andrew Sweeder - Student
Wayne Thibodeau - Student Affairs
Scott Tiegs - Faculty
Mike Westfall - VP Advancement
John Young - University Communications and Marketing
Case Study Examples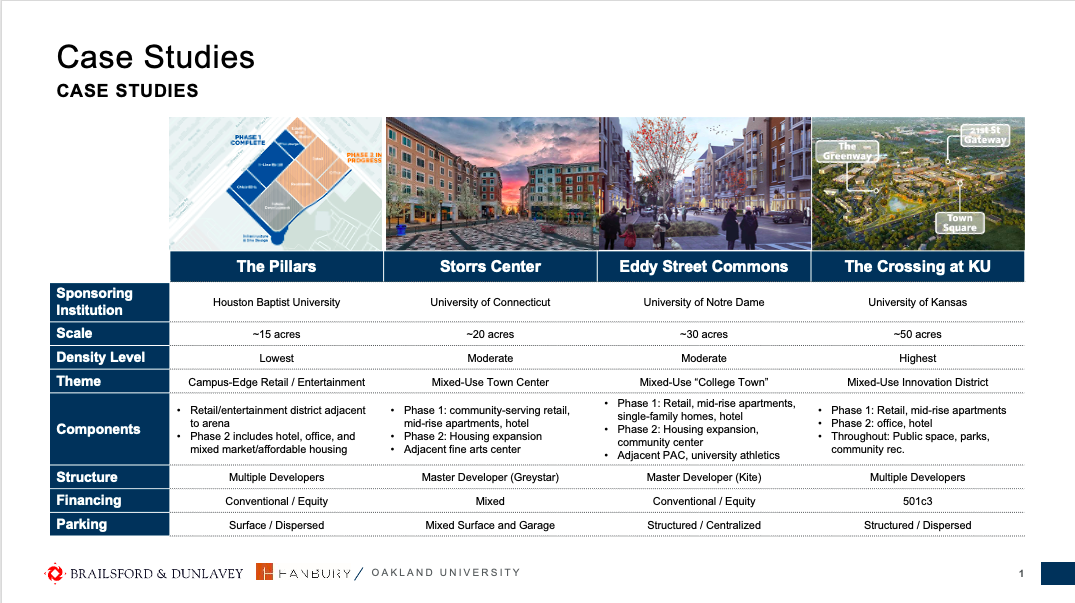 If you have any questions or concerns about the accessibility of the content on this page, please view our Public Accessibility Statement.
Frequently Asked Questions
Why would OU get involved in a venture such as this?
Ultimately, we believe there is an opportunity to generate new revenue streams for the University in a way that attractively redevelops underutilized campus land and supports the mission of the University. This development opportunity is an industry best-practice with many comparable examples at campuses across the nation:
Eddy Street Commons – a mixed-use "campus town" district at the University of Notre Dame
Storrs Center – a similar district adjacent to the University of Connecticut
The Crossing at KU – a mixed-use innovation district currently in planning at the University of Kansas
The Pillars – a similar district currently in planning at Houston Baptist University
Will this allow jobs and other internship opportunities for OU students?
Potentially, yes. This will be a focus area, and be dependent upon the ultimate mix of activities.
How will the university pay for any proposed development on the corner?
No financial details have been submitted yet. OU would prioritize development proposals that are cost neutral; meaning that the university would not make a financial contribution beyond the lease of the land. This type of arrangement is a common P3 best practice.
Are there any good examples of university P3 developments like what OU is envisioning?
U. of Kansas - The Crossing at KU: Mixed-use innovation district / land monetization with office, lab, retail, housing
U. Notre Dame - Eddy Street Commons: Multi-phase "campus town" with housing and retail on a ground lease, hotel and condo components.
U. of Connecticut - Storrs Center: Housing, hotel, and retail
Houston Baptist U. - The Pillars: Arena-adjacent land monetization with retail and future residential and office components
Old Dominion U.: Campus-edge land monetization with apartments, retail, grocery
CSU Monterrey Bay: Campus-edge retail / housing
Redlands U.: Campus-edge retail / housing / hotel
What are the main factors in the selection of a P3 partnership?
Those will be refined if/when the RFQ is developed. However, at a macro level, relevant experience, amount of risk, level of control, mission alignment, and financial considerations will be well represented.
How were the preliminary draft uses of the corner identified?
An extensive market assessment was completed by Brailsford & Dunlavey. The mix of activities has yet to be determined and is an important part of ongoing conversations.
Would it be more valuable for the University to just sell the land?
Given that the corner is contiguous to the main campus, it is important that the University retain long-term control over the use of the land. So the sale of the land is highly unlikely.
Will tuition dollars or state dollars be used to fund any projects that are developed on the corner?
No.
How are the varied campus community groups being engaged in this process?
There is a stakeholder group (listed on the Collaboration section of this page) of twenty campus representatives that is meeting monthly to discuss project status, planning, and to offer feedback. In addition, there have been a number of meetings with multiple University Senate committees to review the project, and to seek feedback.
Are community leaders being engaged at all as a part of this process?
Yes. Representatives from Oakland County, Rochester, Rochester Hills, Auburn Hills, and Pontiac have been invited to a May meeting. The university will share information gathered to date and seek feedback.
The development focus appears to be heavy on housing. Why? And, who is the target audience for the proposed housing?
The market survey has demonstrated that the greatest demand, hence greatest return on investment, will likely be in upscale multi-family housing. This is the option currently being vetted to the campus community as well as community stakeholders. The preliminary focus is on non-student housing given that the OU campus master plan has identified two other main campus areas for future student housing. The ultimate target audience has not been finalized, nor has this use been determined to be the predominate use.
What type of retail is OU considering for this site?
Given that the Village is across the street, any retail would be service focused and largely on the campus community and development tenants.
Given the price tag for a Performing Arts Center (PAC), how is this going to be funded?
OU is unable to fully finance a PAC. However, it is hoped that via this development and through potential partnerships with the county, regional cities, and private sector, that funding could be secured. OU's potential investment could be via donor funding and/or leveraging revenue from the overall development.
What is the official approval process? When will OU break ground?
We are still in an information gathering stage. Final project direction and implementation will require OU Board of Trustee approval. If the BOT decides to advance the project, the RFQ/RFP process will be completed by the end of the summer or early fall.If the project was to go forward, an actual ground breaking of any type would be a year or more away due to the planning required. 
There is a slide in a stakeholder presentation ("East Campus Study Final Concept") that shows a development in the faculty subdivision, is this a part of the scope of the project?
No. One area of understandable community concern within the concept drawing is the recommended development within the OU Faculty Subdivision on the east side of Adams Road. This area is home to OU faculty and staff, and borders several thriving neighborhoods. This was provided by a master planning consultant in 2019 as a final recommendation, however, no board action was taken at that time, or since. This area is not a part of any Oakland University development scope. The university's sole focus is on vetting opportunities related to the corner of Walton Road and Adams Road.
How does the planning dovetail with the potential widening of Adams Road, which is currently being explored by the Oakland County Road Commission via a federal BUILD grant?
While planning is still in the ideation/feedback phase, it will be a major consideration should development of the corner proceed.
This project seems like it is imminent and OU will be breaking ground soon. Is this the case?
No it isn't. This is still fairly early in the process with the focus being on information gathering so that the OU Board of Trustees can make an informed decision. Building on the market study, the current stage is focused on generating ideas and feedback that once complete will be shared with the development community via a RFQ and RFP process. This will provide the OU Board of Trustees additional information related to what a P3 partnership looks like and include the potential impacts and value of a development partnership. It is following receipt and evaluation of all this information that a "go or no-go" decision would be made.
Will sustainability strategies be a part of any corner development proposal?
Yes. The university is committed to sustainability efforts.
As a supporter of shared governance, will formal development plans be shared with the OU Senate?
There are no formal development plans at this point. Currently, the university is sharing concept information and seeking feedback from university stakeholders. Formal plans, if it advances to that point, would come later in the process and will have considered the feedback received during this current concept stage. Any final recommended formal plan will be shared for review and additional feedback in the Fall. Thus far, the university has received valuable input from a number of university groups including: the Campus Development Environmental Committee, the East Campus Stakeholder Committee, the Senate Budget Review Committee, the Senate Planning Review Committee, the Steering Committee of the Campus Alliance for Sustainability and the Environment, the Senate Steering Committee, and the full Senate in May. There are also plans to return to the Senate in September/October with additional updates. In addition, the university will continue to share information with Senate committees that meet over the summer.
How will a potential public/private partnership be handled while avoiding any Board of Trustee conflict of interest?
If a potential conflict of interest were to arise in the course of the project, it would be addressed as provided in the Oakland University Board of Trustees Conflict of Interest Policy.
How will environmental impacts be mitigated, particularly the protection of several tree areas?
As a part of the RFP process from potential developers, there will be a conservation clause that asks that specific consideration will be given to those draft plans that preserve and add trees to the site. The university will also seek an environmental impact report from the chosen developer, if/when the project would move to negotiations. Also, additional feedback will be sought specifically from the Campus Development Environmental Committee, and the Steering Committee of the Campus Alliance for Sustainability and the Environment, as well as other groups.
What is the total acreage of the site?
The primary corner site is approximately 20.4 acres. The wooded areas are 11.4 acres nearest Walton, and an additional 6.6 acres below. Conservation of the wooded areas is a priority of any draft design.
What has been the cost to engage the consultants?
A RFP was distributed and awarded to national consultant Brailsford & Dunlavey, with sub-consultant Hanbury. Total cost of this engagement as of April 2022 is $148,600.