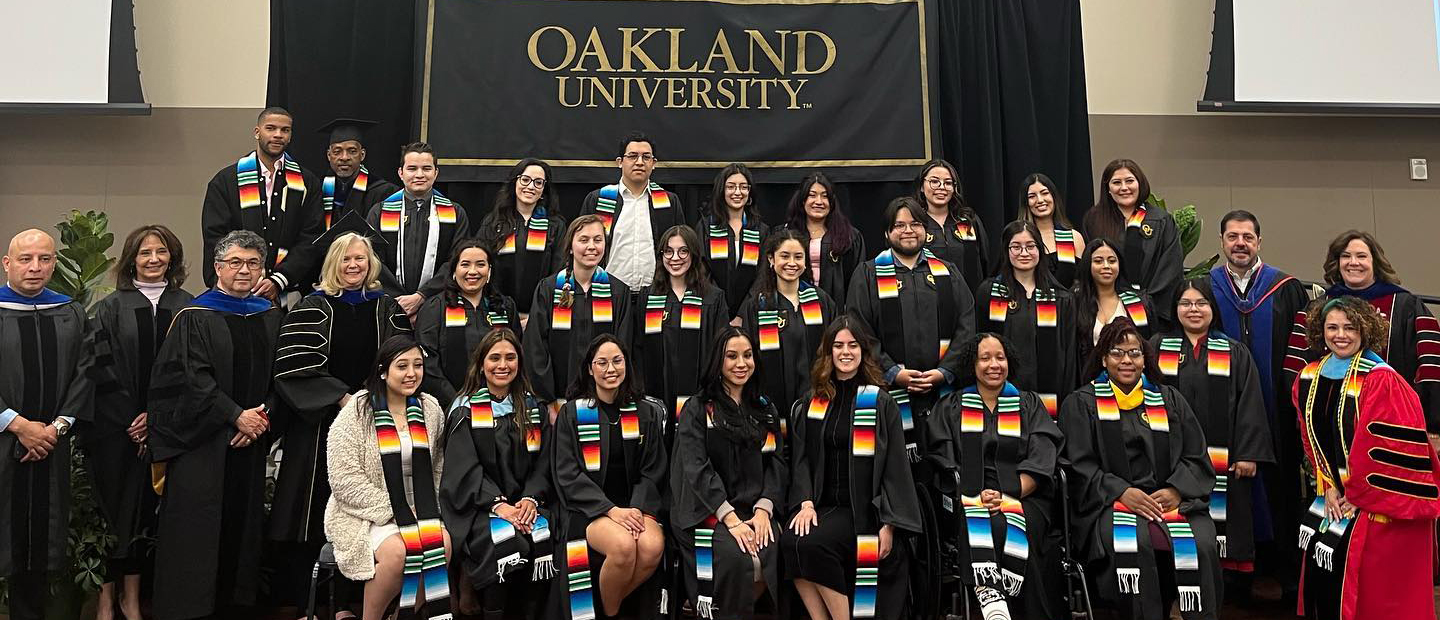 Latina/o/x Graduate Celebration
¡Abriendo Caminos!
Oakland University's Latina/o/x Graduate Celebration - ¡Abriendo Caminos! is a pre-commencement gathering to honor Latinx students who have successfully completed an undergraduate or graduate degree from Oakland University. The event celebrates our students' heritage, honors their families, and encompasses the value of community and scholarship. The ceremony is bilingual and provides students the opportunity to reflect on their journey and offer appreciation to the people who were part of their pathway. Students walk across the stage and are provided the opportunity to submit a message of gratitude displayed as their names are called and they are presented with a commemorative stole.
Participation in the OU Latinx Graduate Celebration is open to all OU undergraduate and graduate students who earned their degree summer 2023, fall 2023, and who will earn their degree winter 2024, and summer 2024 (must apply for graduation to participate). For more information on applying to graduate, please visit oakland.edu/commencement.
The event is organized in collaboration by the Provost office, Student Affairs & Diversity, Equity, and Inclusion team, the Center for Multicultural Initiatives, the Dean of Students office, the Latinx Employee Resource Group, and the Hispanic Faculty Association.
La Celebración de Graduación para Latina/o/x es una pre-ceremonia de graduación en honor a los estudiantes Latinx que han completado exitosamente sus grados académicos en la Universidad de Oakland. El evento celebrará la cultura de nuestros estudiantes, reconocerá y agradecerá a sus familias, y el valor de la comunidad Latina. Esta es una oportunidad para los Graduados de recibir reconocimiento a sus logros académicos en la Universidad de Oakland.