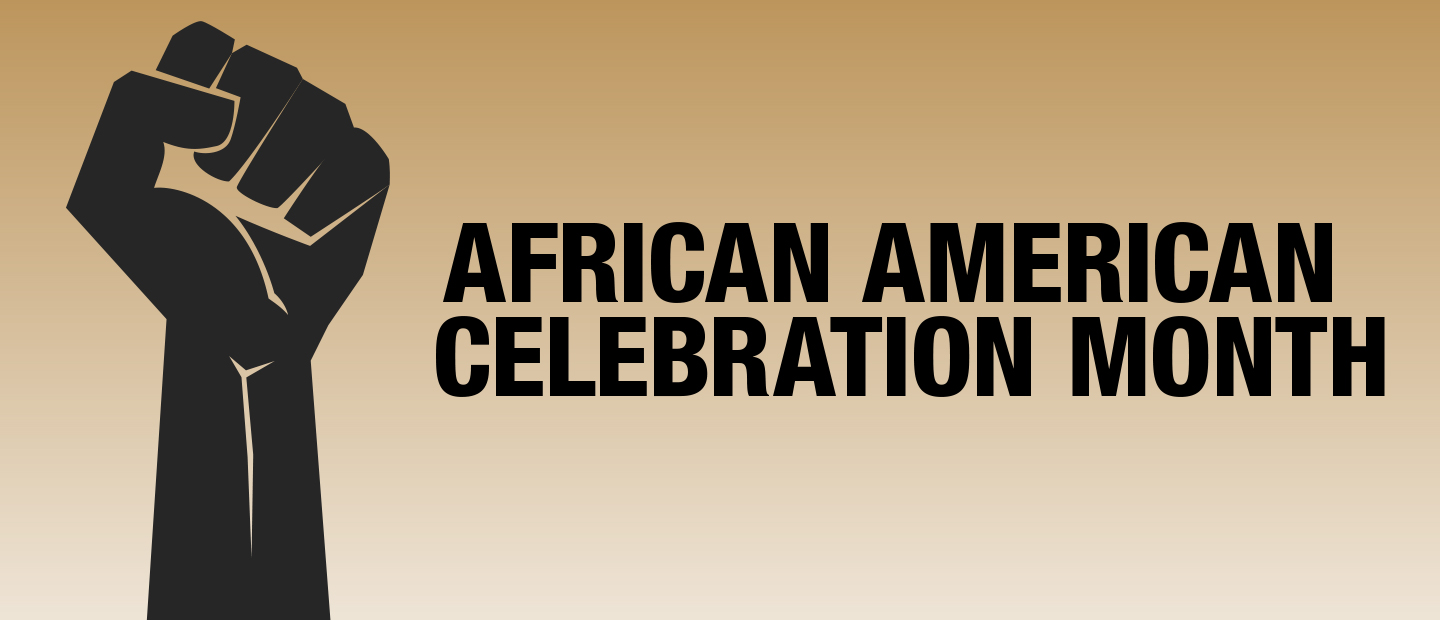 African American Celebration Month
African American History Month is an annual observance for remembrance of important people and events in the history of the African diaspora. It is celebrated annually in the United States and Canada in February.

African American History Month had its beginnings in 1926 in the United States, when historian Carter G. Woodson announced the second week of February to be "Negro History Week". This week was chosen because it marked the birthday of both Frederick Douglass and Abraham Lincoln. Woodson created the holiday with the hope that it eventually be eliminated when black history became fundamental to American history.

Negro History Week grew in popularity throughout the following decades, with mayors across the United States endorsing it as a holiday. Led by the leaders of the Black United Students at Kent State University in February of 1969 African American History week was expanded from a week to a month. The first celebration of African American History Month occurred at Kent State University in February of 1970. Six years later during the bicentennial (1976), the expansion of Negro History Week to African American History Month was recognized by the U.S. government.

African-American History Month at Oakland University kicks off each year on Dr. Martin Luther King, Jr. Day. This month long celebration reflects OU's ongoing commitment to celebrating the historical and cultural contributions that African Americans have made in the past, present and future.
Events
2023 African American Celebration Month Events
January 16, 2023
Annual Keeper of the Dream Scholarship Awards Celebration
Oakland Center, Founders Ballrooms | 11:30 a.m. – 1 p.m.
Hosted by the CMI
January 17, 2023
African American Celebration Month Opening Ceremony
Oakland Center, Habitat | 3 – 5 p.m.
Hosted by the CMI
Join us as we Kick-Off our 2023 African American Celebration Month and pay tribute to African American heritage and culture. Light refreshments will be provided.

January 18, 2023 
MLK Day of Service 
Oakland Center, Gold Rooms | 9 a.m. - 5 p.m. 
Hosted by the OSI
MLK Day of Service is a community-wide service project providing Oakland University students, staff members, alumni, and friends the opportunity to volunteer in the name of Martin Luther King Jr and his vision. Students, staff, and alumni participate in a national day of service and volunteer on campus where we will donate all products made to a nonprofit in the local community in honor of Martin Luther King Jr. and his legacy.

January 19, 2023
Race and Policing: A Virtual Panel Discussion 
Virtual | Noon – 1:30 pm
Join Here
Meeting ID: 953 4154 9987
Passcode: 552266
Hosted by OU Libraries 

OU Libraries is hosting a virtual event titled: Race & Policing: A Panel Discussion. The discussion will be moderated by Dr. Pernell Witherspoon (Lindenwood University, Criminal Justice--research areas include policing, racial profiling, and race and ethnicity). In addition, we are inviting Dr. Chanda Scott (OU, SEHS--research areas include diversity education, eradicating societal racism, antiracism education and social justice practices), Dr. Caress Dean (OU, Health Science--research interests include addressing influential social determinants of health), Dr. Shamma Hickling (Wayne State University, Criminal Justice--research interests include policing, race, crime, and justice, diversity issues, and crime prevention),  and OU student leader Destiny Williams as panelists. 
We will cover policing topics as they relate to race--racial profiling, institutional and systemic racism, impact of policing on health and mental health, history of race and policing and others. We will also discuss the recent incident on OU's campus (the viral video of the young man in the rec center).


January 25, 2023
Exploring Inclusion in the Workplace Panel
Oakland Center, Habitat | Noon - 1:30 p.m.
Hosted by Career Services 
A panel discussion, sponsored by Rocket Companies, will explore the topic of imposter syndrome. Hear from Rocket Companies team members and Oakland University Faculty and Staff about their real-world experiences with imposter syndrome in the workplace. Refreshments will be provided.

January 26, 2023 
DEI in Physical Therapy: Mentors Who Made a Difference!
Virtual | Noon – 1 p.m.
Join Here
Meeting ID: 986 9885 1222
Passcode: 608151
Hosted by OU PT Program
The OU PT DEI committee is formulating a mentoring program for students. We will have a panel discussion to focus on ways mentoring can be beneficial in recruiting and retaining students from underrepresented minority backgrounds (URM ) to the PT program. Each panelist will give a brief overview of their roles as mentors in various PT programs and what were the barriers, pros and cons they faced as mentors. The targeted audience will include student's from OU's current PT program, Pre PT students, other students/staff, and general community. A moderator (Dionne Shell, MPT, graduate of OU PT Program and current doctoral student in the PhD Program in Human Movement Science) will facilitate the Q/A session. Members of our DEI committee will assist with monitoring questions in the chat room
January 31, 2023
Contributions & Accomplishments of Black Faculty at a Predominantly White University
Virtual | Noon – 1 p.m.
Join Here
Meeting ID: 917 8726 9301
Passcode: 083218
Hosted by Black Faculty Association
This presentation will highlight Black faculty's contributions at a predominantly White, Midwesterner public university to enhance Black faculty recruitment and retention. In a mixed-method study, faculty who self-identify as Black were surveyed via Qualtrics to gain insights into their teaching, service, research, and factors that have facilitated their academic growth and success. Participants also reported recommendations on additional efforts for assisting Black faculty in thriving in higher education.

February 1, 2023
Lived Experiences and Compassion: Addressing DEI in medical education, patient safety, and public health communication
Virtual | 1 – 2 p.m.
Register Here
Hosted by OUWB Diversity & Inclusion Office
The Diversity Lecture Series is designed to highlight health equity in medicine and health care, as well as critical challenges of diversity and the way we practice in our community. 
Lectures are consistent with OUWB Diversity & Inclusion's mission - to facilitate and promote OUWB's diverse and inclusive medical learning community through pipeline programs, student support and interest groups, educational programs, and community outreach events.
February 2, 2023 
AACM Book Club: Unprotected: A Memoir by Billy Porter
Gender and Sexuality Center, 104J North Foundation Hall | Noon – 1 p.m. 
Hosted by the Gender and Sexuality Center
February 9, 2023 
Move and GROOVE: Hip-Hop Culture as a Tool to Express Yourself
Rec Center,  Studio 919 | Noon – 1 p.m. 
Open to Students and Staff
Register Here
Hosted by OU Rec Well, OUWB, DOL, OU Enrollment Management
This session is designed to facilitate understanding of Black American culture through hip-hop. We will begin with an overview of hip-hop culture and history. Then participants will engage in dance movements inspired by hip-hop culture and music. Come ready to move and GROOVE and be inspired by the history of hip-hop culture.

February 10, 2023
Taste of Africa
Oakland Center, Banquet Rooms | 4  – 7 p.m.
Hosted by CMI
Taste of Africa will Feature African and African-American cuisine, African drumming and spirituals, spoken word performances, and much more!

February 15, 2023 
Exploring Inclusion in the Workplace Mixer
Oakland Center, Habitat | 4 – 6 p.m.
Hosted by Career Services 
February 16, 2023
Black Women Rock Awards (Closing Ceremony)
Oakland Center, Ambassador Rooms (157-158) | 5 – 7 p.m.
Hosted by CMI
SPONSORS
Sponsored by:
Center for Multicultural Initiatives
Co-sponsored by:
School of Engineering and Computer Science

Honors College