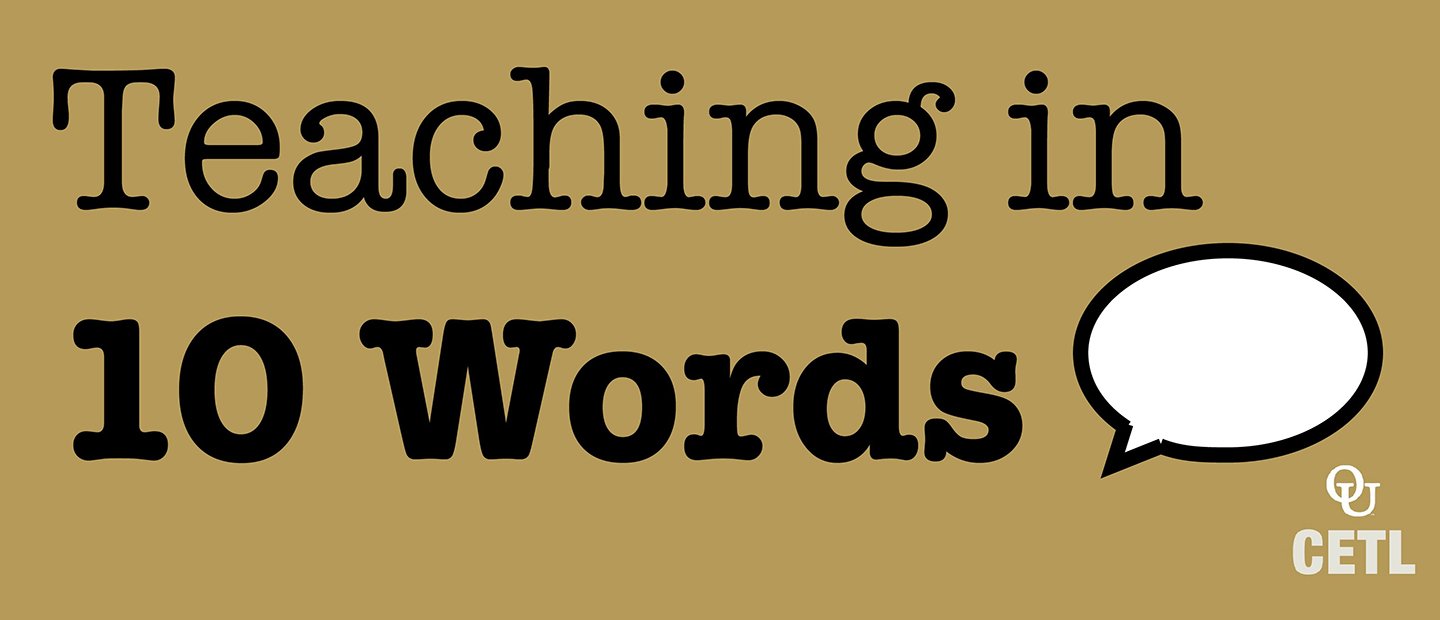 Teaching in 10 Words
From Award-Winning OU Faculty
Expressing your teaching philosophy in 10 words can be a short but powerful way to reflect on your teaching values and practices. We asked the recipients of Oakland University's 2022 Teaching Awards to share their Teaching in 10 Words, plus a little more on those 10 words. Learn more about the awards, which are coordinated through the Senate Committee on Teaching and Learning.
Fostering Engagement and Collaborative Problem Solving with Team-Based Learning
Sarah Lerchenfeldt, Teaching Excellence Award
Effective teamwork often leads to successful outcomes. For this reason, I became interested in the Team-Based Learning (TBL) instructional method, an evidence-based pedagogical strategy that increases student engagement through collaborative learning. There are several reasons why I utilize TBL. It not only helps students improve their critical thinking skills and clinical reasoning related to pharmacology, but also helps students improve their communication and interpersonal skills. I also use TBL because it more easily allows me to collaborate with a diverse set of educators from various backgrounds and expertise to create integrated modules that are more meaningful to clinical practice. I have used horizontal and vertical integration of course material to help learners make important connections between the basic and clinical sciences. During these sessions, I encourage students to develop their higher-order thinking skills with challenging, real-life scenarios and guide them to focus on developing skills and practices that enable lifelong learning.
Use Variety in Instruction to Motivate Students and Maximize Learning
Dennis Burin, Excellence in Teaching Award
My Global Human Systems class has many broad topics that elicit strong opinions and creative solutions. Topics include immigration, world population, religion, and politics.  Getting to know the students initially helps to build rapport and create an atmosphere conducive to sharing and respecting each other's viewpoints. During my lectures I am constantly asking questions to check for understanding and, just as important, foster critical thinking skills. I teach the material as unbiased as possible and try to teach both sides of an issue and then have the students share their opinions and potential solutions. I also tie in current events to all topics, use discussion forums in Moodle to get everyone involved in the discussion and view these discussion forums in class (focusing on the less vocal students), and use short video clips to enhance instruction. I believe that using variety in your instruction keeps students motivated and enhances learning.
Keeping Students Engaged Online: Importance of Organization, Scaffolding, and Humor
Sandra Troxell-Smith, Online Teaching Excellence Award
Engagement and interest in online learning can be a struggle for both faculty and students alike, particularly in asynchronous courses. While the flexibility of the asynchronous format has obvious appeal, students often struggle with the "open" schedule. To combat online course fatigue, my Moodle pages follow a very specific layout, with scaffolded lessons, fresh course material, and explicit expectations appearing each week. A standard Moodle page structure allows students to focus on the material, rather than struggling to parse out what's due when. I also share my own personality with my students by incorporating things like punny t-shirts and memes into my lectures. Humor helps students connect to and engage with the material, and allows me to build a virtual connection with them over something other than just academics. Students feel supported by the consistent weekly Moodle structure, and are interested to see what eye-roll worthy bits are coming up next!
Save and adapt a Google Doc version of this teaching tip.
Others may share and adapt under Creative Commons License CC BY-NC. View all CETL Weekly Teaching Tips. Follow these and more on Facebook, Twitter, and LinkedIn.