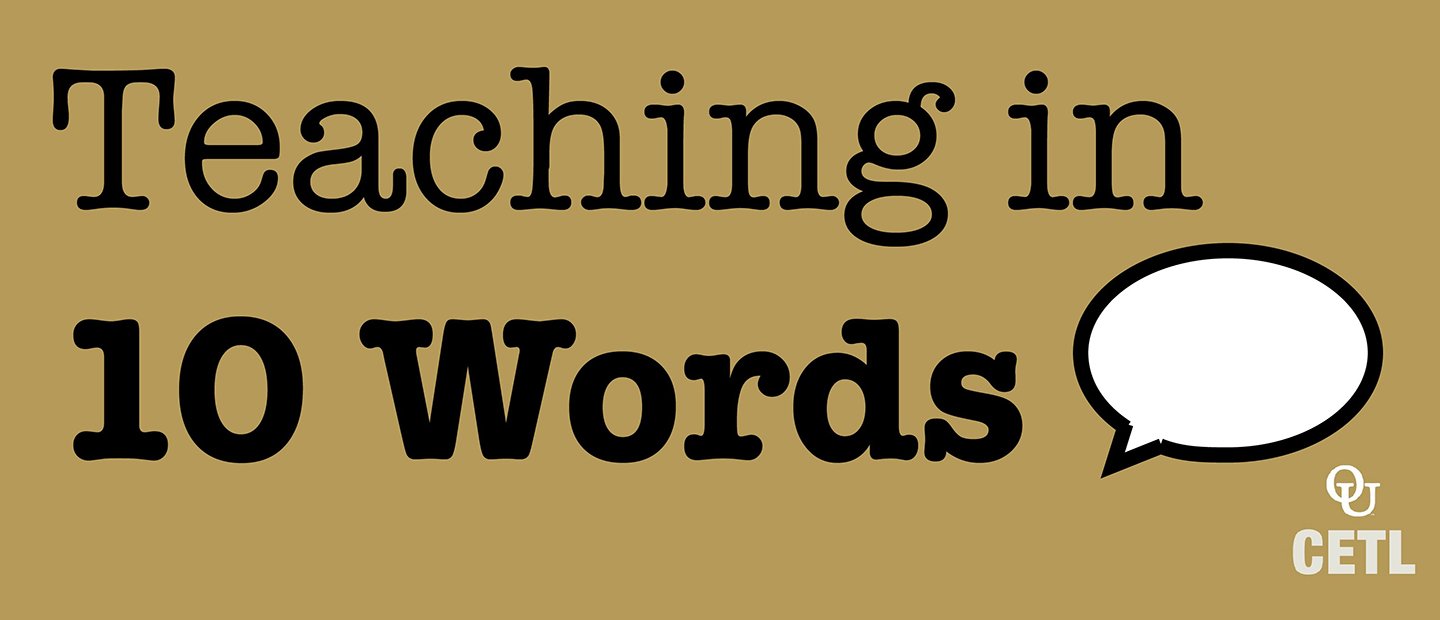 Teaching in 10 Words
From Award-Winning OU Faculty
As a short but powerful way to reflect on one's teaching values and practices, we invite the OU community to share their Teaching in 10 Words, which will be shared as a collection and as individual phrases through November 8, 2021. To kick things off, we asked the recipients of Oakland University's 2021 Teaching Awards to share their Teaching in 10 Words, plus a little more on those 10 words. Learn more about the awards, which are coordinated through the Senate Committee on Teaching and Learning.
Approaching engaging and memorable class design as a television producer
Chiaoning Su, Teaching Excellence Award
As a media scholar, I liken class design to television show production. At the start of each semester, I look at the course schedule as a 15-week television show moving from pilot (i.e., first day of class) to series finale (i.e., final day of class). To make your course binge worthy, you need to (a) start with a strong cast of characters by demonstrating your personality but also engaging students in collaborative learning, (b) fill the course with unresolved tension by embracing controversial topics and encouraging critical discussion, (c) throw in some surprising elements, such as K-Pop choreography, virtual reality goggles, and social media campaign design, and (d) at least in the American tradition, resolve that tension with a hopeful, if not a happy, ending through final presentations and group reflection.
Let students have fun and creatively learn by making mistakes
Shaun Moore, Excellence in Teaching Award
My teaching pedagogy revolves around making learning fun for students in an environment that allows them to express their creativity and does not punish mistakes. My personal belief falls in line with the cognitivist approach, which looks at learning how to learn, and showing students how it is a recursive process. Making mistakes is a natural part of the learning process. I also try to incorporate an expressivist approach into the classroom, as it is important for students to know that they have a voice and learn how to use it. The social approach comes into my philosophy as well because I'm a huge advocate of peer evaluation, group work, and having students learn from different sources, including each other. I blend all these approaches into my own philosophy. While I may base my pedagogical practices on the cognitive approach, it would not be complete without the expressive and social methods factored in.
Compassionately create a classroom community for comprehending chemistry
Charlene Hayden, Online Teaching Excellence Award
As I teach my chemistry classes, I always try to think of the students' point of view and what I would want and need to succeed if I was one of them.  Along with that perspective, I also gather feedback from my students and listen to their suggestions.  It's amazing how a little compassion goes a long way to building trust and cooperation.  For example, simply modifying which day of the week a low-stakes homework assignment is due can work wonders. In addition, I try to build a sense of community by encouraging in-class collaboration to tackle active learning tasks such as practice problems. Chemistry is a scary subject for many of my mainly freshman students.  Working with their peers makes the learning fun and offers moral support to keep motivation high. Finally, incorporating some humor never hurts!
Save and adapt a Google Doc version of this teaching tip.
Others may share and adapt under Creative Commons License CC BY-NC. View all CETL Weekly Teaching Tips. Follow these and more on Facebook, Twitter, and LinkedIn.