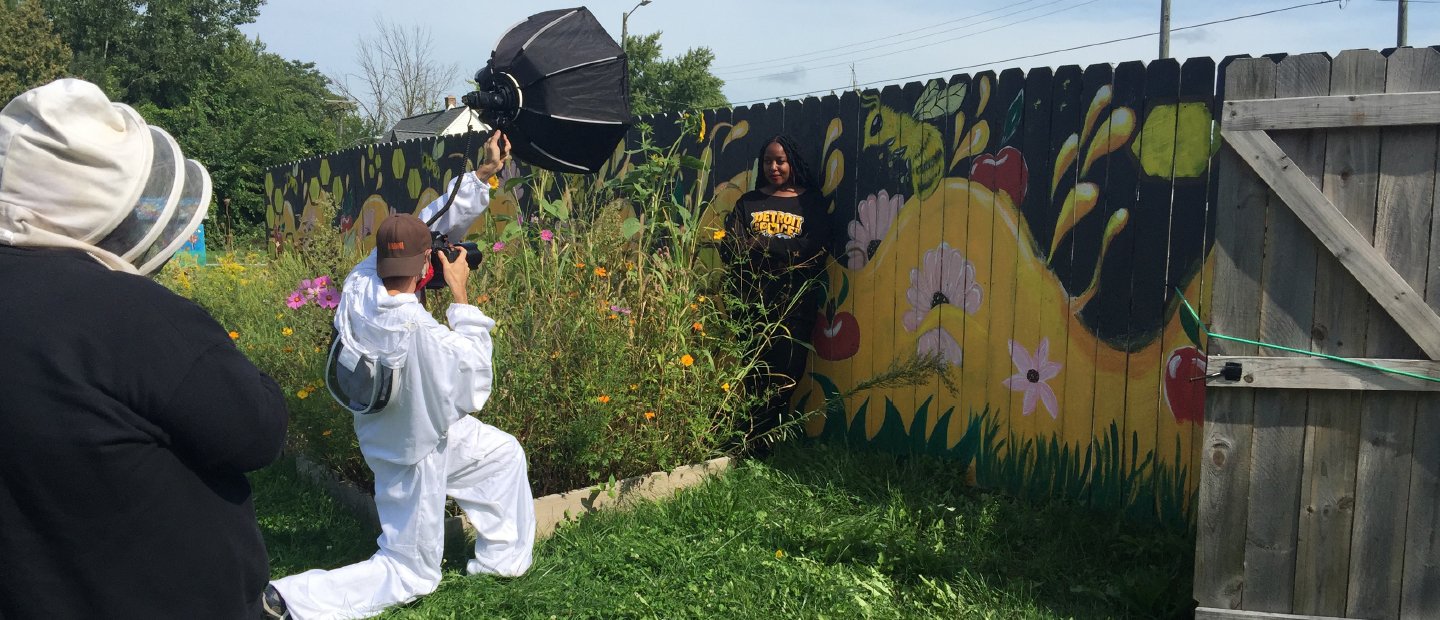 The graphic elements we use. The fonts we select. The photos we feature. All of these components are purposefully curated to create a unique visual system that makes our story more powerful and identifiable.
Behind our design is purpose, not simply embellishment. Being aware of why each element has been chosen helps both solidify the purpose behind the design while reinforcing brand identity along the way.
OU Logos
As with any brand element, it is important to understand the strength and value an OU logo brings to overall reputation. The logo is an opportunity to showcase the OU brand in a graphic way across all platforms and allows for split second recognition in the marketplace. And remember, we are greater than the sum of our parts, so as with all brand elements, consistency is key even when putting out a logo for an individual unit or department.
Main OU Logo

The main OU logo uses ITC Garamond and is easily identifiable in both internal and external markets.
The OU logo may be produced in black, gold or reversed out in white. By limiting ourselves to these options, our logo will feel contemporary and modern, while maintaining a strong connection to our heritage. Other brand elements give us a bit more creative freedom to flex the identity, but it's important that our logo retain a singular, iconic identity.
The Oakland logo should never be the dominant element on the page; instead it should live comfortably and clearly as an identifying mark. There is no maximum size limit, but use discretion when sizing the logo. Never reproduce the logo at widths smaller than one inch.
Interlocking OU

The interlocking OU is used when space is limited and for social media applications.
This mark can be used as the primary mark if the audience is very familiar with Oakland University.
Grizz Head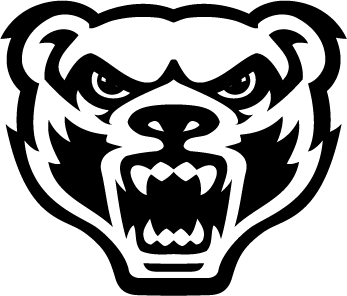 The spirit marks should be used almost exclusively for athletics and merchandise materials. The varsity monogram is only to be used by varsity sports. Obtain approval from University Communications and Marketing before using either on any publications.
Sail

Oakland University's sail is a stylized version of the sail from the ship of the Greek hero Ulysses. The OU Sail is the official university logo, representing what Oakland has achieved and what it aspires to become. The meaning of the sail is known by current students, faculty, and staff, and should be limited to internal audiences only.
You will see this mark as accent marks in different places around the university - in door signage, end of articles in OU Magazine, etc. At this point, University Communications and Marketing is limiting usage of the sail to small accents.
Seal
The Oakland seal is the official emblem of the university. It combines the university motto, "Seguir virtute e canoscenza," with a representation of the sail from the ship of the seafaring Greek hero Ulysses. The OU seal and sail represent what Oakland has achieved and what it aspires to become.
The OU Seal is for formal academics and presidential use only, and is not interchangeable with the official logo.
Typography
An often overlooked asset, an organization's font can play a major role in tying the brand together. Fonts have the ability to bring personality to your work and engage an audience, all while maintaining cohesiveness within a brand. Oakland University uses Helvetica and ITC Garamond in a variety of weights as the official fonts. As with all of our brand work, the OU fonts also convey a sense of the authentic OU.
Helvetica
Oakland University and Helvetica share the same year of creation, 1957, and reflect each other in many other ways which make it a purposeful pairing. Helvetica is well respected while also representing modernism in a clash of all the best parts of tradition and innovation, much like what Matilda Dodge Wilson strived for when founding Oakland University as a fresh new approach to education. It should be used primarily for headlines in core messaging materials. The Helvetica Neue family offers a versatile range of weights that can extend this headline style to secondary messaging. If Helvetica is not available, Arial may be substituted.
ITC Garamond
To complement the modernism of Helvetica, ITC Garamond is a traditional serif-style typeface used as the official secondary typeface. Its elegant looks are matched with an intelligent, familiar nature. Understated and serious, this secondary typeface pairs well with our primary typeface. It should be used primarily for introductory and formal copy. ITC Garamond is available and approved to use in a variety of weights. If Garamond is not available, Times Roman may be substituted.
Color Palette
Core Palette
Gold
Pantone 465 C
CMYK: 26, 40, 73, 3
RGB: 188, 149, 92
HEX: BC945B
White
CMYK: 0, 0, 0, 0
RGB: 255, 255, 255
HEX: FFFFFF
Black
CMYK: 0, 0, 0, 100
RGB: 0, 0, 0
HEX: 000000
Expanded Palette
Family of Golds
PMS 872
CMYK: 42, 47, 77, 18
RGB: 136, 113, 73
HEX: 877148
OU's ADA Gold / Metallic Gold for upscale usage
PMS 144 C
CMYK: 0, 51, 100, 0
RGB: 237, 139, 0
HEX: ED8B00
PMS 116 C
CMYK: 0, 14, 100, 0
RGB: 255, 205, 0
HEX: FFCD00
PMS 1205 C
CMYK: 0, 3, 43, 0
RGB: 248, 224, 142
HEX: F8E08E
PMS 466 C
CMYK: 8, 23, 52, 15
RGB: 198, 170, 118
HEX: C6AA76
PMS 7501 C
CMYK: 6, 10, 30, 2
RGB: 217, 200, 158
HEX: D9C89E
Neutrals
PMS 411 C
CMYK: 30, 42, 34, 75
RGB: 94, 81, 77
HEX: 5E514D
PMS 408 C
CMYK: 12, 19, 19, 40
RGB: 151, 140, 135
HEX: 978C87
PMS 400 C
CMYK: 6, 7, 13, 16
RGB: 196, 191, 182
HEX: C4BFB6
Accents
PMS 370 C
CMYK: 66, 26, 100, 9
RGB: 99, 140, 28
HEX: 638C1C
PMS 322 C
CMYK: 100, 35, 50, 13
RGB: 0, 112, 120
HEX: 007078
PMS 229 C
CMYK: 47, 94, 47, 36
RGB: 103, 33, 69
HEX: 6A2145
Photography
Photography plays a major role in how we communicate. A photo can say just as much about a brand and a story as any other element. That's why it's important to choose and produce photography that aligns with messaging that is on brand for Oakland University.
Our photography should authentically represent what happens at Oakland University — actual people doing real things in specific places. To appropriately focus on these real stories, always include a variety of tight shots on the subject, as well as extreme wide-angle shots. In this section, we have highlighted four different styles of photography along with explanations and examples of how to visually align them with the brand: In the Moment, Student-Faculty Interaction, Sense of Place, and Events and Documentation.
In the Moment and Student-Faculty Interaction
This style is about capturing genuine interaction. There are multiple dimensions for which you can capture students in their environment that align with on-brand messaging. First, an experiential pioneer includes shots such as innovative and hands on learning as well as showcasing new experiences. It's about capturing self and educational discoveries through action. The second storyline, determined contender, is a more reflective and resilient storyline which would likely include shots of resourcefulness and adversity. It is all about capturing growth through hard work and overcoming challenges. For the final storyline, competitive leader, you can capture interactions and moments that solidify Oakland's place as an established academic presence. This may include documenting high-profile programs in action and student-faculty interactions.
Sense of Place
These images should express a sense of atmosphere: wide open spaces, people interacting with their environment and each other, architectural close-ups and more. Keep in mind that even environments can exude storylines such as lab environments giving a sense of opening doors to new exploration and experimentation or the clock tower which could represent Oakland as a recognized presence with proud history and tradition.
Events and Documentation
Documentary-style photography of work or events should be shot in the way that best captures the spirit of the event. While each story is unique, it will likely fall within one on-brand dimension of messaging. The goal here is to tell and compliment a story with photos reflective of its dimensional roots. Sometimes event photography is just that — photography of an event to capture a moment in time and document it for the future. In this case, there is no need to tie to an overall storyline.