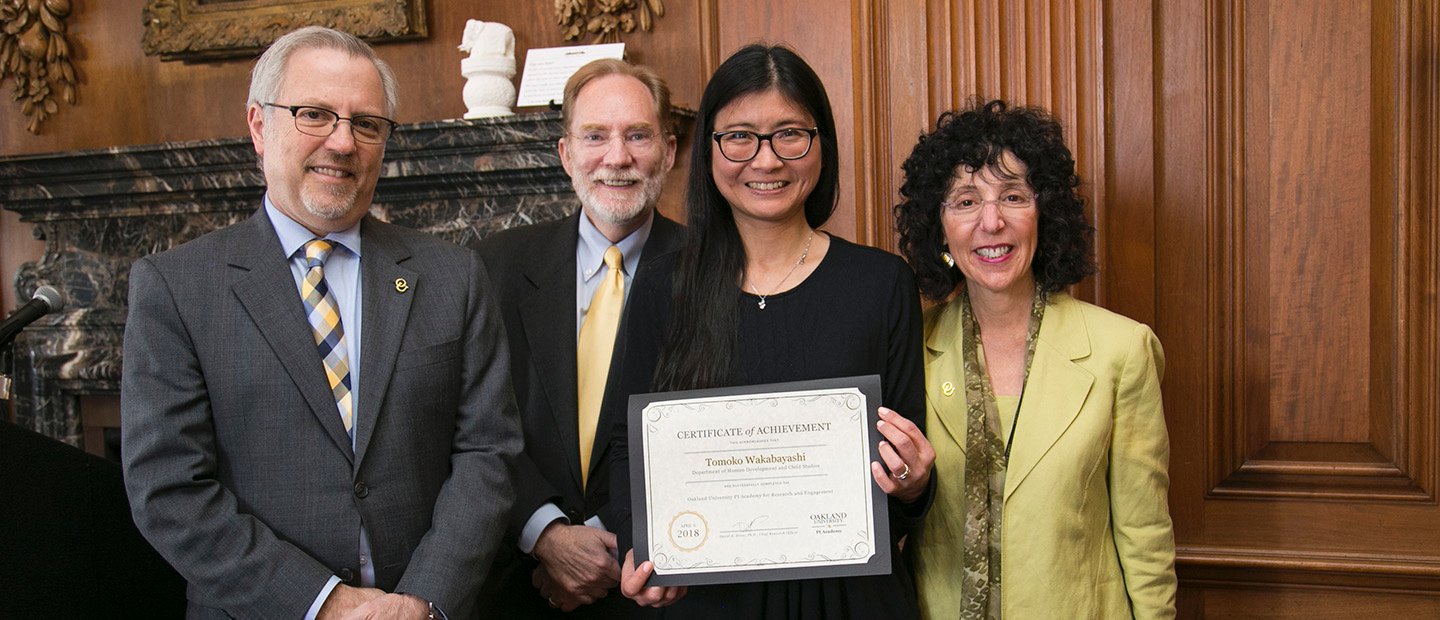 The Oakland University PI Academy for Research and Engagement
The PI Academy provides professional development in research, scholarship, and engagement each year to a cohort of non-tenured, tenure-track faculty members nominated by their colleagues from across campus. The program includes training sessions, workshops, exercises, and other activities throughout the year. PI Academy participants are also matched with external mentors who will work with them over the course of a year on developing their skill sets and career networks.
Email questions to piacademy@oakland.edu.
Directed by Dr. David Stone, Vice President for Research, dstone@oakland.edu.
---
Follow us on Twitter (@OaklandResearch) for more updates from #OUpiacademy. 
PI Academy Mentors
Past Mentors
2020
Sheila Murphy (University of Southern California), Beth Gazley (Indiana University)
2019
Robert Raguso (Cornell University), Carol Barnum (UX Firm), Mo Wang (University of Florida), Lisa Pearce (UNC Chapel Hill), Hartry Field (New York University), Jeff Rhoads (Purdue), Peng Liu (Penn State), Samuel Museus (University of California, San Diego), Maury Nussbaum (Virginia Tech), Kathleen Martin Ginis (University of British Columbia), Linda Boyle (University of Washington), Shiyong Lu (Wayne State), Gordon Gillespie (University of Cincinnati), Judy Regensteiner (University of Colorado), Linda Van Eldik (University of Kentucky), Stewart Friedman (University of Pennsylvania), Seema Khurana (University of Houston), Diana Paton (University of Edinburgh), Mark Shiel (King's College London), Andrew Guccione (George Mason University), Elisa Bertino (Purdue), Jesse Thaler (MIT), Lindsay Grace (Miami), Mary-Jo DelVecchio Good (Harvard), Henri Casanova (University of Hawaii at Manoa), Susan Dewey (Wyoming)
2018
Bob Goldstein (UNC Chapel Hill), Bruce Taylor (NORC), Bruce Logan (Penn State), Mohammad Shahidehpour (IIT), Ron Askin (Arizona State), Joel Gittelsohn (Johns Hopkins), Miranda Banks (Emerson), Geoffrey Beach (MIT), Sandra Mitchell (Pittsburgh), Barbara Pieper (Wayne State), Ali Akoglu (Arizona State), Roger Summons (MIT), James Szybist (Oak Ridge National Lab), Hannah Knudson (University of Kentucky), Martin Burtscher (Texas State University), André Boehman (University of Michigan), Pat Corrigan (IIT), Amit Sheth (Wright State), Richard Bohannon (Campbell University), Kenneth Yamada (NIH/NIDCR), Catherine Snow (Harvard), Sandy Hershcovis (University of Calgary), Brian Scassellati (Yale), Loren Wold (Ohio State), Dimitrios Stefanidis (Indiana University), Alexandre Morin (Concordia University, Montreal), Bob Aronson (Taylor University), George O'Toole (Dartmouth)
PI Academy Seminars
Upcoming Seminars 
Information about seminars from visiting mentors will be posted here.
PI Academy Alumni
2021-2022 PI Academy Alumni:
Sarah Beetham, Mechanical Engineering, SECS
Shicheng Chen, Clinical and Diagnostic Sciences, SHS
Olga Ehrlich, Nursing, SON
Lindsay Gietzen, Physician Assistant Science, SHS
Deidre Hurse, Foundational Medical Studies, OUWB
Rumit Kakar, Exercise Science, SHS
Erin Kennedy, Nursing, SON
Steven Louis, Electrical and Computer Engineering, SECS
Mark Manning, Psychology, CAS
Lindsay Oberleitner, Foundational Medical Studies, OUWB
Watoii Rabii, Criminal Justice, CAS
Hon Yiu (Henry) So, Mathematics and Statistics, CAS
Tiffany Steele, Organizational Leadership, SEHS
Matthew Toeniskoetter, Mathematics and Statistics, CAS
Betty Tonui, Social Work, CAS
Steven Wilson, Computer Science and Engineering, SECS
Lanyu (Lori) Xu, Computer Science and Engineering, SECS
2020-2021 PI Academy Alumni:
Zeina AlSalman, Economics, SBA
Aubrey Arain, Public and Environmental Wellness, SHS
Osman Aydas, Decision and Information Sciences, SBA
Thomas Bianchette, Chemistry, CAS
Rebecca Boni, Nursing, SON
Jun Chen, Electrical and Computer Engineering, SECS
Elizabeth Delorme-Axford, Biological Sciences, CAS
Tara Diesbourg, Public and Environmental Wellness, SHS
David Gram, Theatre, MTD
Michael Greiner, Management and Marketing, SBA
Tamas Horvath, Mathematics and Statistics, CAS
Jun Hu, Mathematics and Statistics, CAS
Kyeorda Kemp, Foundational Medical Studies, OUWB
Hyungil Kim, Industrial and Systems Engineering, SECS
Zacharias Kinney, Chemistry, CAS
Michael Kranak, Human Development and Child Studies, SEHS
Chang-kyu Kwon, Organizational Leadership, SEHS
Tianle Ma, Computer Science and Engineering, SECS
Jason Overfelt, Linguistics, CAS
Sunny Raj, Computer Science and Engineering, SECS
Zhe Wang, Chemistry, CAS
Dawn Woods, Teacher Development and Educational Studies, SEHS
Ankun Yang, Mechanical Engineering, SECS
Yongsoon Yoon, Mechanical Engineering, SECS
2019-2020 PI Academy Alumni:
Theresa Anasti, Social Work, CAS
Stefanie Attardi, Foundational Medical Studies, OUWB
Adam Avery, Chemistry, CAS
Kodi Beyeh, Chemistry, CAS
Patti Bills, Teacher Development and Educational Studies, SEHS
Patti Cameron, Nursing, SON
Felicita Carmichael, Writing/Rhetoric, CAS
Jon Carroll, Anthropology, CAS
Eralda Caushaj, Decision and Information Sciences, SBA
Caress Dean, Public and Environmental Wellness, SHS
Elizabeth Eisenhauer, Nursing, SON
Brandon Gustafson, Marketing, SBA
Joshua Haworth, Exercise Science, SHS
Deana Hays, Nursing, SON
Joanna Hernandez, Nursing, SON
Amanpreet Kaur, Electrical and Computer Engineering, SECS
Sung-eun Kim, Political Science, CAS
Serena Kuang, Foundational Medical Studies, OUWB
Danielle Ligocki, Teacher Development and Educational Studies, SEHS
Zexin Marsha Ma, Communication and Journalism, CAS
Ryan Monroe, Mechanical Engineering, SECS
Taras Oleksyk, Biological Sciences, CAS
Mozhgon Rajaee, Public and Environmental Wellness, SHS
Alexander Rusakov, Chemistry, CAS
Vasyl Tyberkevych, Physics, CAS
Andrea Wenz, History, CAS
2018-2019 PI Academy Alumni:
Sharon Berry, Philosophy, CAS
Elise Brown, Public and Environmental Wellness, SHS
Jingshu Chen, Computer Science and Engineering, SECS
Ilias Cholis, Physics, CAS
Felicia Chong, Writing and Rhetoric, CAS
Christopher Cooley, Mechanical Engineering, SECS
Erin Dwyer, History, CAS
Jickssa Gemechu, Biomedical Sciences, OUWB
Michelle Hammond, Management, SBA
Mary Jamieson, Biological Sciences, CAS
T.J. Jourian, Organizational Leadership, SEHS
Brendan Kredell, Cinema Studies, CAS
Anyi Liu, Computer Science and Engineering, SECS
Matthew May, Sociology, CAS
Hua Ming, Computer Science and Engineering, SECS
Atiqul Mollah, Computer Science and Engineering, SECS
Kristen Munyan, Nursing, SON
Sang Hoon Rhee, Biological Sciences, CAS
Ed Rohn, Interdisciplinary Health Sciences, SHS
Kate Rougeau, Public and Environmental Wellness, SHS
Julian Rrushi, Computer Science and Engineering, SECS
Amartya Sen, Computer Science and Engineering, SECS
Missie Smith, Industrial and Systems Engineering, SECS
Ahmad Sobhani, Decision and Information Sciences, SBA
Sam Srauy, Communication and Journalism, CAS
Greg Thrasher, Management, SBA
Christopher Wilson, Human Movement Science, SHS
Douglas Zytko, Computer Science and Engineering, SECS
2017-2018 PI Academy Alumni:
Shadi Alawneh, Electrical and Computer Engineering, SECS
S. Ali Arefifar, 

Electrical and Computer Engineering, SECS

Sara Arena, Physical Therapy, SHS
Mehdi Bagherzadeh, Computer Science and Engineering, SECS
Sara Blumer-Schuette, Biological Sciences, CAS
Daniel DelVescovo, Mechanical Engineering, 

SECS

Caitlin Demsky, Management, SBA
Joyce Havstad, Philosophy, CAS
Wendi Johnson, Criminal Justice, CAS
Daniel Llamocca, Electrical and Computer Engineering, 

SECS

Wing-Yue Geoffrey Louie, 

Electrical and Computer Engineering, 

SECS

Jonathan Maisonneuve, Mechanical 

Engineering, 

SECS

Khalid Mahmood Malik, 

Computer Science and Engineering, 

SECS

Matthew McLarnon, Psychology, CAS
Nasim Nezamoddini, 

Industrial and Systems Engineering, 

SECS

Maria Paino, Sociology, CAS
Julia Paul, Nursing, SON
Melissa Reznar, Interdisciplinary Health Sciences, SHS
Victoria Roach, Anatomy, 

OUWB

Kwame Sakyi, Public Health, SHS
Mi Hye Song, Biological Sciences, CAS
Laurel Dolin Stevenson, Interdisciplinary Health Sciences, SHS
Luis Villa Diaz, B

iological Sciences, CAS

Tomoko Wakabayashi, Human Development and Child Studies, SEHS
Colin Wu, Chemistry, CAS
Ziming Yang, 

Chemistry, CAS

Wei Zhang, Physics, 

CAS

Peng Zhao, 

Mechanical 

Engineering, 

SECS