Senior Micah Dymond will soon join ranks with her parents, brother and fiancé when she graduates next year with her double degrees in communication and Spanish language and literature. As part of a household of Oakland University alumni, Dymond chose to attend OU because it is an affordable option and close to her hometown.
Upon her arrival, Dymond enthusiastically embraced campus life. Her initial participation began with a summer position in the Office of Student Involvement (OSI), where she helped behind the scenes of Grizzfest, connecting students with local businesses. That position eventually led to becoming a leadership consultant with the OSI, allowing her to gain experience presenting workshops and organizing community service events for OU students.
"I know that whatever job field I go into, I will be dedicated to helping individuals, especially those who may be less privileged," explains Dymond.
Working at the OU Tutoring Center, Dymond has many opportunities to improve her communication skills and, simultaneously, help other students be academically successful. During the COVID-19 pandemic, she worked in developing interactive training videos for tutors which focused on improving their communication skills and deepening their perspectives. Dymond is also focused on how the COVID-19 pandemic affected education, especially in the Spanish-speaking community in Pontiac. She wants to learn more about the gaps in education and provide recommendations to local policy makers so that the best interests of all children are advanced for the future.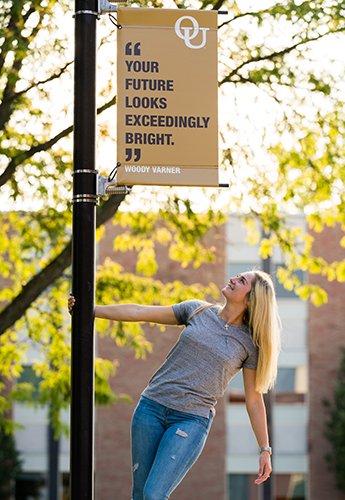 Dymond dreams of becoming a lawyer and eventually a judge. She plans to use her Spanish to become an advocate for individuals who suffer from a language barrier while practicing immigration, family or civil rights law. Her current internship at Clean Fuels Michigan gives her an edge on that since it exposes her to new settings at the governmental level as well as with the community.
"This opportunity with Clean Fuels Michigan has exposed me to new settings, like observing House Energy Committee hearings at the State Capitol," says Dymond. "It has also taught me about advocacy, policy, grant writing and so much more."
Armed with her OU education, and the experiences wrought from her campus involvement and internships, Dymond's success will no doubt make her family of Oakland alumni proud.
Learn more about the opportunities OU offers students on campus.