Tuesday, Nov 03, 2020
Take 5 with Stefanie Attardi, Ph.D., assistant professor of anatomy at OUWB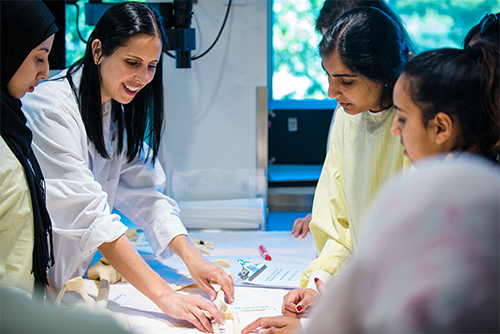 Attardi explains anatomy to high school students during the Future Physician Summer Enrichment Program in June 2016.
Stefanie Attardi, Ph.D., assistant professor, Department of Foundational Medical Studies, can pinpoint a particular conversation with her mom that paved the way for her interest in anatomy. 

"One Halloween when I was little, I was afraid of skeletons so my mom talked to me about bones and how they help us stand up. I became fascinated by what was hiding under our skin," she says. 

Learn more about that conversation and more in this edition of Take 5 that features Attardi.

What led you to a career as an anatomist, and do you remember what it was like the first time that you did a cadaveric dissection?
 One Halloween when I was little, I was afraid of skeletons so my mom talked to me about bones and how they help us stand up. I became fascinated by what was hiding under our skin. I loved going to the doctor to see the anatomical illustrations hung on the walls. For that reason, I wanted to become a physician. After my undergraduate degree, I shadowed physicians and also spent a lot of time in their offices as a pharmaceutical representative. I realized I was initially attracted to the profession because I was passionate about teaching people about their bodies, and less so the diagnostics and patient care. This is when I re-evaluated my goals and decided to pursue graduate school and become a professor of anatomical sciences.  
I participated in my first dissection as an undergraduate student at Queen's University. I expressed my interest in dissection to the anatomy laboratory technician and he arranged for me to help prepare specimens for the anatomy museum. The feeling on that first day was elation and disbelief. It was the first time at University that someone had entrusted me with an important responsibility and had faith in me. I could not believe that I had the privilege to use my hands to learn about something that most people only see in pictures. I could not believe that a donor and their family had selflessly given me such an extraordinary gift.
COVID-19 has certainly impacted the way you're teaching anatomy this fall. How did your work in medical education research of online education assist you with the transition to teaching virtually?
In the study of distance education theory and findings from my own research, I developed a fund of knowledge and skills in the critical elements of distance education. The most valuable resources in the learning environment are people; we must not overlook learner-learner and learner-teacher interactions. As educators, it is easy to become fixated on developing the content for online distribution, but that is only part of the story. Dr. Roach and I created reference materials, a webinar, and consulting meetings to help OUWB faculty strengthen all types of interactions in their online courses.
I also have experience developing online gross anatomy and histology courses through my graduate training. I have drawn on these experiences while working with the anatomy team to move our histology and gross anatomy laboratories online. We have worked hard to ensure that students have ample opportunity to work synchronously with their peers and faculty during laboratory sessions, using Google Meet and G Suite.
You have a special interest in professional development in higher education. How has your role as past vice president of Oakland University's Women Employee Resource Group allowed you to pursue that interest and why was it important for you to serve on this group?
The WERG provides professional and personal development opportunities targeted toward Oakland University employees who identify as women. The Executive Board serves approximately 200 general members by programming annually three large group meetings of general interest, 12 small group meetings for supporting specific sub-populations of women, and one catered special event.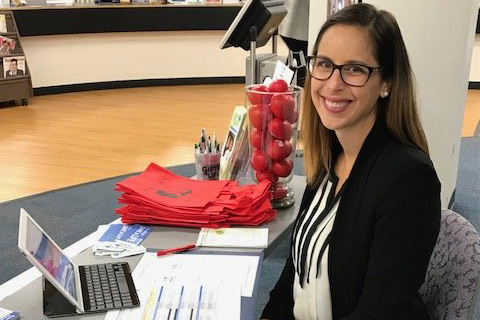 These events provide OU women with a venue for networking and socializing with other women while learning. What drew me to the group was its structure of women employees serving women employees. The WERG Board has a strong sense for what women employees need because we are them!  Also, the nature of an all-women Executive Board has allowed each of us to develop our leadership skills while contributing to the campus community.
 Are there certain things that you miss about Canada?
Above all, I miss my family and friends. Normally, there are a lot of visits both ways. Our physical separation due to COVID-19-related border closures has been extremely hard on all of us.
I also miss Canadian chocolate bars. It's become a tradition for OUWB students to feast on them during select histology labs! How can we resist incorporating chocolate into learning when Aero bars look like alveoli under the microscope?
Can you tell us one thing that people at OUWB probably don't know about you?
I am a proud former auto assembly line worker. I worked for Honda of Canada Manufacturing during university.  
To request an interview, visit the OUWB Communications & Marketing webpage.
NOTICE: Except where otherwise noted, all articles are published under a Creative Commons Attribution 3.0 license. You are free to copy, distribute, adapt, transmit, or make commercial use of this work as long as you attribute Oakland University William Beaumont School of Medicine as the original creator and include a link to this article.