Wednesday, Jul 26, 2023
OUWB student presents research at international conference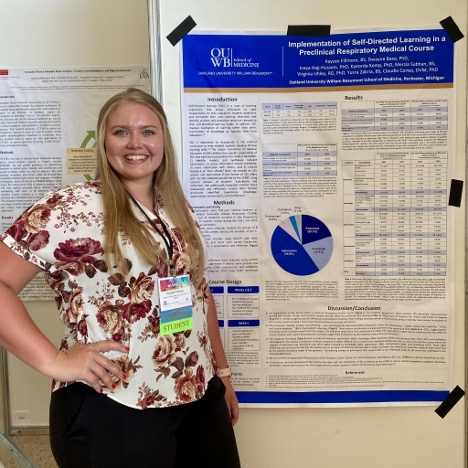 OUWB student Kaycee Fillmore, M3, recently headed to Cancun, Mexico, to present her research at the International Association of Medical Science Educators (IAMSE) 2023 Annual Conference.
OUWB student Kaycee Fillmore, M3, recently headed to Cancun, Mexico, to present her research at the International Association of Medical Science Educators (IAMSE) 2023 Annual Conference.
Her project, titled "Implementation of SDL in Preclinical Respiratory Medical Course," was presented via a poster presentation. The research focused on the benefits of self-directed learning (SDL) in medical education.
The IAMSE conference took place June 10-13, and was the first conference that Fillmore presented at, let alone attended. She described the experience as "confidence-building."
"It was a very friendly environment," she said. "(People) ask you questions, and you start to realize, 'Oh, I really do know a lot about this topic and I can talk about it.'"
"They say partaking in research actually helps you learn how to learn, and that's totally true," she added. "Everything about research, whether you're finding out the answers yourself, or you're talking to other people and learning from them — that's going to be super important as all of us students progress to whatever specialties we go into."
Self-directed learning
Fillmore's research began as a required project in her medical education — the second-year Embark research project. Claudio Cortes, Ph.D., associate professor served as her mentor for the project.
The project examined respiratory courses at OUWB that were taught in 2021 and 2022. In these courses, the students were given an SDL activity. Then, the students gave reflections on SDL, and Fillmore and Cortes coded their responses to look for certain themes.
The results were encouraging — many respondents indicated that they developed their presentation skills and learned how to work better with their teammates.
The topic is important for medical schools, as the Liaison Committee on Medical Education requires them to implement this type of approach to learning.
"We wanted to see if the students were thinking that they were using those components, like figuring out where the gaps in your information or in your knowledge are going and finding the information," said Fillmore.
"The reason they implement it in med school is to make sure that we can do that as doctors in the future on our own without having anybody to tell us to go read a textbook or something like that."
Proud to be at OUWB
Fillmore said her favorite part of the conference was meeting the other student presenters.
"Getting to talk to other students, seeing eye-to-eye, and realizing that we're all going through the same things and we're all hoping we're going to be doctors or dentists is really cool," she said.
Another significant takeaway for Fillmore was the level of effort that goes into medical education.
"I did not realize how much research and work goes into the realm of medical education before going to this conference," said Fillmore. "You see people who have dedicated their whole careers to learning and researching more about medical education. It was very eye-opening to see it from that aspect because I only ever see it as a student."
Fillmore was well-supported at the conference — many OUWB faculty members attended in 2023, including Stefanie Attardi, Ph.D., assistant professor, who was awarded the Early Career Award for Excellence in Teaching and Innovation at the same conference.
Attardi said that student participation in these conferences helps faculty strengthen their curriculum because they develop new ideas to share based on what they learn from different institutions and people from other locations.
"It helps us to continue to improve our own curriculum and be on the pulse of the latest things that are happening in medical education," she said.
"Our medical students are going to be future medical educators themselves, even if they don't go on to become a faculty member affiliated with a university," Attardi added. "When they become residents and attending doctors, they're going to be training the people that are newer on the scene."
Cortes, who attended the conference alongside Fillmore, echoed a similar sentiment.
"It's very important that students participate," he said. "They will be the ones that will replace us. And that's why it's so important that they acquire these experiences."
Fillmore said she was grateful for the support from the OUWB faculty showed her.
"It made me feel very proud to be an OUWB student because so many of our faculty were there presenting and (looking) into medical education more," said Fillmore.
Overall, Fillmore said the experience is something that she will take with her as she continues on her trajectory to become a physician.
"Research conferences are super important because it makes you realize how much you still need to know, how much other people know, how much you can learn from those people," she said. "It's very relevant to what my poster was about…(It teaches you) to be a self-directed learner."
To request an interview, visit the OUWB Communications & Marketing webpage.
This work is licensed under a Creative Commons Attribution-NonCommercial 4.0 International License.