Thursday, Jun 29, 2023
Two OUWB Class of 2023 grads among 60 nationwide selected for leadership seminar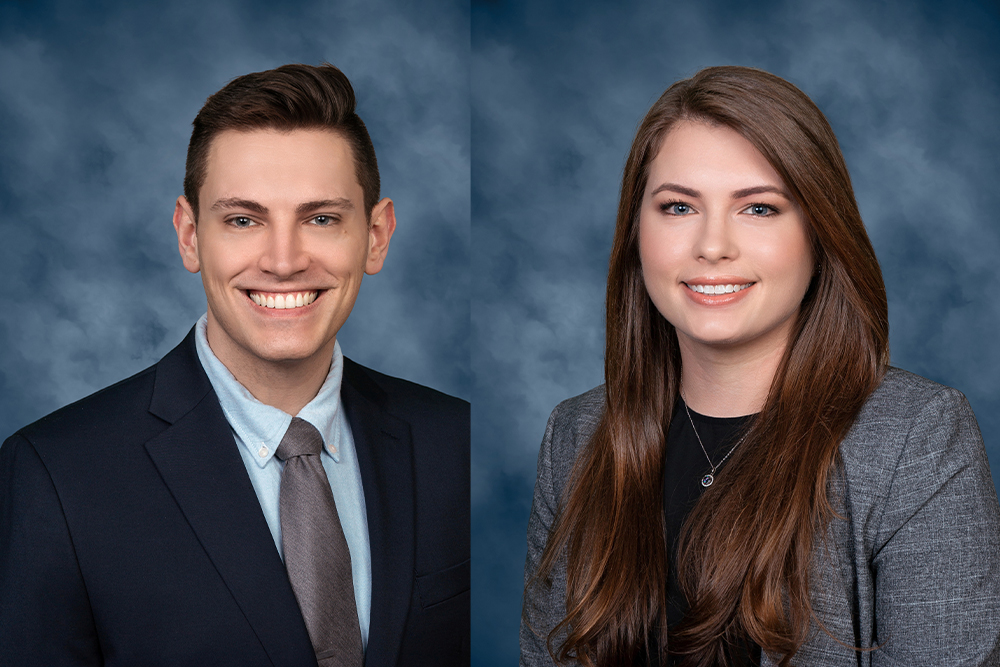 Eric James, M.D., and Sienna Ringgenberg, M.D., took the trip to Washington, D.C. for the event that took place in spring.
As their time in medical school came to a close, two recent OUWB graduates were selected to attend RISE: Developing Future Leaders in Academic Medicine & Science, a seminar for graduating students from across the nation.
Eric James, M.D., and Sienna Ringgenberg, M.D., took the trip to Washington, D.C. for the event that took place in spring.
Out of all fourth-year medical students nationwide, only 60 nominees were accepted to attend.
"It is pretty spectacular for OUWB to have been selected in the first place, but also to have both our nominees selected," said Berkley Browne, Ph.D., associate dean, Student Affairs.
According to the Association of American Medical College's (AAMC) website, the program focuses on the core areas of relationships, influence, self-awareness, and effectiveness. The goal is to teach soon-to-be residents how to "recognize and leverage (their) strengths, build teams and collaborate, manage (their) time, stay resilient and prioritize (their) well-being, and more."
The AAMC has been hosting similar conferences for second-year medical students, but added this conference specifically for the Class of 2023, as the COVID-19 pandemic did not allow for those students to participate as M2s.
At the conference, soon-to-be residents participated in activities meant to strengthen their leadership skills and other professional skills, particularly how to maximize individual strengths within a team.
"I learned so much about my own strengths as a leader and how I can more effectively work with others," said Ringgenberg. "Medicine is a team sport, and better identifying others' strengths and how I can complement them will help me throughout residency."
"I also gained confidence in myself," she added. "I know what I have to offer but also where I need to grow. Empowerment, paired with a growth mindset, will help me enter residency with a calm and determined mind."
For James, the seminar was a great way to wrap up his medical school career.
"It was a nice thing, to go back and reflect on the past four years and what it looked like and things that I had done," he said. "That has been really rewarding, seeing all of the different areas that I was able to help in, whether that was through research, being on various committees, or through other leadership initiatives."
Longtime leaders
Both students were nominated by Browne due to their long history as leaders in the OUWB community.
"Eric has been a leader and an advocate for his class since he arrived (at OUWB)," said Browne. "Eric's role has been a spokesperson, advocate, and representative when it comes to issues of diversity, equity, inclusion, and belonging."
In 2022, James was awarded the Diversity & Inclusion Student Excellence Award for his involvement in several OUWB student organizations, his presence as a student representative on OUWB's Diversity, Equity, and Inclusion Council in all four years of medical school, and his authorship on papers related to diversity, inclusion, and medical school leadership.
"It's really important because so many patients have been historically marginalized or denied care for any number of reasons that are particularly related to diversity, equity, and inclusion," he said.
"When you think about who is sitting at the table, if the table doesn't look like everyone that you're treating, you're going to miss something."
James added that he enjoyed the diverse group of people who attended the RISE seminar.
"There was a really wide range of students there from different backgrounds and different places, and that was really beneficial, as we think about the direction medicine is heading in," he said. "It really is an asset when you're working in a team."
"We're getting much better at that, so I think that is a huge part of leadership. You don't know what you don't know, and you don't know those experiences," he added. "Making sure that you have someone that can give context on that and provide their own ideas on it is really important."
As for Ringgenberg, Browne thought she was a great nominee because of her involvement in the Medical Student Government.
"She has been a tremendous leader and representative for her class," she said. "She's been a very effective leader from the perspective of finding ways to provide feedback from her class and put forward and advocate for things her class has wanted the past four years, while at the same time approaching conversations very thoughtfully and looking to partner with administration."
"Those are skills that not every student has, and they are skills that are certainly very important to her next phase of her career."
Ringgenberg had been heavily active with the Medical Student Government (MSG), serving as an M4 senator, member of the social committee, and a member of the curriculum evaluation subcommittee for the organization. As an M2, she was given the annual "outstanding student" award for her work.
"To me, leadership is about prioritizing the time and effort needed to make change," she said. "The medical field is full of incredibly intelligent leaders who make an impact on others every day, but formal leadership requires a substantial pledge to address larger issues. I find it fulfilling to collaborate with others and work towards finding solutions that benefit my community."
Ringgenberg was initially drawn to participate in MSG because she felt she had ideas to present to benefit her classmates, but her role became even more important throughout the duration of the pandemic.
"It meant a lot that both my peers and administration trusted me and the other senators to represent our class. Working closely with the other MSG members, faculty, and administrators taught me so much about being a good leader, effective communicator, and proactive advocate," she said.
"I am so grateful to everyone who listened to my ideas, gave me honest feedback, and encouraged me to be persistent even when things were difficult."
Leaving something behind
Ringgenberg will complete a preliminary year in internal medicine at University of California Irvine Medical Center before finishing her residency in diagnostic radiology at Oregon Health & Science University.
"I'm looking forward to using all the skills I've added to my toolbox in the last four years," she said. "I am equally looking forward to learning from all of the new colleagues and patients I will encounter in my training."
"I have been so lucky to find myself surrounded by other motivated, kind, and thoughtful people who have pushed me to achieve more than I ever thought possible," added Ringgenberg. "People often try to correct me when I say I feel lucky for all I've achieved, but when I look at the incredible people who spent time investing in me, I'm not sure what else you could call it. I love my OUWB family."
James will soon be leaving for The Ohio State University after matching into a dual program in combined emergency medicine and internal medicine. At the RISE seminar, he was able to meet other people in his unique specialty.
"It was nice to see that such a small pool ends up being a really elaborate network, which is beneficial in terms of leadership and trying to shape academic medicine as a whole."
Looking back on his own medical school career, James added that he believes in the merits of getting involved with the community in any capacity.
"I might not be able to change things for me and my own class, but how to keep things moving in the right direction for the future."
Browne said that the leadership skills the graduates have obtained will serve them in residency and beyond.
"Learning how to lead and lead from a place of empathy and compassion is going to serve them and their patients throughout their careers," she said.
To request an interview, visit the OUWB Communications & Marketing webpage.
This work is licensed under a Creative Commons Attribution-NonCommercial 4.0 International License.