Wednesday, Sep 27, 2023
OUWB med students tackle 'real-life sports medicine' at high school football games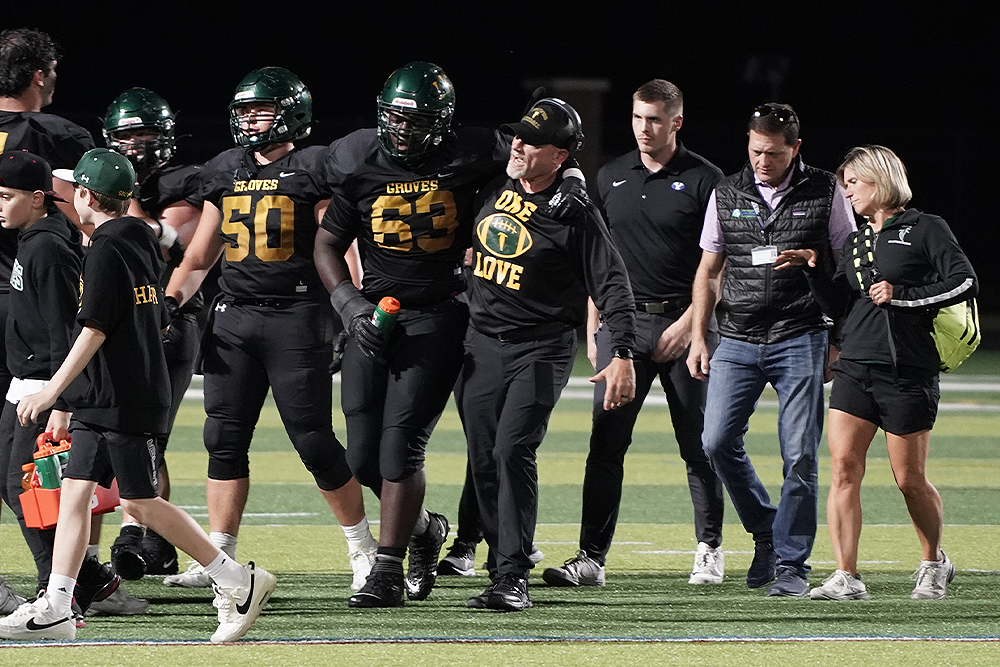 A Birmingham Groves football player is helped off the field following an injury on Sept. 22. Behind the player, (from left) Talon Shumway, M2, OUWB, listens as James Bicos, M.D., and Kelly Salter, athletic trainer, Groves, discuss the injury.
Talon Shumway has spent a lot of time on football fields, but the former receiver at Brigham Young University is now looking at them in a whole different way.
The reason?
Shumway, M2, is among many medical students from Oakland University William Beaumont School of Medicine who volunteer at area high school football games through what has become an annual autumn tradition at OUWB.
That means instead of always looking to exploit defensive weaknesses for big gains, Shumway (and his classmates) constantly scan the field — ready to learn and help in any way possible when a player gets injured.
"It's amazing," said Shumway on Sept. 22 at Birmingham Groves High School.  
"This is a place I feel comfortable," he said. "I enjoy being involved in the game in a different way."
Another benefit is getting one-on-one time with some of the area's top physicians.
"That's the biggest thing that comes from these opportunities…the chance to be with physicians who are top notch in their field," said Shumway. "We get to watch them interact…watch how they observe the game and understand what they look out for."
"There's a game going on, right?" he added at half-time of the Groves game as the home team came back out on the field to a raucous crowd.
"But right now my mind is focused on (the physician) and every single thing he says."
'Real-life sports medicine'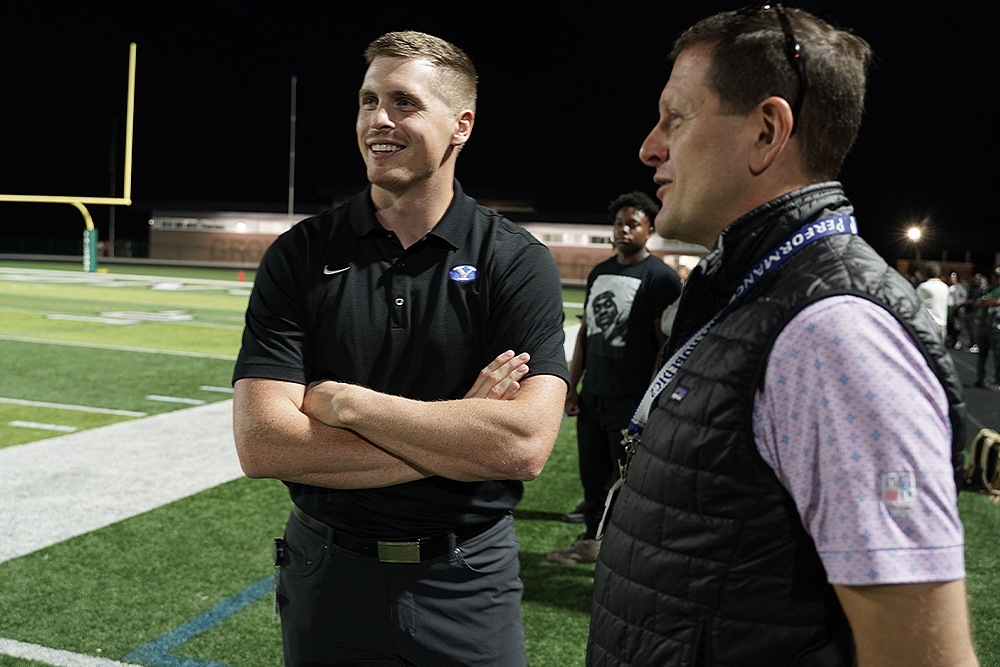 Talon Shumway, M2, and James Bicos, M.D., chat on the sidelines during halftime of the Sept. 22 game between Birmingham Groves and Rochester.
Such opportunities for OUWB's future physicians are coordinated through the school's Orthopedic Surgery and Sports Medicine (OSSM) student interest group.
Working closely with OUWB clinical faculty and orthopedic physicians, OSSM can offer more than 30 opportunities throughout the football season.
The opportunities are at eight schools within a short distance of Corewell Health William Beaumont University Hospital: Groves; Birmingham Seaholm; Royal Oak; Bishop Foley; Ferndale; Royal Oak Shrine; Troy Athens; and Berkley.
The schools all have their own athletic trainers who generally serve as the first to evaluate players in the event of injury, with the Corewell physicians providing additional help.
James Bicos, M.D., an orthopedic surgeon specializing in sports medicine, is one of the physicians.
He said there is no cost to the schools. Officials at each simply take advantage of the opportunity to have volunteer physicians at their games.
Bicos, who is also an assistant professor in the Department of Orthopedic Surgery, said OUWB students have been taking advantage of the opportunities to work with those physicians at high school football games since the school's inception.
"It's great for the students to see real-life sports medicine on the field," he said. "It's one thing to read about it, it's another to even see athletes in the clinic…but to see it happen and see how to manage it as it happens is a totally different experience."
'Actively engaged in trying to help'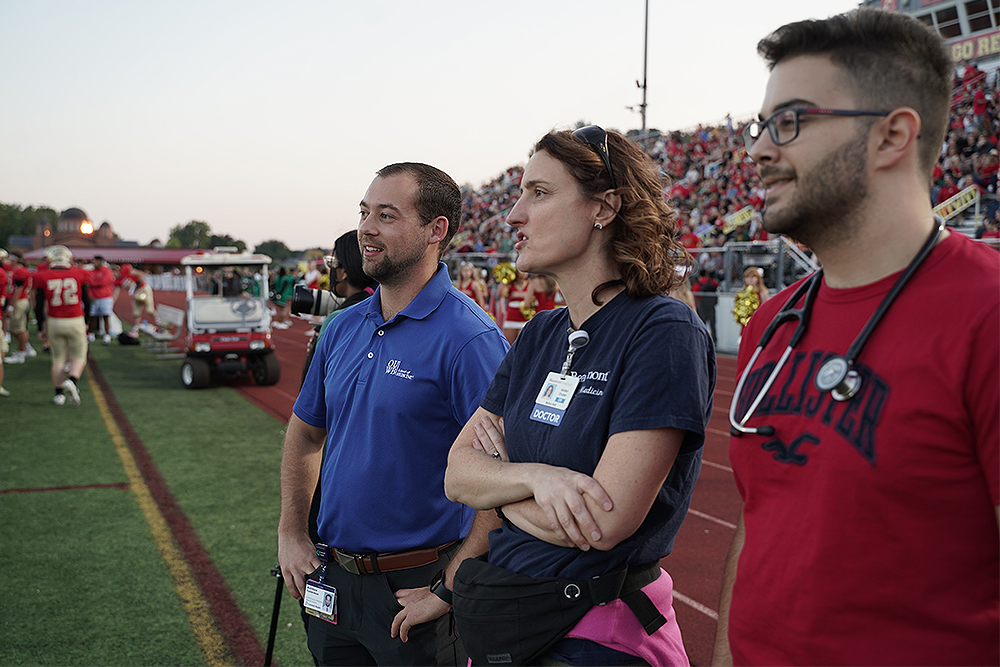 Matthew Cederman, M2, (left) talks with Amber Gruber, M.D., and Corewell Health resident Khaled Kudsi, D.O., during the Sept. 22 game between Troy Athens and Birmingham Seaholm.  
Generally, the physicians and OUWB students stand on the sideline of the team they're working with and watch the games unfold.
Should an injury occur, the school's athletic trainers are the first to evaluate the player. If the injury appears "catastrophic," Bicos said the physician and shadowing student will head out on the field right away.
Injured players are then further evaluated on the sideline. This process generally includes getting a brief history, basic exams and/or specific tests, and trying to determine if the injured player can keep playing or needs to stay out and receive further evaluation before returning.
And while it is not the Super Bowl, it means a lot to everyone involved in the games and learning how to navigate that is a lesson in and of itself, according to Bicos.
"It's really providing a glimpse of what it's like to be a team physician," he said. "How to interact with the athletes, coaches, trainers, and even the parents. And it's not always cut-and-dry."
Students like Matthew Cederman, president, OSSM, call it a great learning experience.
Cederman was at the Aug. 25 game between Groves and North Farmington High School when a linebacker was involved in one of those "catastrophic" injuries.
Tests would eventually determine that the player tore his ACL, MCL, and had a potential meniscus tear.
"From a purely athletic perspective, you're worried about the player's health as you see everyone around you taking a knee," he said. "But on the other side of the coin, you're actively engaged in trying to help the player. I think it furthers a lot of people's interest in orthopedics and sports medicine."
Cederman said that, among other things, he was able to see what it was like to administer a Lachman's Test in real time to determine if an ACL is torn.
Previously, Cederman said that he had studied the test and seen it performed in a clinical setting as part of an internship he had over the summer.
"But there's was nothing as hands-on or direct as physically doing a Lachman's Test on a player who just went down with a torn ACL two minutes ago," he said.
That's exactly why medical students need the opportunity to volunteer at the games, said Amber Gruber, M.D., a family medicine physician and associate professor in the Department of Family Medicine and Community Health.
Cederman shadowed Gruber at the game between Troy Athens and Seaholm on Sept. 22.
"It can be hard for medical students to get real world experience...(and) hands-on learning is what medical students crave," she said. "It's nice to have the ability to directly mentor."
It also helps students serve the community. This is especially important at OUWB, where the mission is "to develop compassionate physicians who are dedicated to improving the health of their communities, collaboration, and lifelong learning."
As the Athens band played between quarters, Gruber elaborated on the experience calling it "one of the best ways for (medical students) to get involved in the community, regardless of what specialty they go into."
For more information, contact Andrew Dietderich, marketing writer, OUWB, at adietderich@oakland.edu.
To request an interview, visit the OUWB Communications & Marketing webpage.
This work is licensed under a Creative Commons Attribution-NonCommercial 4.0 International License.