Wednesday, Sep 06, 2023
Ophthalmology Interest Group at OUWB hosts first-ever community vision screening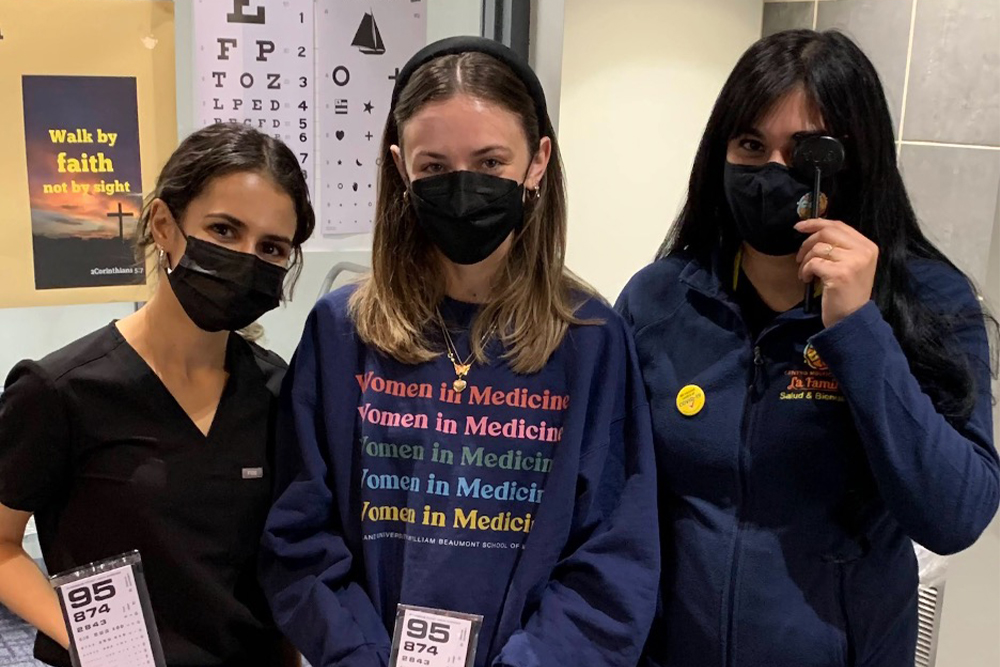 From left, Rima Stepanian, Melanie Ermler — both M3s at OUWB — and Brenda Ortega, health and wellness coordinator, El Centro Multicultural La Familia.
After two years in the making, Oakland University William Beaumont School of Medicine students recently held a first-of-its-kind free vision screening in the community.
The event was held at the Mexican Consulate in Madison Heights, and was organized by OUWB's Ophthalmology Interest Group in collaboration with Centro Multicultural La Familia (Centro), a nonprofit that offers a variety of services including counseling, client advocacy, health and citizenship classes and more in both Spanish and English.
"When I became president of OIG, we made (this event) our goal of figuring out how to do a community vision screening," said Rima Stepanian, M3, former president and M3 representative, OIG. "It was a very long time coming."
Stepanian first began the planning process back in 2020 when she was approached by Brenda Ortega, Health and Wellness coordinator, Centro, who explained the need for early interventions and vision screenings for the Hispanic community in the area.
"A good amount of (causes of eye disease) are preventable and you don't actually see the symptoms until much later when the intervention should have happened sooner," said Stepanian. "For example, diabetic eye disease or eye disease related to hypertension, which are two of the biggest chronic conditions affecting most people but much more so marginalized communities like the Latino population."
"(At) these kinds of vision screenings, community events, and health fairs, the goal is to catch that sooner and be able to intervene before irreversible damage occurs," she added.
A rewarding experience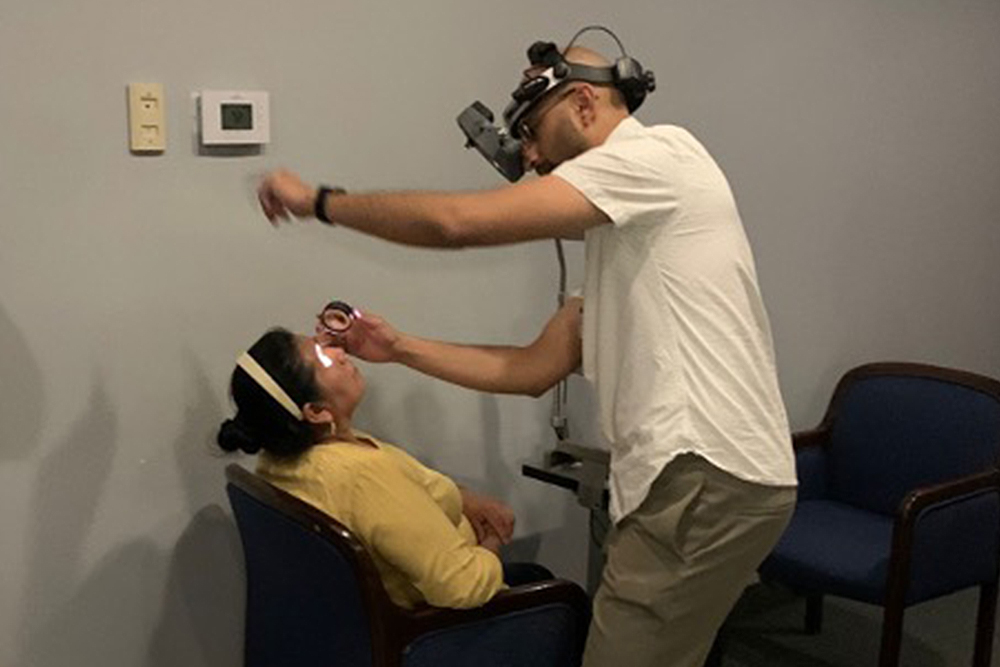 Sahal Saleh, M.D., a second-year resident at Corewell Health William Beaumont University Hospital, Royal Oak, conducts an exam as part of the screening event.
Stepanian said she felt inspired to plan the event because of strong ties to the Mexican culture.
"I've known about a lot of the struggles my best friend and her family went through…she would always have to translate everything for (her parents) growing up," she said. "I come from a background where my parents speak English as a second language, so I experienced that as well."
In order to provide individuals at the screening with glasses, OIG obtained $800 from Compass and $100 from the Lions Club in Madison Heights to purchase reading glasses, contact cases, and contact lens solution for those who needed it.
Aside from the 2022-2023 and present board members of OIG, there were many other parties involved in the planning and execution of the screening — among them were Lori Stec, M.D., Corewell Health William Beaumont University Hospital, and professor, OUWB; Adam Weiner, M.D., Corewell Health William Beaumont University Hospital, Royal Oak, adviser to OIG, and assistant professor, OUWB; several Beaumont ophthalmology residents; and the employees at the Mexican Consulate.
"I realized how it takes a lot of different parts and a lot of different people to put together an event of this magnitude, and as we kept planning, we realized more and more that we had to do," said Stepanian.
"It wouldn't have turned out as well as it did if (anything) had fallen through."
The combined efforts enabled more than 20 individuals to have their linear vision acuity tested, eye pressures taken, and eyes dilated to check for glaucoma, early vision loss, or eye disease.
Vincent Le, M2, president, OIG said that it was a "rewarding experience."
"It was one of those things that you come out of, and it reminds you of why you're in medical school…you can see the impact," said Le. "Doing things like this makes you feel like you're making an impact on the community around you."
The screening event is also beneficial to medical students, as they're able to acquire hands-on practice.
"It's kind of hard to come by direct experience to learn ophthalmology skills as a medical student," said Stepanian. "When we were talking to the other students that came…they were really enjoying the fact that not only were the skills they learned being applied, but they were learning skills we hadn't yet learned."
Le and Stepanian said they hope to continue hosting the event and expand it.
"We realized we could've seen so many more patients," said Stepanian. "Now, we know for the next time that there are many who are willing and able to help out."
"I'm really excited about continuing this project," said Le. "I can't emphasize enough how good it felt (knowing that) we made an impact."
To request an interview, visit the OUWB Communications & Marketing webpage.
This work is licensed under a Creative Commons Attribution-NonCommercial 4.0 International License.