Monday, Aug 28, 2023
Day of Service 2023: OUWB community members volunteer throughout region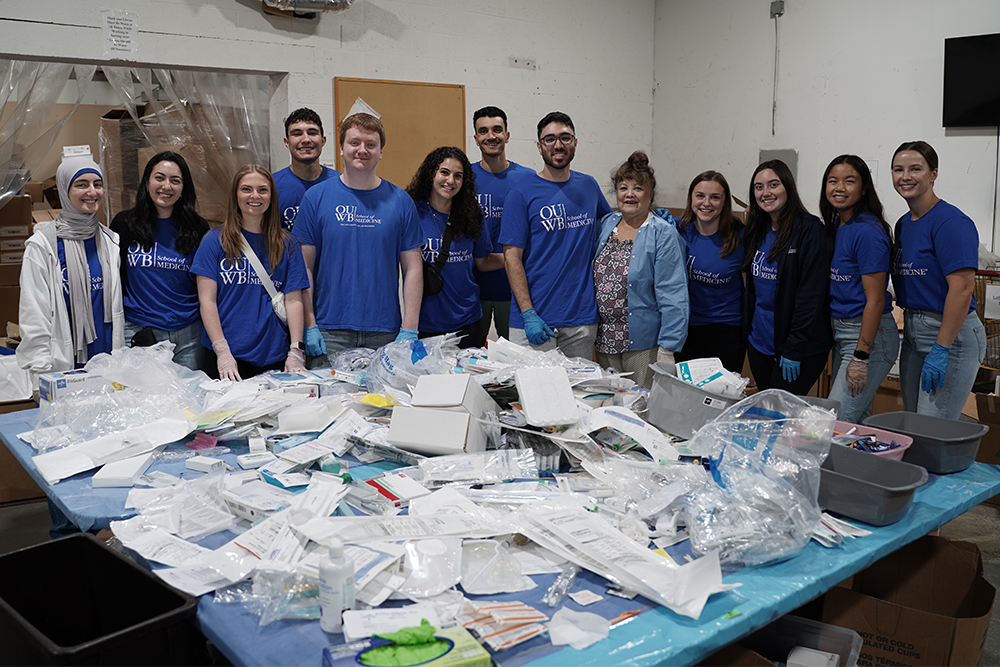 OUWB students take a short break to pose for a photo with Ernestina May, M.D., while volunteering at World Medical Relief in Southfield on Aug. 26, 2023.
Members of the Oakland University William Beaumont School of Medicine community could be found volunteering throughout southeast Michigan on Saturday, when the school held its annual Day of Service.
They were at World Medical Relief in Southfield and Capuchin Soup Kitchen in Detroit as well as several locations in Pontiac: Care House of Oakland County, Baldwin Center, and Hope Recuperative Care Center. Others were on OUWB's campus assembling hygiene kits.
OUWB's Day of Service is held every August as a traditional way to kick off the new school year by giving back to the metro Detroit community. Other similar days held by the school include Make a Difference Day and Martin Luther King Jr. Day of Service.
Trixy Hall, coordinator of graduate programs and outreach, OUWB, said 150 people volunteered for Saturday's event.
"These events help to strengthen our relationships with our community partners as well as provide medical students with different experiences that will help prepare them for their careers as physicians," said Hall.
"With numbers like these it screams that OUWB has a true commitment to service and a willingness to come together for the good of others," she added.
"These are truly selfless acts of kindness."
Volunteers helped serve lunch at Capuchin while others provided Baldwin Center assistance with cleaning and organizing.
At World Medical Relief (WMR), about 20 OUWB students helped sort medical supplies being prepped for shipment around the world.
WMR, established in 1953, aims to help the poor, sick, and elderly on a local, national, and international basis. Its mission is to collect and distribute excess medical supplies, medicines, and recycled medical equipment for the betterment of mankind. The mission is accomplished through a variety of programs, services, and volunteer opportunities.
Ernestina Mac, M.D., is a retired pediatrician who serves on the volunteer board of directors at WMR. She said OUWB volunteers learn several lessons when they give back to the community.
"When they are here, it teaches them humility, appreciation, and gratitude," said Mac. "It also helps them understand how easy it can be to make a difference…not just as doctors, but as fellow human beings."
M1 Joseph Lanese was among the nearly 20 OUWB volunteers at WMR.
"The career that we're going into is all about giving a piece of yourself for the sake of humanity and the goodness of others," he said.
Lanese said OUWB's Day of Service represents why he was interested in attending the school.
Similar feelings were shared by Emily Mazur, M1.
"It's important to give back to the community," she said. "Service is something we should do…it's important to realize that the world doesn't function unless we're all helping each other. We're all in this together."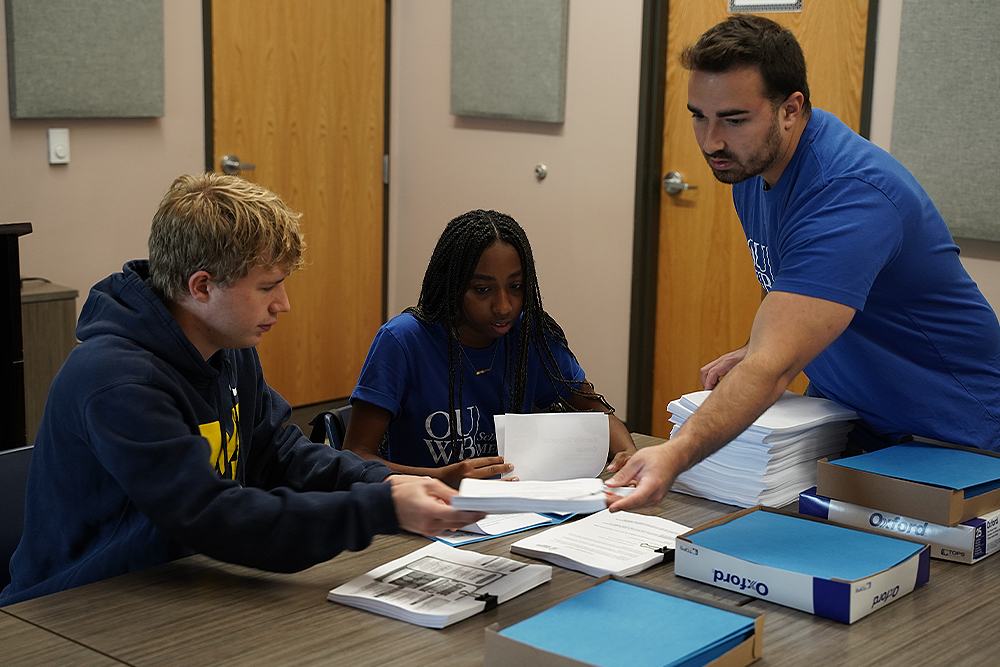 OUWB students assemble informational packets at Care House of Oakland County on Aug. 26, 2023. From left, Matthew Adams, M2, Sarah Nortelus, M1, and Joey Solomon, M2. 
Another eight students volunteered at Care House of Oakland County, the nonprofit that serves as the county's only children's advocacy center that aims to assist victims of child abuse.
They assembled 125 informational folder packets that will be sent home with caregivers of children who have participated in forensic interviews at the nonprofit.
The folders include resources with details about next steps, potential therapy services, suggested reading, how to talk with teens about internet safety, etc.
Claire Bair, volunteer coordinator, said work done by the OUWB students will provide enough folders for the organization to last about two months.
"It's a huge time saver," she said. "It frees up our victim advocates to spend time reaching out and providing counseling to families…this is hours of work that the volunteers from OUWB are going to accomplish rather quickly."
Students who volunteered at Hope Recuperative Care Center in Pontiac had unique opportunities to interact with guests utilizing its resources.
The center is a specialty shelter for those who are hospitalized and need a "discharge to home" option from an inpatient medical or psychiatric hospital setting — but don't have a house.
Because of last week's storms, the center had flooding issues and students were limited in the kind of work they could do. However, they were able to sit and chat with center guests.
"These conversations serve as a reminder that it only takes one life event for our lives to be changed drastically," said Hall.
Students said it helped them better understand what it's like to be a person who is houseless.
M1 Kamaria Potier called the experience "eye opening."
"Oftentimes when we think about people who are houseless, we don't understand that there might be other factors impacting them…they're not receiving the proper care they need, can't get the medications they need to be able to function in society," she said.
M1 Tyler Hershenhouse said he took away better understanding of the many external factors that can lead to a person becoming houseless — information he said he plans to keep in mind when he's a doctor.
"This will probably be one of the few times that we'll have to talk with somebody who is homeless for this long and this in-depth to really understand what they're going through," he said. "These are lessons we can definitely take into the medical field."
For more information, contact Andrew Dietderich, marketing writer, OUWB, at adietderich@oakland.edu.
To request an interview, visit the OUWB Communications & Marketing webpage.
This work is licensed under a Creative Commons Attribution-NonCommercial 4.0 International License.