Wednesday, Aug 30, 2023
Argument penned by OUWB trio published in a top medical journal urges improved service at Catholic hospitals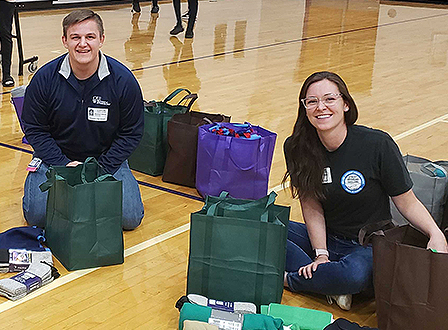 M3s Randall Hilleary and Meaghan Race pause for a photo during a Street Medicine Oakland workshop held at Avondale High School in early 2022.
Catholic hospitals need to better alert patients about treatments they won't provide, claims a recent argument published in a top medical journal that's co-authored by a trio from OUWB.
"Catholic Hospitals Should Improve Public Notification of Treatments They Conscientiously Refuse to Provide," was written by Abram Brummett, Ph.D., assistant professor, Department of Foundational Medical Studies, and a pair of third-year students, Meaghan Race and Randall Hilleary.
It was published in the Annals of Internal Medicine — the highest cited and ranked internal medicine journal in the category of medicine, general, and internal, according to the 2022 Journal Citations Reports from Clarivate Analytics.
In short, the co-authors argue that Catholic hospitals need to do a better job of notifying patients that because of church directives they won't provide certain services — such as interventions for the purposes of contraception and abortion — and that those same institutions would benefit from improved advanced notification.
"It serves the interests of Catholic institutions to improve advance notification because doing so will maintain trust with the community, demonstrate a principled respect for tolerance (the very value used to justify institutional conscientious objection), and reduces the moral distress of clinicians employed at Catholic hospitals," the authors argue.
"Our arguments should be of interest to clinicians who wish to advocate for improved advance notification practices at Catholic hospitals," they continue.
Improving advance notification
Catholic hospitals operate under a list of about 80 Ethical and Religious Directives (ERDs) issued and enforced by the U.S. Conference of Catholic Bishops. Among other things, the directives prohibit the provision of key reproductive health services, such as contraception, sterilization, abortion, and infertility services. This legally protected right is sometimes referred to as "conscientious objection."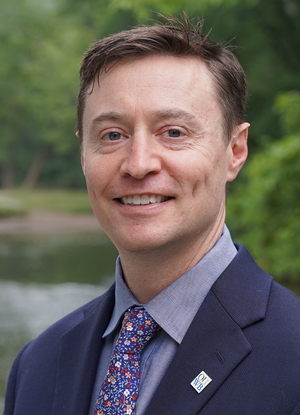 Brummett
"Catholic hospitals do an excellent job providing a large portion of health care in the U.S.," said Brummett. "At the same time, Catholic hospitals also exercise a legally protected right to institutional conscientious objection whereby they refuse to provide some forms of treatment."
Further, such policies apply to an increasing number of institutions as mergers of Catholic and non-Catholic hospitals continue to create large regional and national Catholic health systems.
According to Community Catalyst, a nonprofit national health advocacy organization, "Catholic health systems are growing and exerting greater influence as they control more hospitals and physician practices, while expanding into the growing sectors of urgent care, retail health clinics, and ambulatory surgery."
But not everyone knows about ERDs or stays on top of changes in health system ownership — and that can cause issues for some patients seeking care. 
"Given that most health care institutions provide all legal and professionally accepted forms of routine medical care, it is understandable that patients expect this care from Catholic hospitals," the authors argue. "Furthermore, in the era of mergers, patients may not realize that a non-Catholic institution they have attended for years has been acquired by a Catholic organization and is now operating under the ERDs."
Currently, only the state of Washington requires Catholic institutions to legally provide advance notification of services not provided.
Race said one of the primary motivations for writing the argument is to help others realize the value of improved "trust between health care institutions and the communities they serve."
"The failure to provide adequate advanced notification can damage trust between Catholic hospitals and community members as it undermines transparency in ways that can be disrespectful to patients and result in delayed care," she said.
"Improving advance notification demonstrates a principled commitment to moral tolerance in a pluralistic society that is consistent with the ERDs and furthers Catholic interests," the authors argue.
In seeking to have the argument published, the trio said they hope to help those who seek to alter the system.
"We hope our arguments will be useful to clinicians employed at Catholic hospitals who wish to advocate for change," said Brummett.
Added Hilleary: "We hope that by encouraging Catholic hospitals to provide better advanced notification to patients, providers can focus more on delivering excellent patient-centered care and avoid challenging clinical encounters that can cause moral distress."
For more information, contact Andrew Dietderich, marketing writer, OUWB, at adietderich@oakland.edu.
To request an interview, visit the OUWB Communications & Marketing webpage.
This work is licensed under a Creative Commons Attribution-NonCommercial 4.0 International License.