Tuesday, Jul 19, 2022
Summer camp goers get visit from OUWB medical students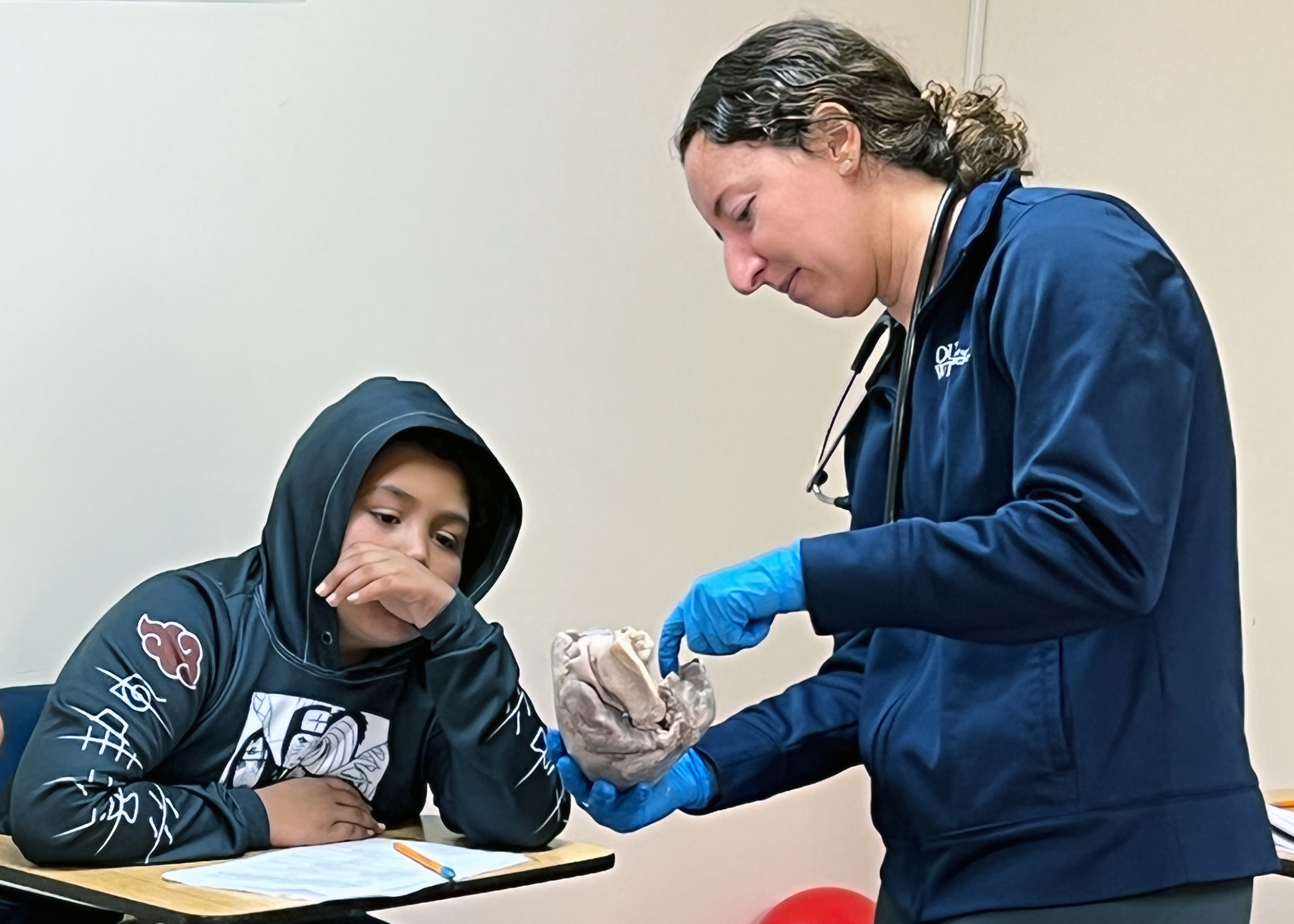 OUWB medical student Jessica Krone explains the anatomy of a pig heart to one of the students who attended the summer camp.
The Oakland University William Beaumont School of Medicine Hispanic Newcomer Outreach (HNO) Summer Program was in full effect this year providing once-in-a-lifetime experiences to summer camp kids.
Events this year all followed a theme of mental health, with sessions focused on heart, eyes, nutrition, and even dance. The sessions were held at La Casa Amiga — a nonprofit community service for immigrant families — located in Pontiac.
HNO is a collaborative effort between OUWB and Catholic Charities of Southeast Michigan (CCSM). A primarily student-run organization, HNO is overseen by faculty coordinator Claudio Cortes, Ph.D., assistant professor, Department of Foundational Medical Studies.
OUWB student coordinators Fanny Huang and Yunjoo Shin, who started volunteering at La Casa Amiga earlier this year, shared their experiences with previous mentoring programs like HNO.
Huang grew up in a low-income neighborhood with a similar program where teenagers would read stories and do arts and crafts and have fun with the kids.
"This seemed like a very similar program to foster and help kids grow out of their shy bubble because when I was a kid, I was really shy," Huang said.
"I know how much it means to have a big sibling."
Shin was a mentor when she attended college in Indiana during the summer working with Latino students so she has familiarity with programs like HNO. The kids would do a self-survey to discover depressive and anxiety symptoms, and would do things like journaling and yoga with undergrad mentors instead of medical school mentors.
"I think what's really good with having medical school mentors is that we do have mentors who were underprivileged, or they're a little older, so their story's a little bit fuller," Shin said. "I think the mentees can learn a lot from our students in our program and they have a lot more anatomy and medical school knowledge so if the students are interested in being doctors at all, I think that's really helpful too."
One of the OUWB students who ran the summer anatomy programs, Camila Maria Castro Sanchez, said she thinks it is important to work with HNO because it gives the children the opportunity to learn about their bodies and mind. She also believes it can be what sparks their interest in either STEM or medicine.
"As an immigrant myself, this type of experience helps me to connect to my roots and reinforce the reason why I am doing what I am doing while raising awareness about diversity and minorities in my class through volunteering opportunities," she said. "I also believe that it is important for them to see that someone that is also an immigrant and Hispanic was able to reach her dream of studying medicine and giving back to her community in the United States."
Rima Stepanian, the other OUWB student who helped run the summer anatomy program, said it is important to teach kids early on that there is underrepresentation of Latino people in medicine. She is also a first-generation college and medical school student, with her parents being immigrants from Armenia.

Heart and eye sessions
The idea for the eye dissection program came from both Stepanian and Sanchez's passion about the eyes and wanting to engage the students by including real animal organs that will create long-lasting memories.
"Dr. Cortes, La Casa Amiga and OUWB were all very supportive and approved of the idea, and with the volunteers' help, we were able to conduct the activity while maintaining the children´s safety at all times," Sanchez said.
To tie in the mental health aspects, they introduced the idea of glasses to the kids and let them know that having glasses is nothing to be afraid of and that they need to tell someone.
"When I was in middle school, I was starting to not see the board [in the classroom] as well and I felt crappy about it. I would carry them [my glasses] around, because it wasn't cool to wear glasses," Stepanian said. "Ophthalmology is a big interest, and the eye session was new this year in the way it was taught."
The heart session allowed the kids to learn about how the heart functions, and the students were able to see inside a real pig heart. The kids listened to their own heartbeats using a stethoscope, and learned how blood cells travel throughout the body and gather oxygen.
Stepanian said the best part of the sections was the kids' reception to the sessions and their engagement after being virtual the past few years.
"The biggest difference is the connection between us [OUWB students] and the children, being able to read their excitement, (and their) curiosity but also if they need a little more explanation. And especially being able to bring to them activities that are very hands on, engaging and fun," Sanchez said.
"We try to incorporate modalities of learning to keep them engaged," Stepanian said. "It was a learning experience for us as well to take that knowledge [from medical school] and simplify it for a kid to understand."

EviDance and nutrition sessions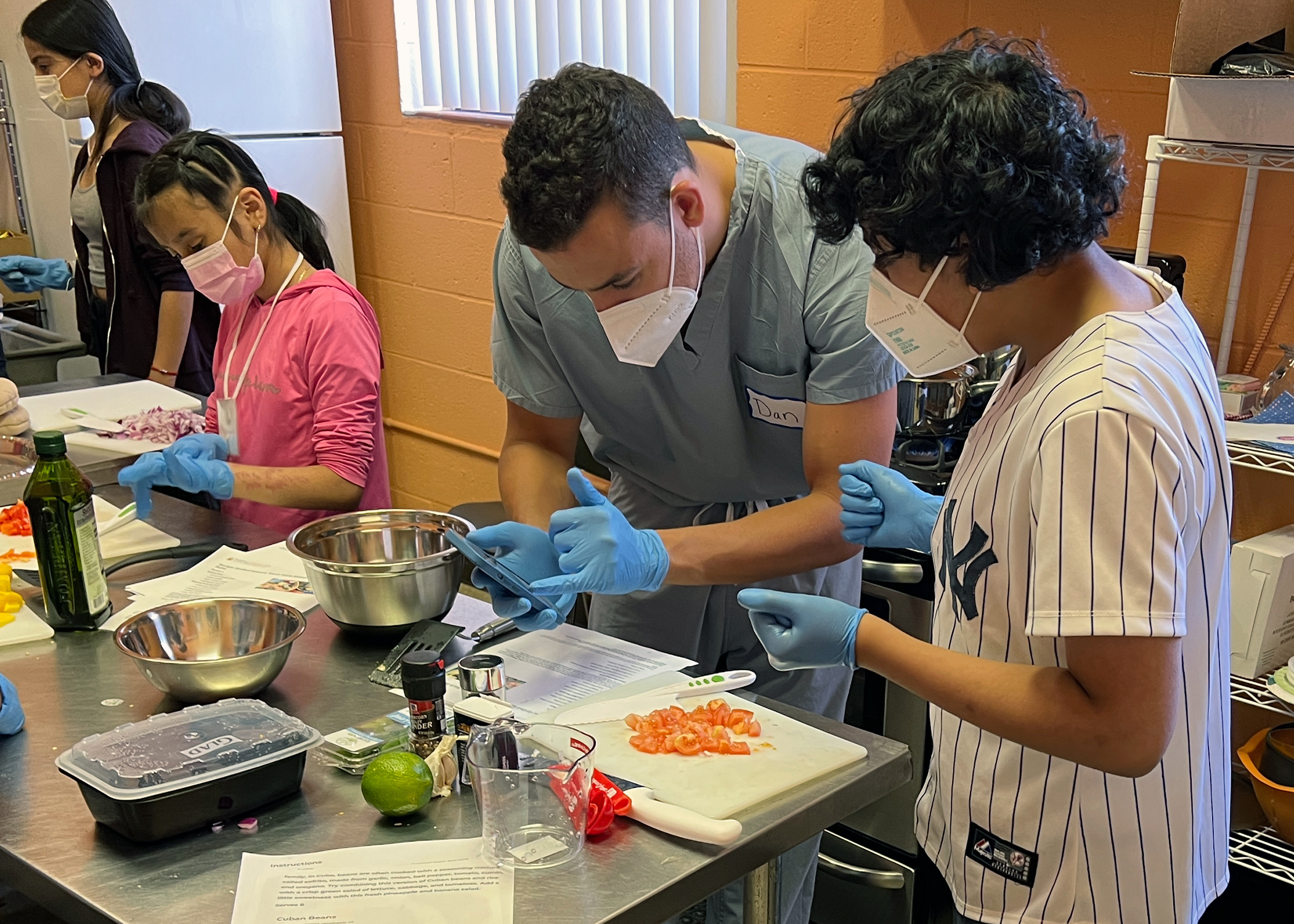 An OUWB student helps a camp attendee prepare healthy food during the session on nutrition. 
Alongside the anatomy sessions, a second group of kids spent time with Virginia Uhley, Ph.D., assistant professor, Department of Foundational Medical Studies. They all made different parts of a meal that culminated in salmon tacos with a berry smoothie.
From the beans to the salsa, the kids got early experience in the world of nutrition, with the focus being that while this food is nutritious, it is also brain food.
A new event this year was the session put on by EviDance-based Medicine (EDM) – a new dance-based student org at OUWB – focused on the mental health benefits of dance and how it is good for people both physically and mentally.
"So, I'd say with kids that young, I think our mission was to introduce that topic [mental health] and that concept to them, because I think in this day and time and world, it's really important to speak of those kinds of things," said EDM President Jhanvi Patel.
Patel was a mentor for HNO and wanted to build the connectivity between the HNO mentoring program with EDM.
"Its goal is to provide every child with that support and that care and that kind of resource that they need," she said. "And with the goal of EviDance, which is to build upon the form of dance as a way to have an outlet; an outlet in life, an outlet in mental health but also, in general, as that form of recreation."
Patel gave credit to EDM Founder Dana Rector for helping the club to hit the ground running and Cortes, who is also the faculty adviser for EDM, for getting the word out to other staff. Patel is looking forward to the future, and wants to continue working with HNO and introduce new ideas like having a workshop where the mentor and mentee come together.
To request an interview, visit the OUWB Communications & Marketing webpage.
NOTICE: Except where otherwise noted, all articles are published under a Creative Commons Attribution 3.0 license. You are free to copy, distribute, adapt, transmit, or make commercial use of this work as long as you attribute Oakland University William Beaumont School of Medicine as the original creator and include a link to this article.