Friday, Jul 15, 2022
OUWB medical student coordinates neurosurgical outreach mission to Caribbean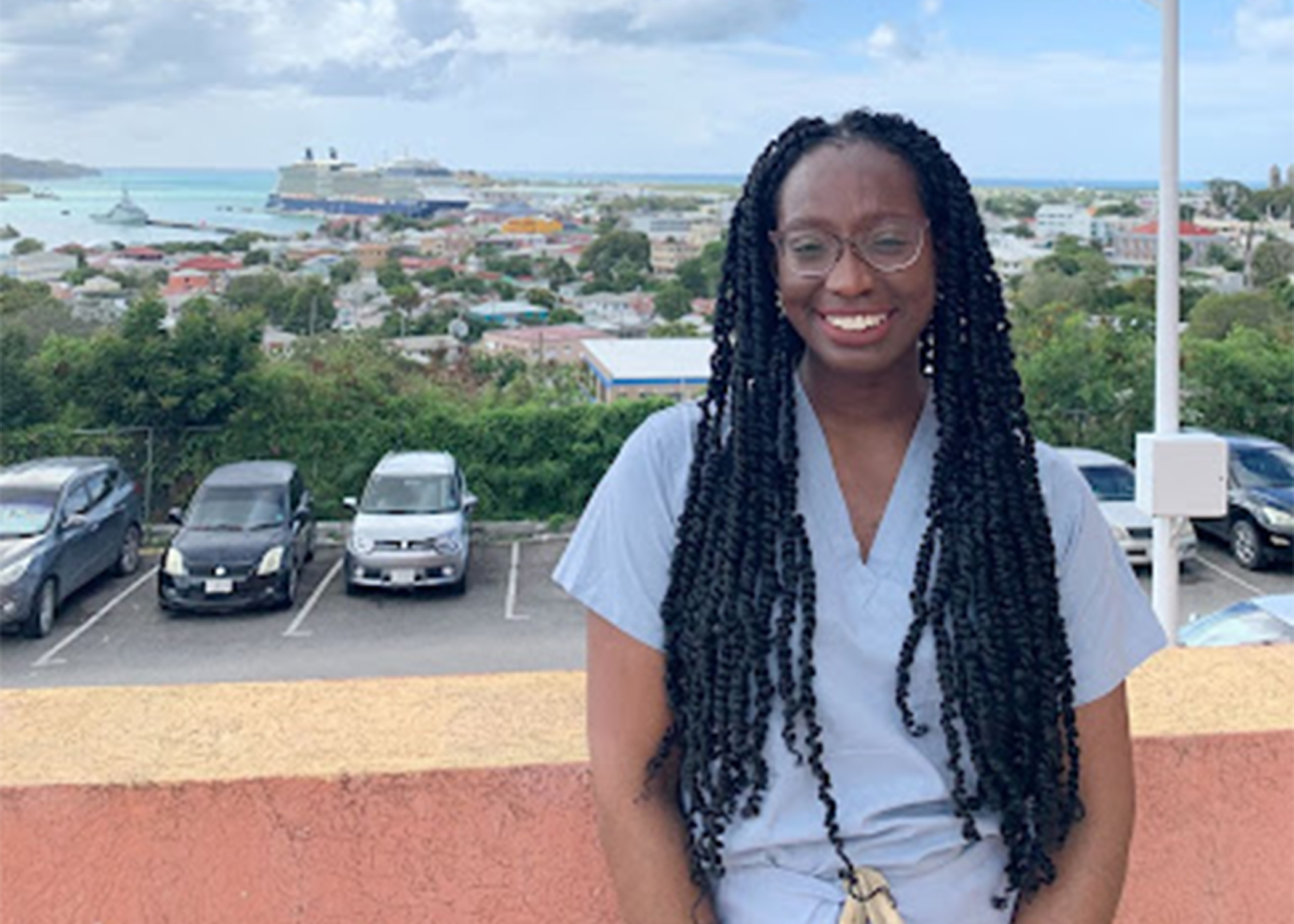 Ashley Williams, M4, recently spent five days on a neurosurgical outreach mission trip to Montserrat and Antigua.
An Oakland University William Beaumont School of Medicine medical student recently spent five days on a neurosurgical outreach mission trip to the Caribbean — after months of coordinating the entire excursion.  
Ashley Williams, M4, participated via her role on the executive board of the Caribbean Neurosurgery Foundation Inc., a Florida-based nonprofit that supports timely and equitable access to upscaled neurosurgical care for the most vulnerable populations in the Caribbean.
Many of the most vulnerable populations are in places like Antigua and Montserrat, small island nations that don't have any neurosurgeons.  
Also, Williams, originally from the island nation of Dominica, says she has a personal connection to the mission.
"Five people in my family passed away from hemorrhagic strokes, four of whom died in Dominica where there are no neurosurgeons," she says.
Caribbean connections
Williams grew up in Stafford, Va., and says she wanted to be a doctor from the age of four.
Her post-secondary education began with pursuit of an undergrad degree at the College of William & Mary. She later transferred to Howard University, where she earned a bachelor's degree in biology and biological sciences.
Williams then completed a two-year intramural research training fellowship at the National Institutes of Health Clinical Center, primarily focused on neuroscience.
Williams says she was particularly drawn to OUWB after interviewing at the school and seeing that the school "cares a lot about developing doctors who are compassionate and have made serving the community and others part of their career."
As a medical student, Williams has found various forms of success, including being awarded the 2021 Dr. Felecia Williams Aspiring Physicians Michigan Scholarship Award — a $10,000 scholarship. Also, Williams was recently inducted into the Gold Humanism Honor Society.
Concurrently, Williams has maintained her commitment to helping those in the Caribbean, primarily via the Caribbean Neurosurgery Foundation (CNF).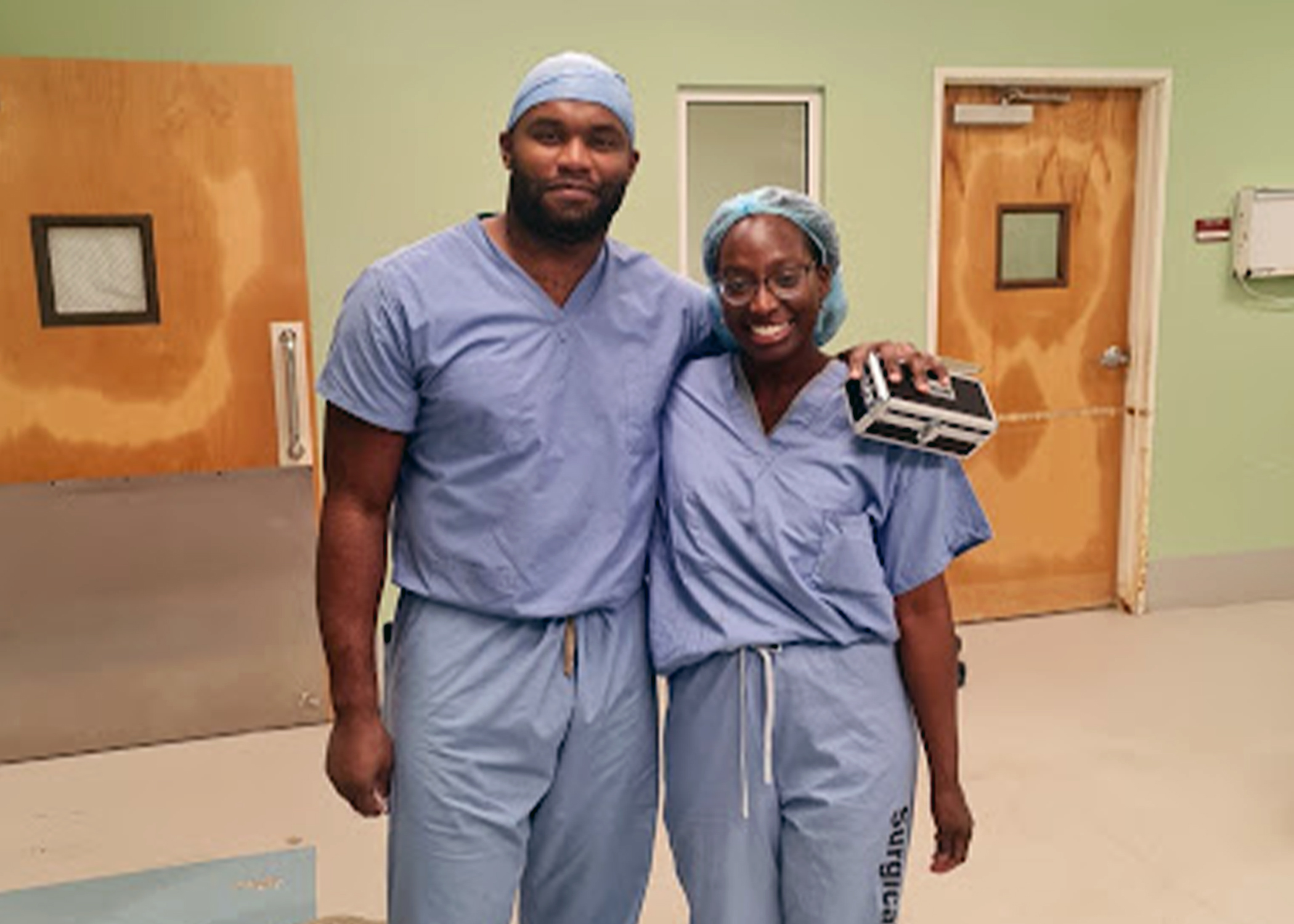 Myron Rolle, M.D., and Ashley Williams.
CNF was founded by Myron Rolle, M.D., a neurosurgery resident at Massachusetts General Hospital, Rhodes scholar, and former professional football player in the NFL. Williams is a member of the four-person CNF executive team.
"CNF was contacted by the chief medical officer of the country of Montserrat," she said. "They asked us to visit and serve patients who otherwise might not have access to neurosurgical care."
The team consisted of attending neurosurgeons, two residents, two nurse practitioners, and Williams. In addition to Montserrat, the team also worked in Antigua.
Team members performed elective and urgent operations, held outpatient clinics, made home visits, and more. The team also conducted several educational sessions, such as for nurses on how to take care of patients post-operatively.
Williams' role in the process was a big one: she coordinated the entire trip, from the case adjudication process to when lunch would be delivered.
"I talked with the chief medical officers from both countries, their governmental staffs, chief medical officers at the hospitals we visited, directors of surgery, and directors of nursing," says Williams. "I oversaw the patient referral process, the clinic/operating schedules and creation of in-service courses. Of course, local physicians, visiting physicians and each hospital's administration team were actively involved in every step."
Williams says the experience in Montserrat/Antigua — in addition to Williams' prior international health-related work in Sierra Leone, West Africa, Nicaragua, and Thailand — empowered her to pursue a public health master's degree.
Williams soon will begin studying at the Columbia University Mailman School of Public Health in New York, New York. The accelerated program is designed to be completed in one year. When she's done at Columbia, Williams says she will return to OUWB for her last year of medical school.  
Ultimately, Williams says she looks forward to a career that includes building neurosurgical capacity in Caribbean countries and other low/middle income countries through improving education, training, and infrastructure and partnerships with other institutions. 
"It was inspiring to think critically about the gaps in the health-systems, fulfill acute neurosurgical needs and be a part of laying the blueprint from a long-term health-system development," she says. "I aspire to have a career that makes neurosurgical care accessible to people who are marginalized."
Because the trip to Montserrat and Antigua happened in April, and when Williams had her internal medicine rotation, she had to obtain special permission from OUWB officials.
Pierre Morris, M.D., associate dean for clinical education, OUWB, says Williams was granted the time away, in part, because OUWB has "a mission of promoting global health initiatives/experiences for our students in an effort to broaden their understanding of health care challenges and activities globally."
"OUWB also has a very strong commitment to encourage volunteerism among our students, especially in areas of greatest need — in this case, the need is in Montserrat," he says.  
Williams says "it's phenomenal" to feel so supported by OUWB.
"Our school sees that opportunities for students don't always fit into winter breaks or other weeks off," she says. "It's very encouraging that our school supports innovation and collaboration."
For more information, contact Andrew Dietderich, marketing writer, OUWB, at adietderich@oakland.edu.
To request an interview, visit the OUWB Communications & Marketing webpage.
NOTICE: Except where otherwise noted, all articles are published under a Creative Commons Attribution 3.0 license. You are free to copy, distribute, adapt, transmit, or make commercial use of this work as long as you attribute Oakland University William Beaumont School of Medicine as the original creator and include a link to this article.