Friday, Apr 01, 2022
Human kindness, goodness celebrated at Faircloth Evening of Medical Humanism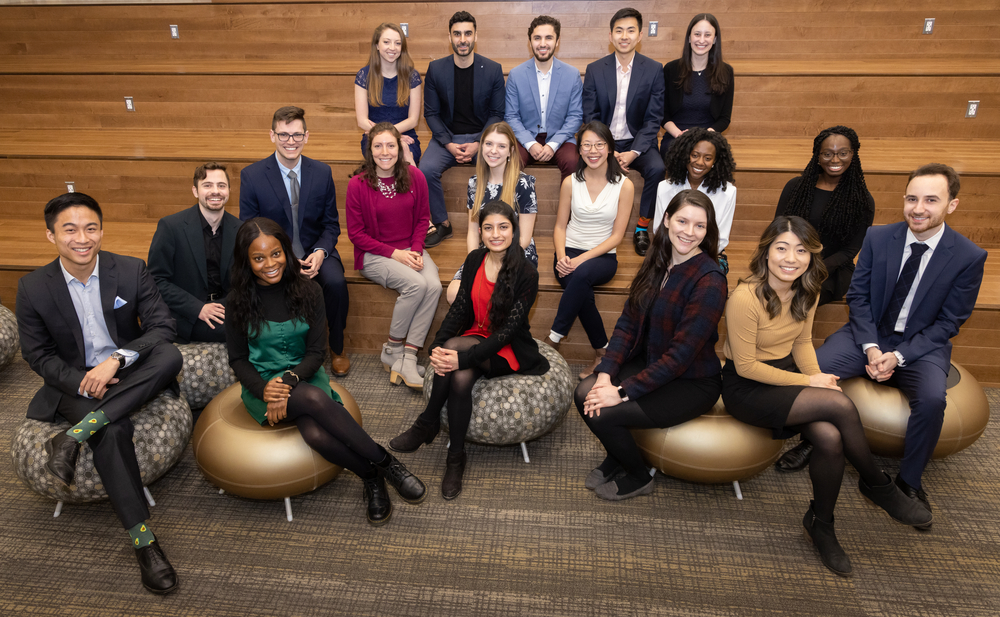 During the Faircloth Evening of Medical Humanism, 19 OUWB students were inducted into the Gold Humanism Honor Society. See complete list below.
Students and residents who exemplify Oakland University William Beaumont School of Medicine's broad and longstanding commitment to humanism in medicine recently were recognized at the 8th Annual Faircloth Evening of Medical Humanism.
Co-sponsored by OUWB and Oakland University School of Education and Human Services, what has become a signature event was attended by nearly 100 online and in person. 
The evening is dedicated to Patrick Faircloth, Ph.D., an Oakland University alumnus, who created an endowment for OUWB and SEHS to ensure that medical students study communications and interpersonal skills as part of their training to be compassionate physicians.
During the March 30 event, 19 OUWB students and six Beaumont residents were inducted into the Gold Humanism Honor Society. The SEHS Department of Counseling presented eight awards and, for the first time, Leonard Tow Humanism in Medicine awards were given to an OUWB student and a Beaumont physician.
"More than ever, we need to recognize human kindness and goodness in the world," said Duane Mezwa, M.D., Stephan Sharf Dean, OUWB.
While kicking off the evening, Mezwa acknowledged several individuals in attendance, including other OU school deans and Oakland University President Ora Hirsch Pescovitz, M.D.
'So proud of these individuals'
Jason Wasserman, Ph.D., associate professor, Department of Foundational Medical Studies and Department of Pediatrics, OUWB — and Faircloth coordinator — introduced the executive leadership team of OUWB's Gold Humanism Honor Society chapter. They are M4s Dina Abdo, Anisah Hashmi, and Lucas Nelson — all inducted into GHHS in 2021.
"The Gold Humanism Honor Society recognizes students who are not just leaders in medicine, but are those who exhibit and exemplify compassionate care," said Abdo, president of OUWB's GHHS chapter.
Hashmi explained that, in the first round of the process, GHHS inductees are nominated by their class peers. Hashmi noted the decision was made this year to consider more nominations from the first round in an effort to be "more equitable and inclusive."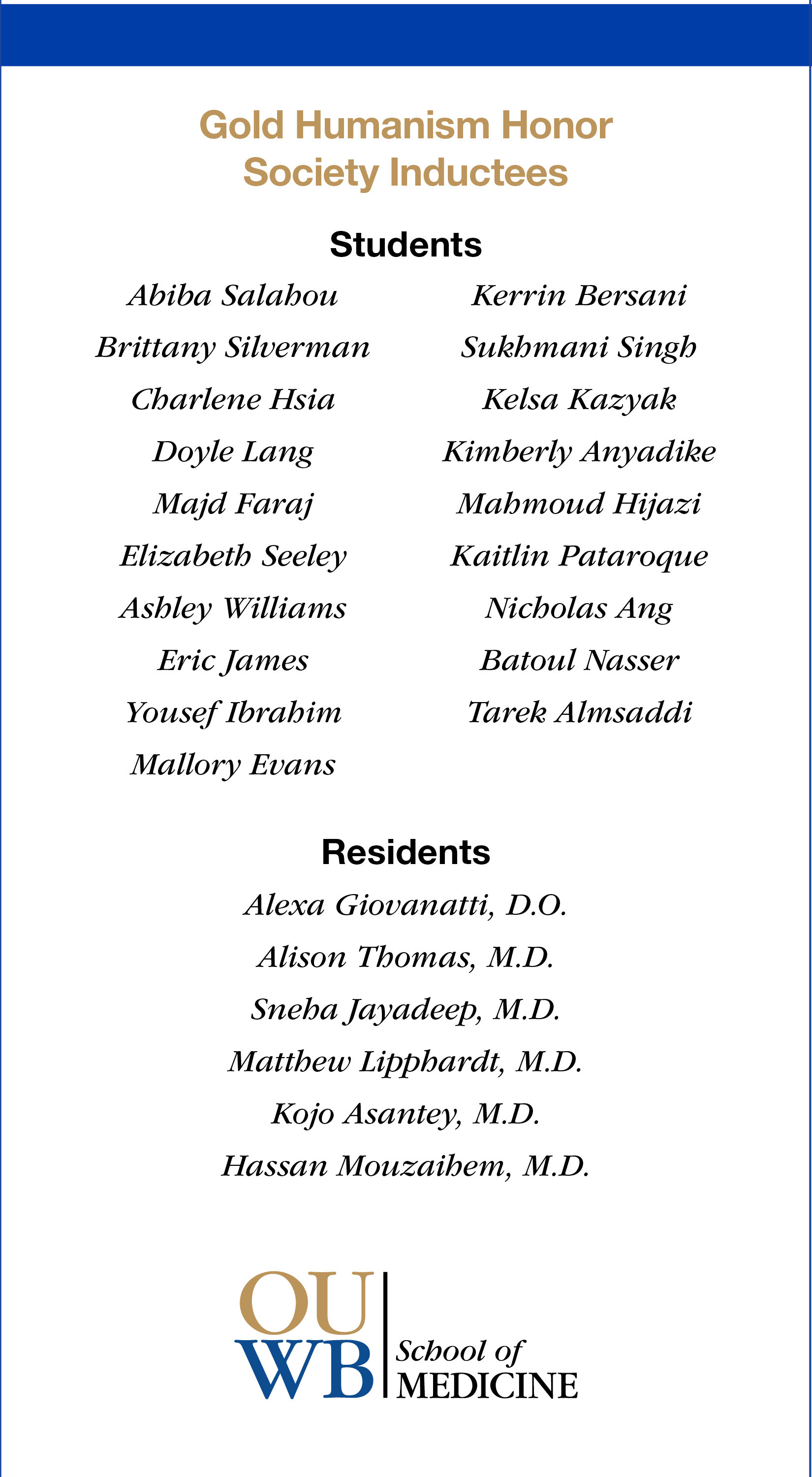 The top 33% — in terms of peer votes received — are asked to submit a personal statement and letters of recommendation. The top 15% of those submissions are selected for induction.
"We were looking for those who exemplify the values of humanism, community service, diversity and inclusion, as well as professionalism," said Hashmi.
"We're so proud of these individuals," she added. (See graphic for complete list)
Yousef Ibrahim, M3, was among those inducted, and called it "an honor."
"Every aspect of who I am is geared towards giving back and why I went into medicine," he said. "It's an honor to be recognized, but it's only the beginning…hopefully, I can take this one step, move forward, and keep building."
Brittany Silverman, M3, said induction into GHHS "means the world to me."
"I think what really meant the most to me is just knowing that my classmates are the ones who wrote me in because…all my classmates are such incredible people," she said.
Majd Faraj, M3, called induction into GHHS a "great honor" that was made even more special by some of his family members from Lebanon being able to attend the ceremony.
"We learn a lot throughout med school and having humanism at the forefront of what we're doing is great," he said. "This (event) exemplifies that."
Faraj's family members weren't alone in wanting to celebrate their relative inductees.
Holly Kazyak, mother of GHHS inductee Kelsa Kazyak, beamed with pride after the ceremony.
"It's wonderful that OUWB includes all aspects of being a doctor versus just the academic," she said. "To see (Kelsa) honored in this way, I'm just so proud of her…this is who she is and this is where she shines."
'Unbelievably grateful'
The Leonard Tow Humanism in Medicine Award presented by The Arnold P. Gold Foundation recognizes graduating medical students and faculty members who are exemplars of humanism in the care of patients.
For the first time ever, OUWB's GHHS chapter presented the award to a student and one to a faculty member. Each was nominated by members of OUWB's Class of 2022.
The faculty member was Steven Joseph, M.D., assistant professor, Department of Emergency Medicine.
"I am unbelievably grateful for this," he said. "You have no idea what this means to me…I really appreciate it. Thank you very, very much."
The student was Maidah Rajah, M4. Abdo introduced Rajah as "someone who carriers herself with not just grace and integrity, but kindness."
"She's someone who shows up for her peers without fail, regardless of time of day," said Abdo. "She's someone who carries the OUWB mission statement within her heart."
Rajah said she was "incredibly honored."
"I'm only here because of the people who have helped me through and will continue to — and that includes my patients," she said.
'Listen deeper and listen more'
The evening's lecture was provided by Greg Bennick, a humanitarian, TedX presenter, and entrepreneur.
Bennick focused primarily on the topics of listening and humanism, and how the two are interlaced.
He drew from his experiences as founder of One Hundred for Haiti (a relief organization for Haiti), and co-founder of the Portland Mutual Aid Network — mixed in with stories about his parents, the power of candy, and even a bit of juggling.
"We're all insecure, frightened creatures, and we're desperate for validation in the world," he said. "But I hope in the midst of that that our own sense of heroics doesn't get in the way of humanist ideals of listening to people, of humbling ourselves for the people that we serve."
He concluded his lecture by explaining that his life experiences have shown him the power of listening.
"Listen deeper and listen more," he said. "That is something that we can start doing right here, right now."
For more information, contact Andrew Dietderich, marketing writer, OUWB, at adietderich@oakland.edu. 
To request an interview, visit the OUWB Communications & Marketing webpage.
NOTICE: Except where otherwise noted, all articles are published under a Creative Commons Attribution 3.0 license. You are free to copy, distribute, adapt, transmit, or make commercial use of this work as long as you attribute Oakland University William Beaumont School of Medicine as the original creator and include a link to this article.