Friday, Mar 18, 2022
'Dream come true:' Class of 2022 celebrates Match Day at OUWB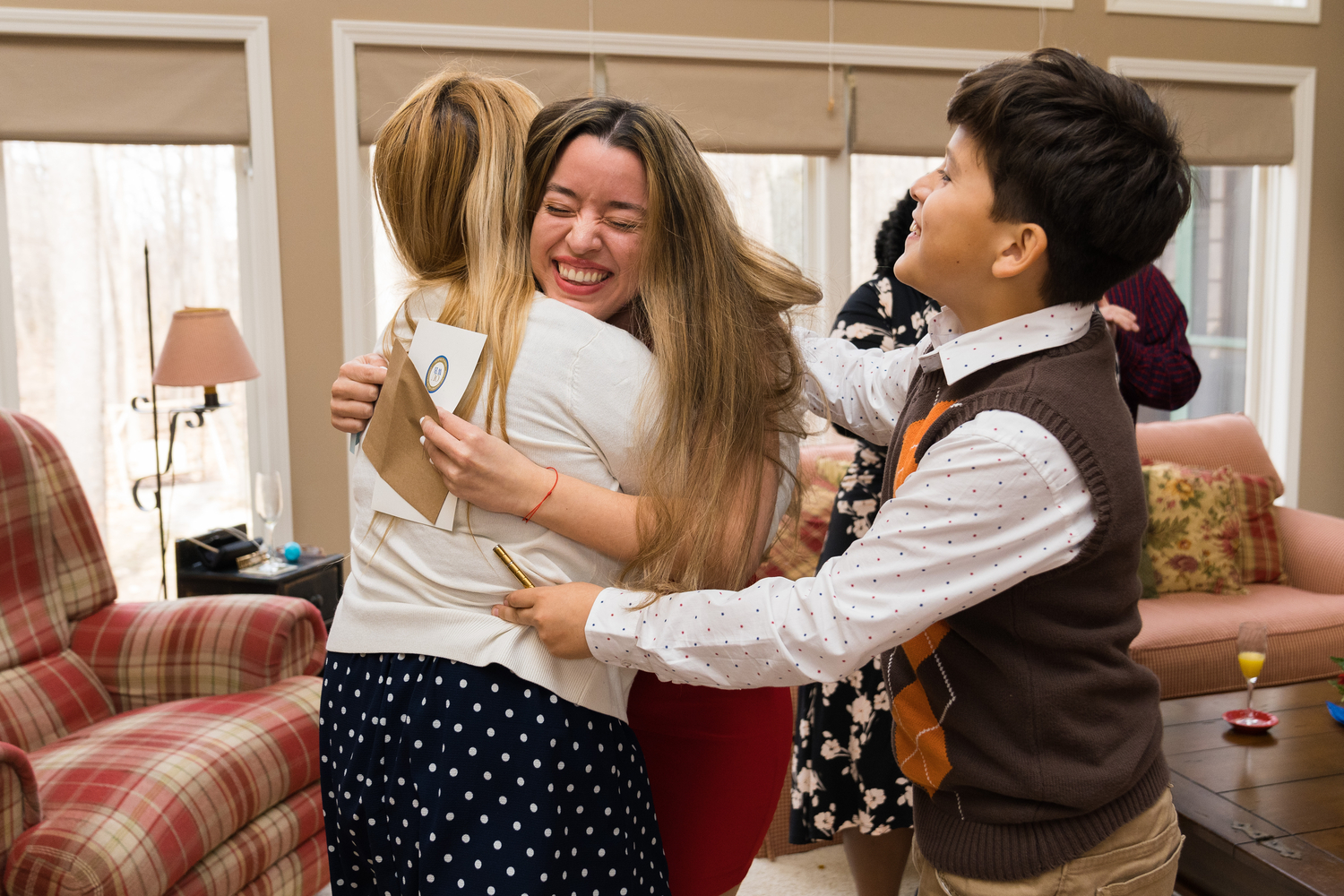 Many OUWB students who matched on Friday celebrated in small groups. Tanya Gonzalez (center, smiling) matched in neurology at University of California Davis Medical Center.
OUWB's Class of 2022 celebrated Match Day Friday — a day of relief, celebration, and new beginnings for students who spent half their time in medical school during a global pandemic.
Members of the OUWB graduating class were among nearly 40,000 of their peers across the U.S. in the National Resident Matching Program (NRMP), the annual event that reveals where graduating medical students have been accepted for residency training.
Pre-COVID-19, M4s celebrated during a special in-person event where they would tear open envelopes with colleagues, friends, and families. For the third year in a row, the event was held virtually. Students were sent emails to open at exactly noon.
A total of 121 medical students from OUWB matched into residency programs. Students placed across the country, at places like Brown University, Emory University, Stanford University, University of Florida, University of Miami, University of Alabama, University of Michigan, and Cleveland Clinic.
"Overall, a very impressive match that speaks very highly to the quality physicians that graduate from OUWB," said Duane Mezwa, M.D., Stephan Sharf Dean of OUWB.  
'An exciting new direction'
The match process begins in the fall during the final year of medical school, when fourth-year medical students apply to residency program. Throughout fall and early winter, applicants interview with programs. Because of COVID-19, interviews were once again done virtually.
From mid-January to late February, applicants and program directors rank each other in order of preference and submit the preference lists to NRMP, which processes them using a computerized mathematical algorithm to match applicants with programs.
OUWB students matched at 23 states and Washington D.C. Thirty-four students will stay in Michigan.
California came in second with 18, followed by 13 in Ohio, nine in Florida, and four each in Massachusetts and Washington.
Twelve students will be participating in residencies at Beaumont Hospitals in Royal Oak, Troy, and Grosse Pointe in nine specialties: anesthesiology, diagnostic radiology, family medicine, internal medicine, pathology, emergency medicine obstetrics-gynecology, ophthalmology, and urology.
Overall, 55 students have residencies in primary care, including 24 in internal medicine, 18 in family medicine, 10 in pediatrics, and three in OB-GYN.
Nine of the students who matched are Oakland University alumni. 
All of the matches were revealed and celebrated Friday. The OUWB celebration included a virtual meet and greet, a countdown to students opening their emails showing where they matched, and presentations from Mezwa and Oakland University President Ora Pescovitz, M.D.
"Appreciate the pride of your accomplishments (and) take a moment to appreciate now, your family, your friends, your mentors — all of the many people who've contributed to your successes," said Pescovitz.
She also commented on each of the future each of the future physicians faces.
"Although you never know where the road will lead, it's going to be thrilling for you," she said. "The key is to remain open, remain positive, remain focused, because today marks an exciting new direction for you."
Rachel Rohde, M.D., an orthopaedic surgeon at Beaumont, associate professor, OUWB, and one of the Class of 2022 PRISM mentors, said she is "so proud of the physicians (the students) are becoming."
"I love seeing the students I have known literally since day one of their OUWB journey realize this moment they have been thinking about for years," she said. "For those who are not as excited about their result, I emphasize that everything happens for a reason, and usually the new path is even more exciting that the one they might have planned."
She urged students who matched to "reflect on what they've learned not just about medicine but about themselves and think about where they are heading." 
"Be proud of what they've accomplished in the past four years and excited about the future," she said. "Realize that as daunting as it might be to be starting internship, it was equally as daunting when they started medical school, and yet, here they are."
'A dream come true'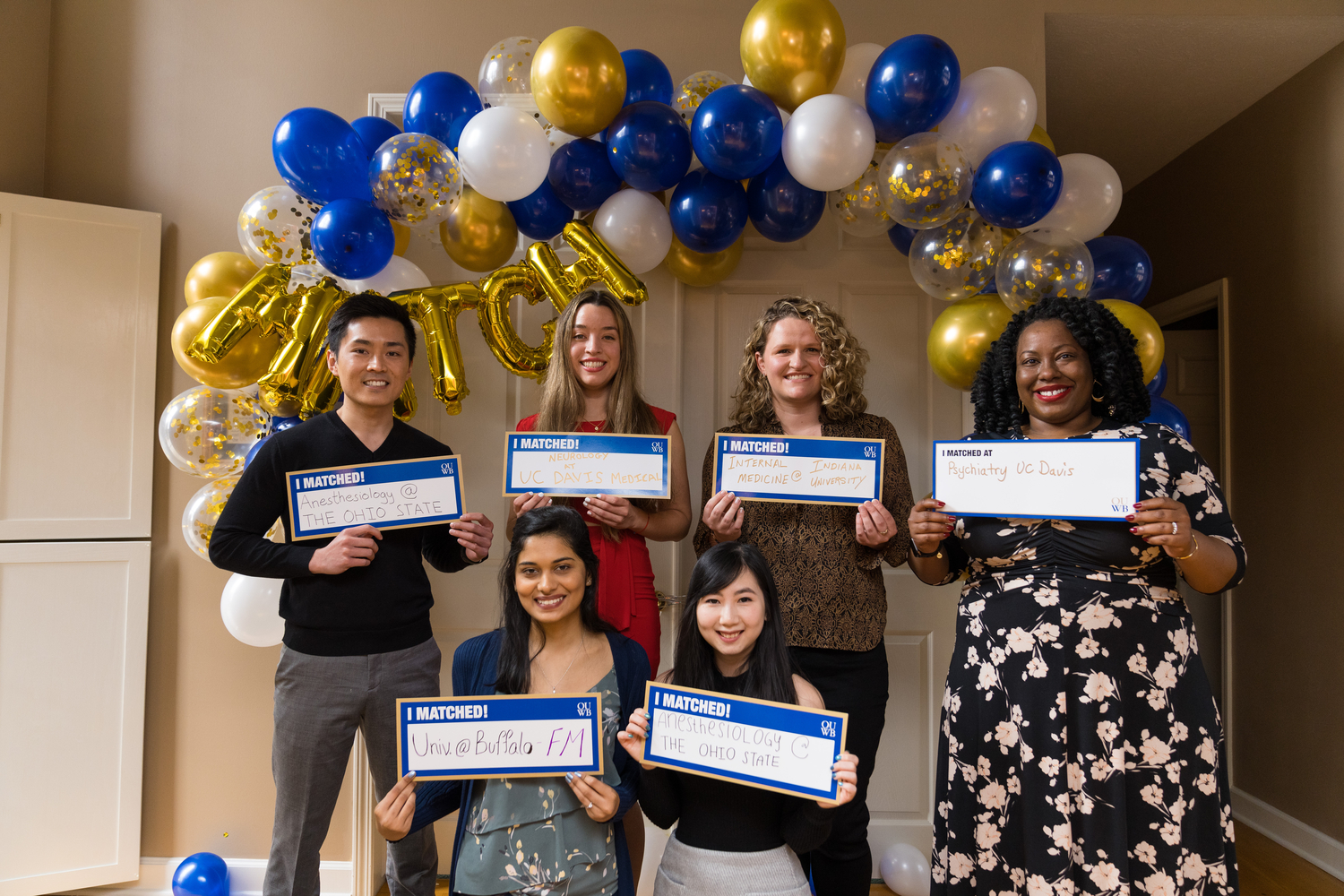 Many OUWB students who matched on Friday celebrated together. 
OUWB students were happy that the big day had arrived.
Joshua Volin, who matched in diagnostic radiology at Emory University School of Medicine in Atlanta, said it was a "dream come true" to match at his top residency of choice.
"[There's] a lot of different emotions," Volin said. "You get really built up prior to opening up that email — four years of hard work — and then to match at your program, it's like throwing a touchdown pass to win the game."
Eddie Ford, Rachel Harvey, Ian Penvose, and Ryan Nierstedt celebrated together.
Harvey matched in general surgery at Zucker School of Medicine at Northwell, Northshore University/Long Island Jewish Medical Center.
Neirstedt matched in anesthesiology at Brigham & Women's Hospital in Boston.
He said Match Day was made all that much more exciting by celebrating with friends and family.
"Having is good support system is probably the most important thing," said Neirstedt. "Having all my friends and family by my side really made the process easier. I feel really grateful for OUWB for checking in and making sure we're well supported. I think we were all just ready to get (our match) and look forward to moving on to the next chapter."
Penvose matched in orthopaedic surgery at Brown University Rhode Island Hospital. He spoke about how OUWB and Beaumont Health prepared him for this point in his career.
"There's a lot of incredible faculty at OUWB and Beaumont," he said. "Clinicians that take the time to integrate us into the medical community and allow us to really thrive."
Penvose said he wanted to send a "huge thanks" to OUWB and Beaumont "for allowing us to go down that path and achieve our dreams."
(Story continues below graphic)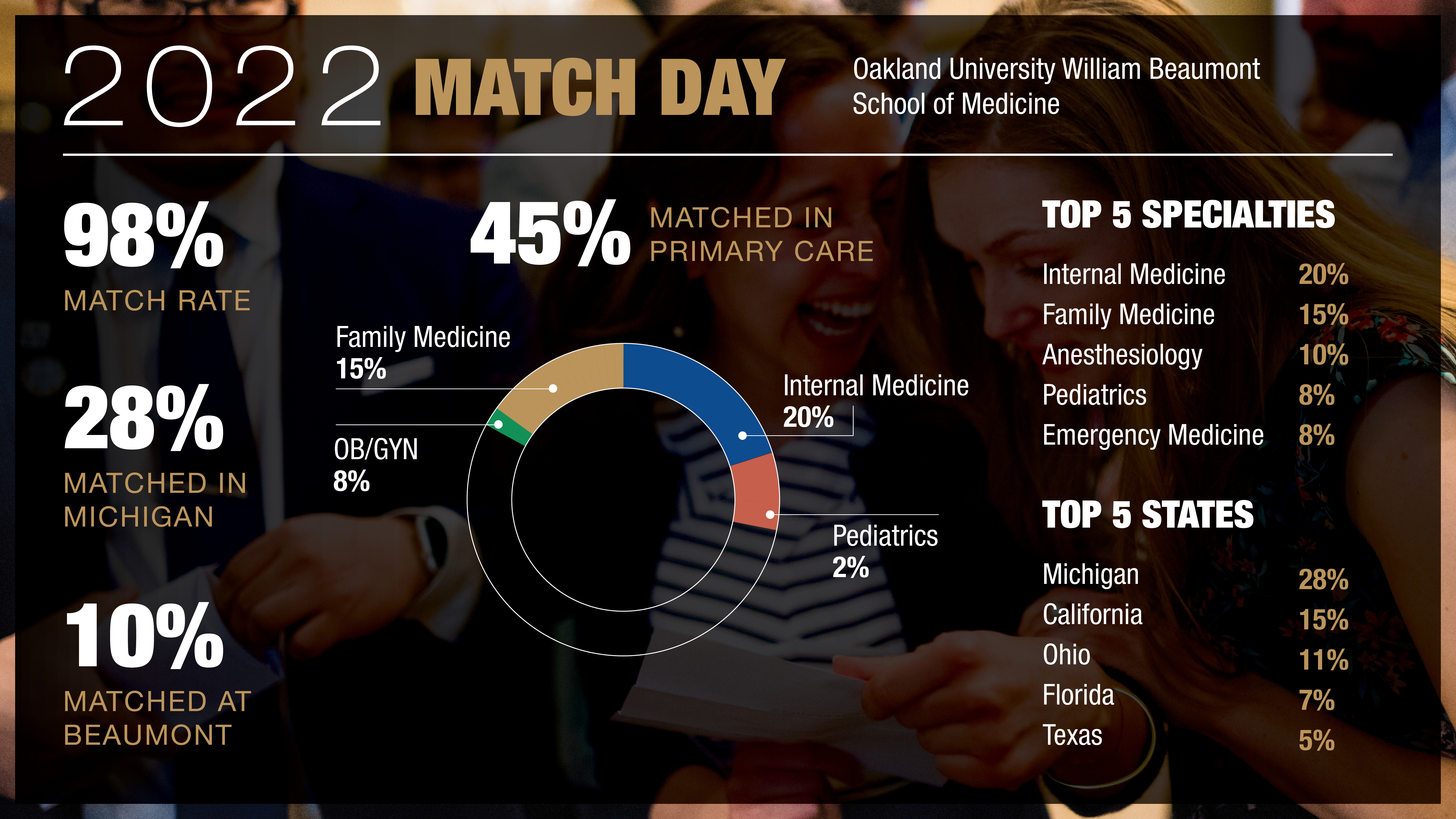 Rafey Rehman matched in dermatology at Wayne State University School of Medicine.
He said he is "so excited to join the Wayne State family" and that he's looking forward to working with many of his mentors, including Fatima Fahs, M.D., OUWB '15, and clinical faculty instructor for OUWB's Department of Internal Medicine.
Rehman said he believes he was able to match in the competitive specialty of dermatology, in large part, because OUWB taught him how to do various types of research.
He also said it's important to "believe in yourself before anyone else will believe in you."
"Once you start to have faith in whatever you decide to pursue, it's just so important to pursue it with 120% every single day," he said. "When you find the right mentors and people that will support and guide you, it will be one of the best things that can happen."
Omid Vadpey, who matched at University of California Irvine Medical Center to specialize in internal medicine, said it "feels really good" to finally match.
"I'm honestly just exceptionally grateful," Vadpey said. "Every person that I've met along the way, I've learned something from everyone and I'm just glad that I can make everyone proud and glad that I always just stay true to myself."
Vadpey said he wants to thank everyone who has helped him along the way.
Dina Abdo matched in pediatrics at University of California San Francisco.
Originally from California, she said it's "like a dream to go back out west, though I've loved my time in Michigan and I've loved Beaumont." She's also excited her classmate, Emily Yuen, also matched at UCSF.
On Match Day, she recalled a visit OUWB Founding Dean Robert Folberg, M.D., made to California and told her that OUWB matches well in California. Abdo also recalled all of the positive mentorship she received while at OUWB.
"There were so many mentors both in and out of pediatrics who were willing to hold my hand and push me through," she said. "I really feel like OUWB set me up well for this next chapter in my career."
Grace Peterson matched in orthopaedic surgery at Spectrum Health/Michigan State University.
She said she felt "nervous and excited at the same time" leading up to the moment she found out she matched at her top choice. Peterson celebrated with friends and family and said there was a lot of excitement at the moment of the reveal.
"I was just really happy to see the name in writing…that was a really exciting and touching moment," she said.
Peterson thanked all of the mentors and faculty members that helped her along the way, including Rohde, her PRISM mentor.
"I couldn't have done this without her, and the support of my family and friends," she said.
During Friday's Match Day celebration, it was announced Peterson also will be class speaker at OUWB's 2022 Commencement. She's already put a lot of thought into what she'll say.
Specifically, she said, she'll talk about how "medical school is difficult, and we all went through a lot."
"But look back to who you are and what got you here because that's what's really important and what's going to keep you going through residency," she said.
For more information, contact Andrew Dietderich, marketing writer, OUWB, at adietderich@oakland.edu. 
To request an interview, visit the OUWB Communications & Marketing webpage.
NOTICE: Except where otherwise noted, all articles are published under a Creative Commons Attribution 3.0 license. You are free to copy, distribute, adapt, transmit, or make commercial use of this work as long as you attribute Oakland University William Beaumont School of Medicine as the original creator and include a link to this article.