Friday, Sep 23, 2022
Dan the Man: Meet the manager of OUWB's Anatomy Lab, and medical students' 'first patients'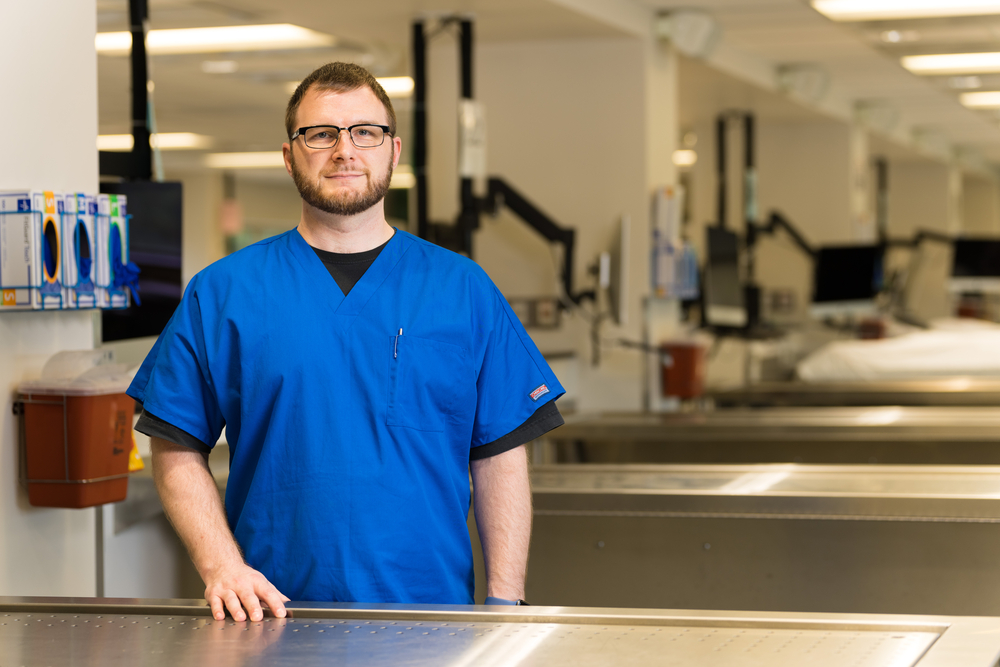 Dan Schlegel has worked as OUWB's Anatomy Lab since its start in 2011.
Oakland University William Beaumont School of Medicine students always remember their "first patient" and since the school's launch, Dan Schlegel has had a key role in those relationships.
The reason?
Schlegel has managed OUWB's Anatomy Lab since its start in 2011.
He is responsible for taking care of the lab and the donors — in this context, that primarily means people who made a pre-death decision to donate their respective bodies to science so that medical students can study and truly understand structures within the human body.
It's a unique job that Schlegel says generally elicits one of two reactions.
"People are either super interested and ask a lot of questions," he says with a smile. "Or they just kind of back away slowly."
Regardless, Schlegel says he never forgets what the job is really all about.
"For me, it's all about working with the students and faculty to help build future doctors," he says.
Those who work closest with Schlegel say his commitment to the role is evident.
"Dan does an exceptional job," says Malli Barremkala, associate professor, Department of Foundational Medical Studies and director of OUWB's Body Donation Program.
"Over the years he has been instrumental in the support of the anatomy programs at OUWB, and we affectionately call him 'Dan the Man.'"
'I was a little tentative'
In his managerial role, Schlegel works directly with OUWB faculty to ensure students have what they need when it comes to studying anatomy in the lab. Additionally, he supports Oakland University physical therapy programs, which also use the lab.
His responsibilities not only include moving and preparing donors, but ensuring students have all of the equipment they need, that the entire space is maintained and held to the highest standards of cleanliness, and that all rules are followed. For example, students are prohibited from taking pictures in the lab.
Schlegel says his daily work in the lab is guided by two principles: the important role the donors play in helping students learn, and the need to maintain respect.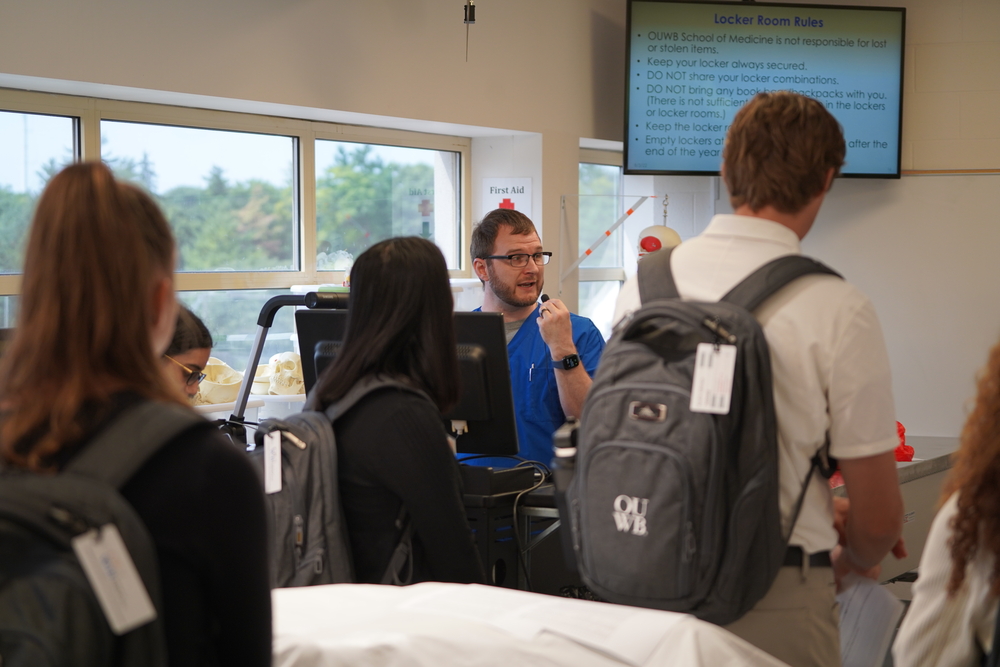 Schlegel talks about anatomy lab rules to the OUWB Class of 2026 during orientation in August.
"Donors essentially donate themselves before death…they give everything that they are to educate students," he says. "We respect donors as patients…just because they can't hear you or respond doesn't mean we treat them less."
Of course, the big question is: how does one become manager of a medical school anatomy lab?
For Schlegel, it started when he was an undergrad at Oakland University, pursuing a bachelor's degree in health sciences.
During that time, in the mid-2000s, Schlegel had his first experience with donors. It was different from the experience that medical students have because the anatomic specimens were prosected (already dissected by more experienced anatomists).
Still, the experience helped build his comfort level of working with body donors. The fact that he has always been "science-minded" further helped.
"As a student, I was a little tentative the first time they pulled out the donors in that first lab class…but I was never really squeamish," he says. "I was more interested in learning how things worked."
Soon, Schlegel was helping others learn how things work as a teaching assistant for Mary Bee, Ph.D., associate adjunct associate professor, School of Health Sciences.
When presented with the opportunity to join OUWB in 2011, he jumped at the chance.
It was a month before OUWB welcomed its charter class of 50 students.
'They're even more comfortable'
For the first two classes, OUWB's anatomy lab was in the basement of Oakland University's Mathematics and Science Center. Schlegel said the situation was less-than-ideal as the space did not have windows, the loading dock was across the hall, there was lackluster ventilation, and other issues existed.
Among the biggest, he said, was that the donors had to be moved every time there was a class.
All of that changed in 2013, when the lab was relocated to the third floor of Oakland University's Hannah Hall following a complete remodeling of the space that now houses the anatomy lab.
The restricted lab now features 37 tables specifically for donors, each equipped with a special ventilation system and computer. The size and the layout of the lab allows students to move freely and not feel crammed into a tiny space. Windows line the walls, creating a bright atmosphere.
Schlegel says his favorite part of the job is seeing the evolution of students with regard to how they approach donors.
"At the beginning of the semester, some of the students can be pretty (hesitant), but by the end of the semester they are totally immersed," he says. "Then they come back for the second semester and they're even more comfortable."
Having an OU alum run the lab is beneficial, says Barremkala.
"He has knowledge of the OU campus and facilities and he uses this effectively for a well-functioning lab," he says.
Schlegel also goes above and beyond to help keep students on track.
"Dan was one of the very few employees that worked in-person throughout the pandemic and played a key role in delivery of the lab component of the AFCP (Anatomical Foundations of Clinical Practice) course," says Barremkala.
Looking ahead, Schlegel says he is excited that OUWB recently started its own body donor program. So far, OUWB has worked with other institutions like University of Toledo to obtain donor bodies, which are then given back to the school at the end of the year for proper cremation and return to the family.
"We'll have more control over the embalming process, selection criteria of the donors, and direct contact with the families, which makes it a little easier to get necessary medical records," he says. "It's really exciting."
For more information, contact Andrew Dietderich, marketing writer, OUWB, at adietderich@oakland.edu.
To request an interview, visit the OUWB Communications & Marketing webpage.
NOTICE: Except where otherwise noted, all articles are published under a Creative Commons Attribution 3.0 license. You are free to copy, distribute, adapt, transmit, or make commercial use of this work as long as you attribute Oakland University William Beaumont School of Medicine as the original creator and include a link to this article.