Friday, Oct 21, 2022
'Dreams can be realized': OUWB associate dean shares journey at 'Dinner with a Doc'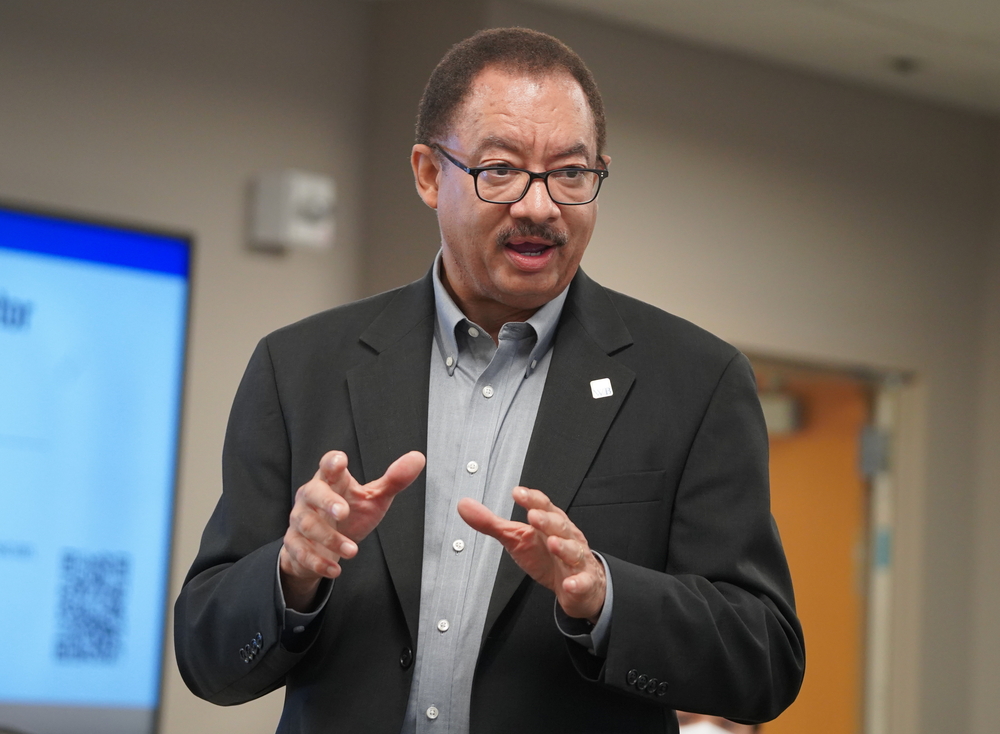 Pierre Morris, M.D., associate dean for clinical education, was the featured guest at a "Dinner with a Doc" event hosted by OUWB Diversity & Inclusion.
An OUWB administrator recently shared his unique professional journey with a group of medical students with hopes to help them realize "dreams can be realized" with perseverance and hard work.
Pierre Morris, M.D., associate dean for clinical education, was the featured guest at a "Dinner with a Doc" event hosted by OUWB Diversity & Inclusion.
About a dozen students attended the event held in OUWB's O'Dowd Hall. It was the first time the event has been held in-person since the beginning of the Covid-19 pandemic.
Morris recounted his journey from high school teacher to medical doctor to current role at OUWB.
"I hope the students understand the unconventional path I followed in my career, and that with perseverance and hard work dreams can be realized," said Morris. 
"I also hope they understand success in medical school is not simply excelling on examinations, but rather acquiring the knowledge and skills needed to competently care for patients while also enjoying the experience," he added.
Morris' journey
Morris was born and raised in St. Louis, Mo. He earned a bachelor's degree in psychology and another in biology from Washington University in St. Louis. Post-graduation, he worked as a high school biology teacher — a role he held for much longer than expected.
"It was supposed to be a part-time job for three months, filling in for another teacher on maternity leave," he said. "The bottom line is that three months turned into 12 years because the other teacher didn't return."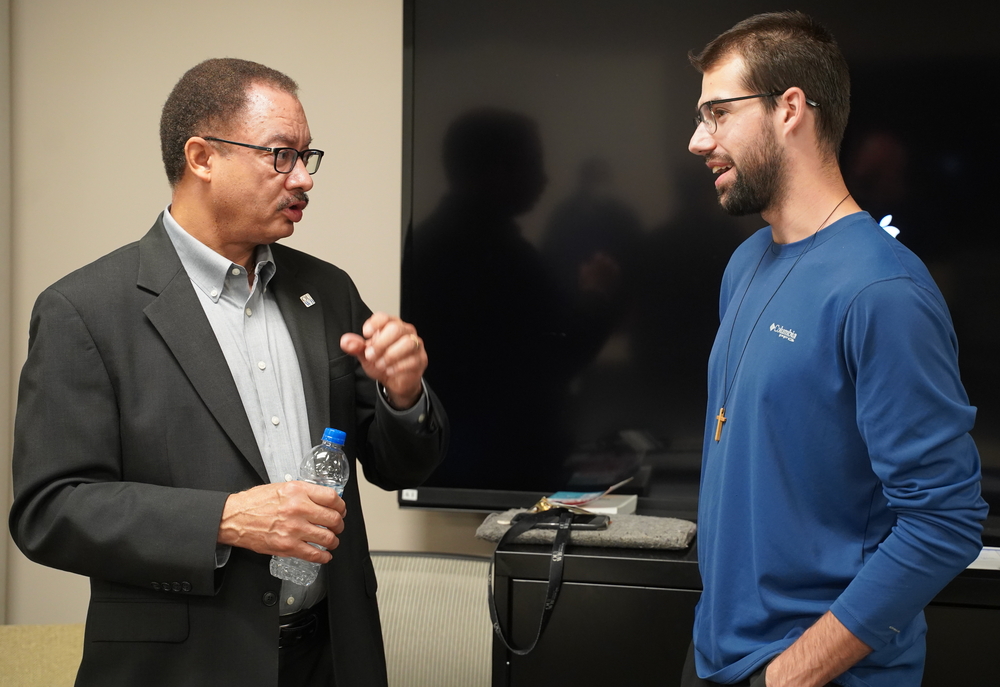 Morris talks with OUWB medical student David Howell after the "Dinner with a Doc" event.
Morris said he loved being a high school teacher and was inspired by his mother, also a high school teacher who taught French. It's how he ended up with the name Pierre, he noted.
Near the end of his time as a high school teacher, Morris' wife, Sharon, had a job opportunity in Michigan. As he puts it, she had the higher paying job so they moved. Morris landed a job at Okemos High School.
At age 36, he decided he was ready for change professionally, and was strongly leaning toward becoming a medical doctor. Morris recounted how his father-in-law offered him perspective on finishing medical school at the age of 40.
"He said 'You're going to be 40 if you go to medical school or not, so you might as well be 40 and do what you want with your life,'" said Morris.
Morris began attending the Barbados-based Ross University School of Medicine.
He said it was challenging because school officials and faculty kept students ultra-busy so that they would stay out of trouble on the Caribbean island, where students stayed during their first two years.
To survive, he said, Morris and six other students formed an intensive study group. The group made a pact to meet every day and study together.
"We ended up doing quite well," said Morris. "The top guy in the group became a neurosurgeon at Mayo Clinic."
Upon graduation from Ross, Morris began what would be a 20-year affiliation with Wayne State University School of Medicine — first as a resident, then faculty, then in the positions he held there for 10 years before joining OUWB last November.
Those positions were simultaneously serving as founding program director for the Wayne State University School of Medicine Transitional Year Residency Program and director of Family Medicine and Public Health Sciences Residency Program.
Morris joined OUWB about a year ago, and said he's "been enjoying it ever since."
"OUWB turned out to be the right fit for me, and I guess I turned out to be the right fit for OUWB because here I am," he told the students.
'It was great'
Morris' story is exactly the kind that makes the "Dinner with a Doc" events so special, said Tiffany Williams, Ph.D., director, Diversity & Inclusion, OUWB.
"It's important for our medical students to get multiple perspectives and learn about different experiences and journeys from various physicians," she said.  "That's why this event was started…to help them learn, network, and build relationships."
Students said they took a lot of way from the presentation.
Max Kuang, M1, said he "thought it was great."
"For me, it's been a long journey to get into medical school and it was nice to hear that not everyone comes right from college," he said. "I enjoyed learning how Dr. Morris built a successful career."
David Howell, M3, said Morris' presentation made him feel a bit less stressed.
"The biggest thing I took away was that it's OK to sit back right now and trust that the opportunities will arise," he said. "Also, when they do arise, just go full pedal to the metal."
That also had a big impact on Ali Rida, M3, who said he felt there were several similarities between his own journey and that of Morris.
"Especially when he was talking about going with the flow and just seeing what happens," he said. "That's how a lot of my journey has been as well."
For more information, contact Andrew Dietderich, marketing writer, OUWB, at adietderich@oakland.edu.
To request an interview, visit the OUWB Communications & Marketing webpage.
NOTICE: Except where otherwise noted, all articles are published under a Creative Commons Attribution 3.0 license. You are free to copy, distribute, adapt, transmit, or make commercial use of this work as long as you attribute Oakland University William Beaumont School of Medicine as the original creator and include a link to this article.