Thursday, Nov 11, 2021
Naik joins OUWB Department of Foundational Medical Studies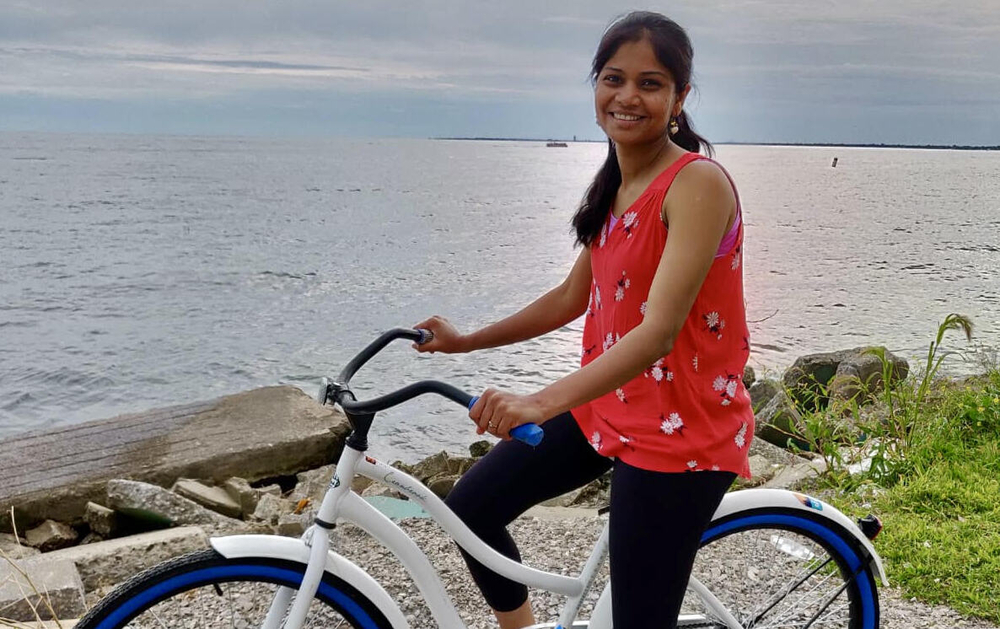 Akshata Naik, Ph.D., who joined the OUWB Department of Foundational Medical Studies in September, enjoys riding her bike when not teaching students physiology.
For one of the newest faculty members at Oakland University William Beaumont School of Medicine — Akshata Naik, Ph.D. — there's one word that could easily be a running theme in her life: balance.
Balance is an obvious theme in physiology, the topic taught by Naik, who is an assistant professor in the OUWB Department of Foundational Medical Studies.
Balance also is important in her personal and professional life, as the classically trained Indian singer and dancer with two children begins a new journey at OUWB.
And balance, says Naik, is important in the give-and-take between her and OUWB students — an aspect of the medical school experience upon which she places great importance.  
"We call ourselves educators, but there's lots to learn from (medical students)," says Naik.
"They get to make use of my experience, but…they fuel my energy, and it's amazing."
Naik joined OUWB on September 1. She teaches physiology to M1 and M2 medical students.
Prior to joining OUWB, Naik was a postdoctoral researcher at Wayne State University followed by a brief stint as a medical writer at an award-winning, global, medical and scientific communications company.
Naik earned a bachelor's degree in microbiology and her master's degree in life sciences (biological macromolecules) from the University of Mumbai (India). She earned a Ph.D. in physiology from Wayne State University (WSU) in 2019.
Naik's dissertation research involved understanding the molecular mechanisms of transient insulin secretion at the cellular level. Specifically, she studied the regulation of insulin secretory granules during release of insulin.
Naik
Naik has published in esteemed peer-reviewed journals, such as Endocrinology and Nano Letters.
Naik has taught in the capacity of an instructor, a laboratory demonstrator, a graduate teaching assistant, and a senior research assistant. She was a course coordinator for the basic endocrinology course at WSU.
She also volunteered for Physiology Understanding, a nationwide K-12 outreach program by the American Physiological Society. In this program, she enjoyed introducing physiology to fifth graders via simple hands-on scientific experiments and engaging material.
Naik says she was drawn to OUWB by "many things," but especially by the students.
"I enjoy teaching medical students because they are so driven," she says. "They know what they want, and know that this is what they want to do, and have been working towards this goal for a very long time."
Naik says her first impression is that OUWB is "so different than other schools" in a way that she describes as "great."
"People having been so welcoming…always open for a discussion," she says.
Naik grew up in Bombay and moved to southeast Michigan in 2015 with her husband, Praveen, who came to the area to be an engineer at an auto supplier.
Together, they have two children, a seven-year-old son, and a daughter who is three. The family enjoys spending time together, whether traveling or going on long bike rides.
Naik also is a trained Indian classical singer and dancer and likes to read and paint.
"I cannot do one thing at a time," she says with a laugh.
Looking ahead, Naik says she is excited about the opportunities she expects to have through OUWB. Those opportunities include doing more medical education research and interacting with students as much as possible.
"I'm so excited to be at OUWB and definitely looking forward to helping students grow, and growing myself," she says.
For more information, contact Andrew Dietderich, marketing writer, OUWB, at adietderich@oakland.edu. 
To request an interview, visit the OUWB Communications & Marketing webpage.
NOTICE: Except where otherwise noted, all articles are published under a Creative Commons Attribution 3.0 license. You are free to copy, distribute, adapt, transmit, or make commercial use of this work as long as you attribute Oakland University William Beaumont School of Medicine as the original creator and include a link to this article.