Wednesday, Sep 22, 2021
Freeman sets sights on diversity and inclusion at OUWB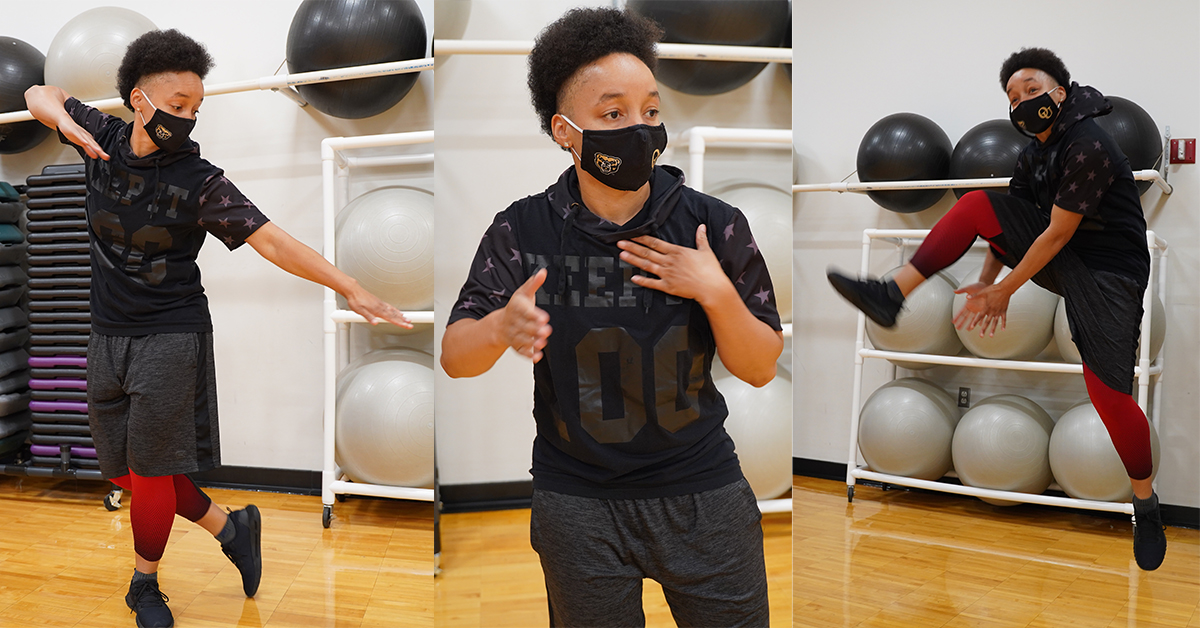 Angie Freeman spent many years as a professional dancer. In addition to OUWB's new coordinator of Diversity & Inclusion, Freeman is teaching hip-hop dance classes at OU.
An easy way to know when Angie Freeman is passionate about a topic is the way they smile when talking about it — and Freeman smiles a lot.
OUWB's new coordinator of Diversity & Inclusion smiles when talking about dance.
Freeman's face lights up when talking about social issues important to them, such as justice and inclusion.
A smile beams brightly when they talk about their wife, Cassandra, and newborn baby, Xyelle.
And a smile definitely shines bright when talking about what makes them feel most satisfied at the end of the day.
"When I can create a space of inclusion," says Freeman. "Just by being myself…presenting myself the way that I do in a non-traditional, non-gender conforming way, and just being open."
At OUWB, Freeman coordinates various diversity and inclusion-related events and programs, such as heritage month celebrations and the Diversity Lecture Series, as well as numerous summer programs available for area youth.
Tiffany Williams, Ph.D., director of Diversity & Inclusion, says Freeman is a good fit for the position "because of the professional experience they brought."
"In the first six months, Angie has definitely hit the ground running and that is exactly the kind of spirit we need in diversity and inclusion," says Williams.
"Angie has been a great addition when it comes to being a team player, creative, and program execution."
Affecting a wide variety of people
Born in Germany and having lived several places as a self-described "military brat," Freeman earned a bachelor's degree in marketing from Oakland University. They also earned a master's degree in college student affairs from Nova Southeastern University. 
Freeman's first job after grad school was as a resident director at the University of Vermont. They were drawn to the position because school officials "put a lot of emphasis and importance on diversity, equity, and inclusion."
But after a year, Freeman switched career paths and headed West to pursue a passion of dance.
"I just dropped everything,'" says Freeman. "It was 'Hey, I'm having this moment in my life right now where this is calling me.'"
Freeman trained hard to be part of the dance industry, focusing on hip-hop, stepping, and body percussion. The experience was not without its challenges — the kind that Freeman says ultimately helped shape them for a role at OUWB.
Freeman
"I quickly realized that they wanted a certain image of identified female person and I didn't fit that," says Freeman. "I'm like 'Wait, I've got to wear heels, a skirt, tights, and all this stuff? I just want to dance.'"
Freeman eventually earned a spot on a Las Vegas-based company called Molodi, while also serving as a freelance and part-time fitness and hip-hop dance instructor.
In 2016, however, Freeman felt the call to return to student affairs.
They took a position as success coach and retention specialist at Nevada State College, and then as a senior transition advisor at the University of Nevada Las Vegas.
Freeman says it's a career path that has prepared them for the role they've had at OUWB since March.
"I realized this position can affect a wide variety of people," says Freeman. "Inclusive experiences involving people in health care is very important."
Work towards being better
Freeman says it's important to note that they understand the importance of feeling supported and by example points to a preferred use of the pronouns they/them.
"I don't feel comfortable being referred to as 'she,'" says Freeman. "I don't fit into what society looks at as male/female…it's so binary and there's no room in between."
At birth, Freeman was identified as female, but says "I like to express myself in different ways…and it's more masculine."
"From that, I've decided not to be referred to as she or her…but also don't want to be called he or him," says Freeman. "If I had my choice I would just be called 'Angie,' but they/them is a non-binary option that we have in our community."
Freeman says one of their goals is to help others feel more comfortable using pronouns.
"A lot of people think it's just an LGBT thing…it's not," says Freeman. "Everybody has pronouns…even if straight people started to infuse that in their language it would just be more inclusive, right?"
Freeman says enacting such change directly related to the topics of diversity, equity, and inclusion is exactly what drives them to work hard every single day.  
They're aware that it is not going to happen overnight, says Freeman, but that doesn't mean they will stop working toward it.
"I'm not going to change everybody and everybody's not going to agree with me," says Freeman.
"But we can at least work towards being better…and this is the perfect place to do that," adds Freeman, with a big smile.
For more information, contact Andrew Dietderich, marketing writer, OUWB, at adietderich@oakland.edu. 
To request an interview, visit the OUWB Communications & Marketing webpage.
NOTICE: Except where otherwise noted, all articles are published under a Creative Commons Attribution 3.0 license. You are free to copy, distribute, adapt, transmit, or make commercial use of this work as long as you attribute Oakland University William Beaumont School of Medicine as the original creator and include a link to this article.