Wednesday, Aug 25, 2021
Lewis joins OUWB Department of Foundational Medical Studies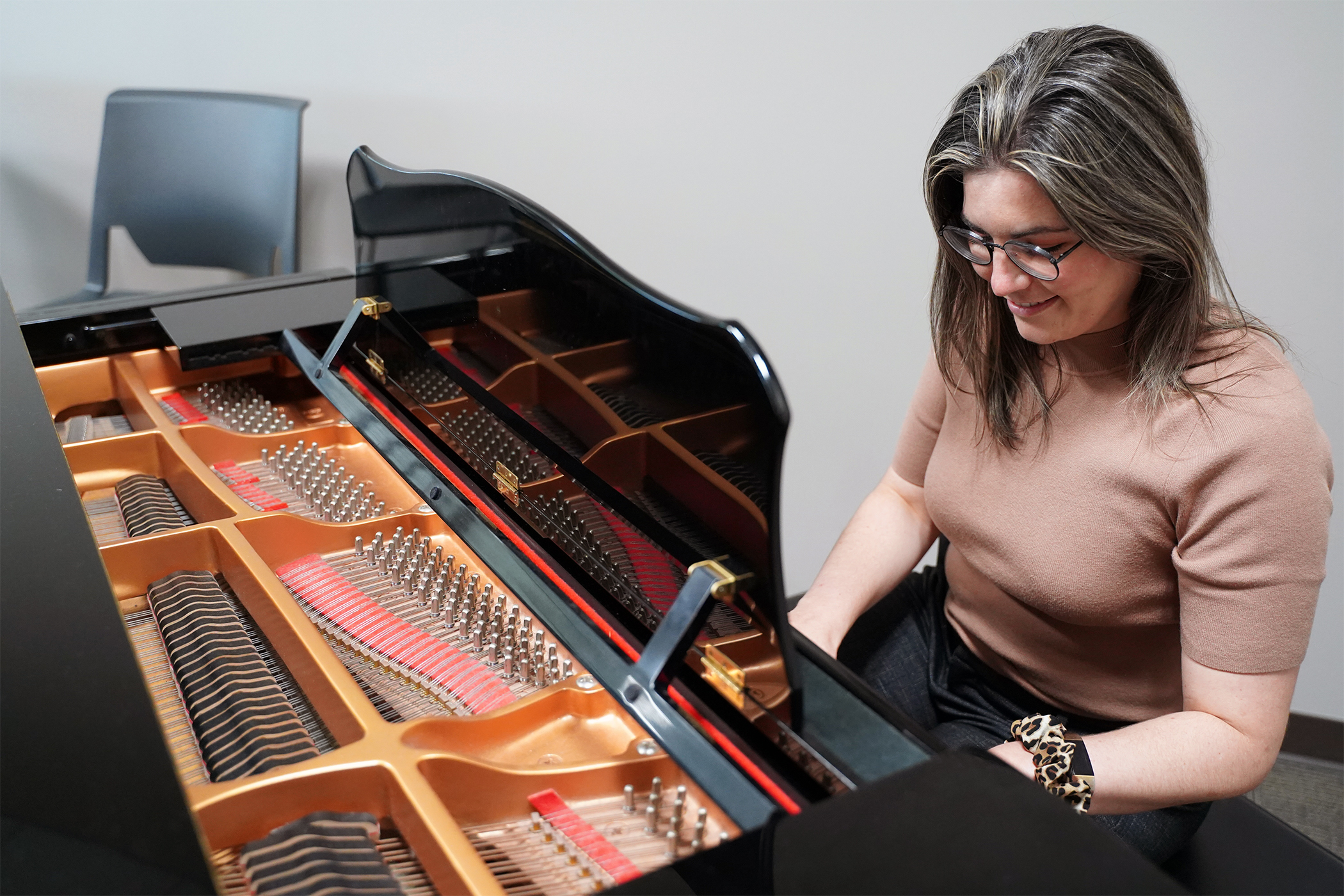 Brianne Lewis, Ph.D., one of the newest faculty members at OUWB, enjoys playing the piano. She once thought she would have a career in music, but that changed when she took a pathology class in high school.
Brianne Lewis, Ph.D. can't help but smile at the thought of what her high school self might have thought about her joining the faculty at Oakland University William Beaumont School of Medicine.
That's because Lewis says she was certain in her younger days that a career path involving music was in the cards.
Today, however, she teaches biochemistry to first-year medical students as one of the newest faculty within OUWB's Department of Foundational Medical Studies.
"(My younger self) probably would have thought, 'What happened?'" Lewis says with a laugh. "It's like the plot twist of the century."
Lewis says it started when she took a class in Pathology while a student at Stoney Creek High School in Rochester Hills — a class that sparked a love interest with science that would help chart the course of her career.
Lewis
"As soon as I could see slides, and visualize disease, it just really piqued my interest and I said to myself, 'OK, change of plans…I want to go to med school,'" she says.
After graduating from Stoney Creek, Lewis went to Wayne State University, where she started off on a pre-med track.
Like in high school, a specific class — biochemistry — changed her plans.
"I loved it," she says. "I loved understanding how proteins work, and how it helps understand the basis for everything."
Lewis would go on to earn a bachelor's degree in biochemistry and chemical biology.
As an undergraduate, her work focused on thermodynamics of targeted siRNA sequences.
Never one to shy away from an interesting new experience, Lewis also was a student athlete as part of the Wayne State's fencing team.
"I never had any fencing experience prior to college, but they needed tall people and I was a tall person," she says.
"I started fencing and got to compete with Olympians, which was really fun."
She would go on to earn a Ph.D. in pharmaceutical sciences, also from Wayne State.
During her graduate work, she investigated the mitochondrial iron-sulfur cluster assembly complex as it relates to Friedreich's Ataxia and iron dysregulation. She also worked collaboratively at the Stanford Synchrotron, where she collected X-Ray data to characterize metalloprotein binding sites.
Lewis was awarded a trainee position from a NIH-T32 from the Detroit Cardiovascular Training Program, which funded her research efforts. As a postdoctoral fellow, Lewis joined Wayne State's Department of Biomedical Engineering, where she investigated protein stability in commercial insulin formulations and studied how inflammation contributes to early failure of automated insulin delivery systems.
In addition to her scientific efforts, Lewis was accepted as a trainee from the NIH BEST (Broadening Experiences in Scientific Training) Program, where she focused on developing effective instruction. She also collaborated with the reBUILD Detroit initiative to advance representation in STEM careers by developing research inclusive curriculum for undergraduate students.
At OUWB, Lewis will continue working on such projects while teaching biochemistry to first-year medical students. Lewis says she enjoys helping students understand science.
"There's just something special about teaching students about subjects that are sometimes intimidating," she says. "Being able to make it less stressful, more relatable, and communicate it clearly is really rewarding.
She says she was drawn to OUWB largely because of the school's approach to teaching.
"(OUWB) was one of the few places where I felt that the faculty were really up-to-date on their educational methodologies," says Lewis.
Lewis says that for a long time she's been interested in more effective ways to engage students who are learning challenging topics. When she learned more about OUWB, she says, "everybody was talking about these things like, 'Oh, we're already doing these things, and we're looking at doing the next big thing.'"
"That was just so cool to me," she says. "I was like 'I love being around these people because they care as much as I do about finding the best ways to deliver challenging information.'"
Since joining OUWB on July 1, Lewis says OUWB faculty and staff have been "very generous with their time…and everyone has been very welcoming and supportive of new ideas."
When not at work, Lewis says she enjoys walking and hiking, camping, and "all kinds of outdoor activities."
She also still enjoys playing piano.
For more information, contact Andrew Dietderich, marketing writer, OUWB, at adietderich@oakland.edu. 
To request an interview, visit the OUWB Communications & Marketing webpage.
NOTICE: Except where otherwise noted, all articles are published under a Creative Commons Attribution 3.0 license. You are free to copy, distribute, adapt, transmit, or make commercial use of this work as long as you attribute Oakland University William Beaumont School of Medicine as the original creator and include a link to this article.