Friday, Jul 30, 2021
Academic success team at OUWB excited for new school year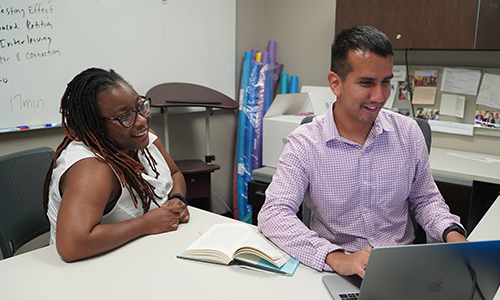 During the past year, OUWB's academic success team known as "LaLo" has established itself as the go-to support resource for the school's medical students.
On the eve of a new school year, LaTina Jackson and Saulo Ortiz say they are
excited to continue helping students, both headed into their second year, and those set to begin their respective medical school journeys.
The senior medical school advisors provide that help in big ways: academic counseling; wellness; and career coaching.
And both say they find it especially rewarding to help students navigate medical school.
"I absolutely love seeing students succeed in achieving their goals," says Jackson. "You know what they're trying to do and what they will accomplish…to be able to support those efforts is very gratifying."

'Just want to check in'
At OUWB, the academic success team provides academic counseling, as well as support for wellness and career coaching.
"Something I like to tell students is this is their first time in medical school, like many other firsts in life — riding a bike, or driving a car, for example," says Jackson.
"When students did those firsts, they relied on someone else to help and guide them…and that's what we're here for as they enter medical school for the first time."
Academic counseling means, among other things, helping students successfully manage the transition to a medical school curriculum, achieve sustained levels of success, and assisting with test prep.
Ortiz says students can seek support on an as-needed basis, but that the team also will reach out if they notice someone seems to need help.
"It's not like the students are in trouble or anything," he says. "It's more like 'Hey, just want to check in and see how you're doing.'"
When Jackson and Ortiz help students with their wellness, it's all about achieving balance among the various components that consist of an individual's physical and mental well-being.
"Oftentimes they may get bogged down with school work and start to neglect other things, such as physical well-being," says Jackson. "But if you neglect wellness it will have an effect on academics."
Beyond academics and wellness, the two also help with career coaching — helping students navigate and explore different specialties they may find of interest. They are responsible for OUWB's Alumni Career Mentoring, Career Path Panel, and Physician Observership programs.
Further, Jackson and Ortiz plan to take on even more as they head into their second year, including launching a podcast centered on student support.

Team background
Jackson is originally from Michigan and earned a bachelor's degree in sociology from Eastern Michigan University. She earned a master's degree in educational counseling with a focus on student affairs from Northern Arizona University.
Her career has been built on student support, including the last 10 years at Southern Methodist University. Her roles at SMU included academic counselor, and learning specialist.
Ortiz, who also grew up in Michigan, has been working in student affairs since 2018. Most recently Ortiz was at University of Michigan-Dearborn, where he served as a success coach and coordinator of a program for low-income scholars and first-generation college students.
He earned a bachelor's degree in psychology and master's in higher education, both from Grand Valley State University.
Ortiz says he enjoys connecting with students and building relationships to help them find success.
"I really enjoy having all kinds of conversations with students, but especially when you see something in them click and they say 'Oh, I never thought about it that way,'" he says.
The team shared similar views on what it takes to be successful in their respective roles.
"It takes a lot of resilience," says Jackson. "Students come to us with so many different things they need help with and each conversation requires a lot…having the ability to bounce back for the next student is important."
Ortiz added that it helps to be creative, a problem-solver, resourceful, compassionate, and flexible.
"It's also important to be empathetic," he said. "They need to see that we have a genuine care and concern for their lives."
Growing together
Jackson and Ortiz started at the same time a little over a year ago and, of course, during a global pandemic. Both say starting together has been a blessing.
Jackson says the two have regular one-on-one meetings where they are able to bounce ideas off each other and work through challenges together. She says they are "very, very in tune with each other."
Ortiz says he agrees and that tackling the position would have been more of a challenge without Jackson.
The tight bond between the two has been a benefit to OUWB, says Berkley Browne, Ph.D., assistant dean for Student Affairs.
"I think part of why they are so effective is they instinctively seek each other out to get support and team up on projects," says Browne. "Another thing I appreciate about them is they recognize they are different people with complementary skill sets, and from my observation they are very good at dividing work between them according to each others' strengths.
Browne said the key to their magic as a team is that they don't get caught up in making sure they are doing identical things.
"They actively look for ways to leverage their different perspectives, strengths, experiences, and skills to create as strong a support structure for students as possible," she says.
For more information, contact Andrew Dietderich, marketing writer, OUWB, at adietderich@oakland.edu. 
To request an interview, visit the OUWB Communications & Marketing webpage.
NOTICE: Except where otherwise noted, all articles are published under a Creative Commons Attribution 3.0 license. You are free to copy, distribute, adapt, transmit, or make commercial use of this work as long as you attribute Oakland University William Beaumont School of Medicine as the original creator and include a link to this article.