Tuesday, Jul 06, 2021
New Medical Student Government executive board plans to help OUWB students reset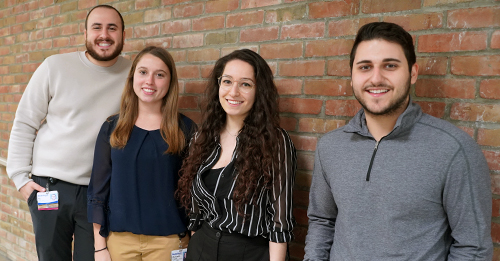 The 2021-22 MSG e-board (from left) Ali Rida, president; Mackenzie Schmidt, vice president; Revelle Gappy, secretary; and Alex George, treasurer.
Helping restore a sense of normalcy to the medical school experience is top of mind for the new executive board of Oakland University William Beaumont School of Medicine's Medical Student Government.
So say the four board members who are preparing for the new school year with plans that include helping students get back into the swing of normal.
The board members are second-year medical students: Ali Rida, president; Mackenzie Schmidt, vice president; Revelle Gappy, secretary; and Alex George, treasurer.  
The board is the head of the OUWB Medical Student Government (MSG), which serves as the official representative body of medical students to the OUWB administration, faculty, Beaumont Health, Oakland University, and the community. MSG generally strives to investigate, discuss, and act on issues pertinent to the student body.
In addition to the four-person executive board, each class has four senators (see sidebar). Each class also has a member on the Organization of Student Representatives (OSR).
"I think one of the biggest challenges OUWB students will face this upcoming year is the transition back to in-person activities and classes," said Rida. "The class as a whole has gotten used to listening to lectures and attending meetings in the comfort of our homes and beds, wearing pajama bottoms with professional tops, but unfortunately that luxury will be ending in the fall."
"I hope to use my position, in collaboration with the rest of the executive board, to strengthen the sense of community between the M1s and M2s this upcoming year," he added.
Other MSG executive board (e-board) members expressed similar sentiments.
"I believe a lot of students became adjusted to the online curriculum and may have a difficult time adapting to an in-person schedule," said Schmidt. "I think it is important to recognize that although many students are excited about being back in person, it is also going to be a challenge for many students and we need to support our peers with these changes."
For more on the new MSG e-board, check out the question-and-answer below:
Why did you feel it was important to be on the MSG e-board, and what do you bring to the position?
Rida: During my M1 year, I had the privilege of being a senator on MSG. I loved the role that I played and the direct impact we made as senators, but I felt as though I wanted to work more closely with the administration to implement widespread change to OUWB. With my previous experience in leadership roles, I hope to be able to actively address any problem that may arise while also creating a warm and welcoming environment for all.
Schmidt: I felt like it was important to be on MSG e-board specifically to help our class navigate many of the challenges of this past year and upcoming year including having medical school classes online, not being able to meet many of our peers or professors in person, changes in curriculum/STEP 1 exam, and less opportunities for valuable clinical experiences. There were a lot of changes this past year from a "typical" medical school experience and there will continue to be changes as we transition back to how things were before the pandemic. I wanted to be on the e-board to help facilitate communication between students, faculty, and administrators throughout this next year as well as to help students to support each other to avoid student burnout.

Gappy: I have always loved being involved in student organizations and it felt natural for me to represent our school and contribute to its student leadership. I value a robust social environment and enjoy creating opportunities for people to get involved as well, whether it be through a subcommittee position, social events, or the Big Sib Little Sib program. I've always been the friend that organizes every brunch plan and vacation trip, so it felt fitting to be in this role where I have to do a good bit of logistical work. 
George: I felt that MSG offered me the opportunity to learn about the faculty at OUWB, while also voicing support for the wishes of our student body. I felt that with my goal of working in health care administration, being a part of MSG would help me understand the inner workings of our medical school, especially from a financial perspective.
What do you feel are the most important issues facing OUWB students this year?
(See above for Rida and Schmidt)
Gappy: The Class of 2024 is in a particularly unique situation as we spend this next year making up for lost time from our M1 year. As we transition back into in-person activities and a hybrid medical education experience, I have no doubt that we'll adjust well. 
George: It's no secret that this past year has been difficult for OUWB students and faculty with all the virtual changes, so I believe that our student body is going to have to adjust to the idea of returning to in-person classes and events. For many students, this may be beneficial to their learning, and even mental health. but for others this could pose more stress than we endured in the previous year. For the incoming M1s, this new hybrid learning environment will also be unique, as it isn't something that OUWB has implemented before. In addition, the incorporation of fully professor-written exams will likely cause many of our study habits to adjust accordingly.
What do you hope to accomplish in your role on the e-board?
(See above for Gappy)
Rida: The biggest goal I hope to accomplish in my role is to continue to increase transparency between administration and the student body through more interactive and informative Town Halls. I am also interested in increasing communication between the M1/M2 and M3/M4 students. Although it's a bit difficult due to the differences in scheduling between all four classes, I think that all students would benefit greatly from having open lines of communication with their predecessors at the school.
Schmidt: As vice president of MSG, I hope to be a leader for the student organizations and the MSG subcommittees through hosting several trainings about planning in-person events, encouraging organizations to collaborate with one another, and bringing student concerns to administrators. I also would like to work with other MSG e-board members to clarify several parts of the MSG voting process that we had questions about this past spring. 
George: I hope to garner the trust of my fellow classmates to handle the responsibility of budgeting our student organizations, and I also hope to be a resource for all OUWB students in regards to finances and MSG in general. I also hope to suggest changes where I see fit, so that in the coming years, the finance committee and treasury can run as smoothly as possible, and I hope to be a mentor to next year's MSG treasurer as well.
For more information, contact Andrew Dietderich, marketing writer, OUWB, at adietderich@oakland.edu. 
To request an interview, visit the OUWB Communications & Marketing webpage.
NOTICE: Except where otherwise noted, all articles are published under a Creative Commons Attribution 3.0 license. You are free to copy, distribute, adapt, transmit, or make commercial use of this work as long as you attribute Oakland University William Beaumont School of Medicine as the original creator and include a link to this article.