Tuesday, Sep 08, 2020
Pediatric Interest Group from OUWB nets national honor for second consecutive year
Members of OUWB's 2019-2020 Pediatric Interest Group pose for a photo during a public safety event hosted by the Bloomfield Hills Police Department. (Photo taken prior to COVID-19 pandemic.)
Oakland University William Beaumont School of Medicine's Pediatric Interest Group has been named Pediatric Interest Group of the Year for the second consecutive year by the American Academy of Pediatrics.
The OUWB Pediatric Interest Group is set to receive the award in October during the 2020 AAP Virtual National Conference and Exhibition. The featured speaker will be Anthony S. Fauci, M.D., director of the National Institute of Allergy and Infectious Diseases at the U.S. National Institutes of Health.
Created and presented by the AAP Section on Pediatric Trainees Medical Student Committee, the Pediatric Interest Group of the Year award recognizes such groups annually for excellence in interest group programming and involvement in the Section on Pediatric Trainees (SOPT) annual advocacy campaign. For 2019-20, the campaign was "Protect Kids – Trainees for Firearm Safety."
"We felt really honored and appreciated to have the opportunity to receive the award because we weren't even sure it was possible to do so in consecutive years," said Emily Yuen, a third-year medical student (M3) at OUWB who served as president of the student organization last year.
"We had a really good team of people working together with us," she added.
Helen Huetteman, M3, served as vice president of the organization last year.
"It was nice to see that everything we did really paid off, despite all of these things that happened (as a result of COVID-19)," she said. "We had a really successful year otherwise, which is nice to be recognized for."
According to AAP, Pediatric Interest Groups provide the opportunity to learn about and experience the field of pediatrics starting in the first year of medical school.
Members usually are interested in a career in pediatrics, combined internal medicine and pediatrics, or various subspecialties within pediatrics.
Groups typically sponsor talks and networking events, facilitate mentoring relationships with pediatric residents and faculty, and create opportunities to interact with pediatric patients and explore research interests.
"By introducing students to the pediatric community and enabling them to learn about the field from a variety of perspectives, (Pediatric Interest Groups) can help students decide whether a career in pediatrics is the right fit for them," AAP says on its website.
The OUWB Pediatric Interest Group has been in place and continually evolved since the school's beginning. This is the third time the group has received the Pediatric Interest Group of the Year award from AAP and the fifth year that the group mentor, Mary Smyth, M.D., OUWB associate profess of Pediatrics, has served as the group mentor.
Membership in OUWB's Pediatric Interest Group increased from 270 in 2018-19 to 312 last year.
Yuen said the popularity of the group can be attributed to "the opportunities our group can offer."
"We had an event pretty much every month," she said. "Plus, we offer opportunities in the clinical setting."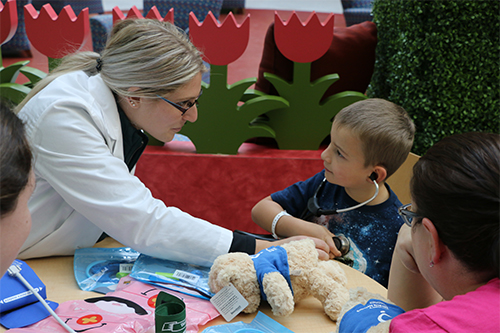 OUWB's Pediatric Interest Group took part in a Teddy Bear Clinic at Beaumont Children's Hospital, Royal Oak last November. 
Huetteman said it's important to note that members of OUWB's PIG aren't all necessarily going into pediatrics. However, she said, many find it appealing that the group provides unique opportunities for medical students in their first two years of school to interact with children.
OUWB's PIG typically hosts more than 20 community outreach, professional development, and networking events every year.
Events involving the OUWB Pediatric Interest Group in 2019-20 included, but were not limited to:
"Doctor for the Day" events hosted by the Bloomfield Hills Public Safety Department, Serenity Pediatrics, and HUDA Clinic
A session entitled "Gun Violence Prevention" that centered on a presentation from Jim Peggs, M.D., Michigan Medicine
Kiddie Lingo with a Beaumont Child Life Specialist
Mandatory Reporter Training at CARE House
Beaumont Moonbeams for Sweet Dreams
Fleece and Thank You — an event where participants make blankets for children facing extended hospital stays.
A reading program for children diagnosed with autism
Several events leading up to and including the annual PIG Roast event that raises money for CARE House.
In the Aug. 19 letter to the OUWB PIG, Kylie Seely, executive coordinator of Medical Student Initiatives, Section of Pediatric Trainees, AAP, said she was "delighted" to inform the group it had won the award.
"Among the many applications received this year, your chapter stood out as one that not only proves what a chapter can do, but also sets the standard high for what is achievable as an interest group," she said.
For more information, contact Andrew Dietderich, marketing writer, OUWB, at adietderich@oakland.edu. 
Follow OUWB on Facebook, Twitter, and Instagram.
NOTICE: Except where otherwise noted, all articles are published under a Creative Commons Attribution 3.0 license. You are free to copy, distribute, adapt, transmit, or make commercial use of this work as long as you attribute Oakland University William Beaumont School of Medicine as the original creator and include a link to this article.