Monday, Sep 23, 2019
OUWB organization named Pediatric Interest Group of the Year by American Academy of Pediatrics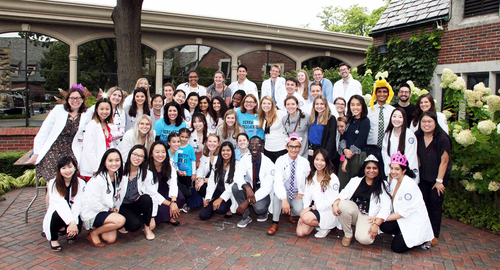 Members of the OUWB Pediatric Interest Group recently took part in a program called "Doctor for the Day" during an open house hosted by the Bloomfield Hills Public Safety Department.
A student organization from Oakland University William Beaumont School of Medicine has been named by the American Academy of Pediatrics the national Pediatric Interest Group of the Year for 2019.
The OUWB Pediatric Interest Group is set to receive the award during the 2019 AAP National Conference and Exhibition next month in New Orleans.
Created and presented by the AAP Section on Pediatric Trainees Medical Student Committee, the award recognizes a Pediatric Interest Group annually for its excellence in interest group programming and involvement in the Section on Pediatric Trainees (SOPT) annual advocacy campaign.
"We were ecstatic to hear that we won the Pediatric Interest Group of the Year Award," said Yvonne Lee, 2018-19 president, OUWB Pediatric Interest Group.
"The (OUWB) Pediatric Interest Group leadership spent a lot of time and effort to make the events and fundraisers a success over the course of the 2018-19 school year and being recognized for this hard work was very satisfying," Lee said. "We are extremely happy and proud to be able to impact the community in such a big way and to represent OUWB's values at the national level."
According to AAP, Pediatric Interest Groups provide the opportunity to learn about and experience the field of pediatrics starting in the first year of medical school.
Members usually are interested in a career in pediatrics, combined internal medicine and pediatrics, or various subspecialties within pediatrics.
Groups typically sponsor talks and networking events, facilitate mentoring relationships with pediatric residents and faculty, and create opportunities to interact with pediatric patients and explore research interests.
"By introducing students to the pediatric community and enabling them to learn about the field from a variety of perspectives, (Pediatric Interest Groups) can help students decide whether a career in pediatrics is the right fit for them," AAP says on its website.
Pediatrics has a big role at OUWB. 
In 2019, 10 OUWB students matched in pediatrics. Additionally, other OUWB graduates continue to make their mark in specialty, including two Class of 2017 alumnae who were recently appointed co-chief residents at Helen DeVos Children's Hospital in Grand Rapids. 
The OUWB Pediatric Interest Group has been in place and continually evolved since the school's beginning. This is the second time the group has received the Pediatric Interest Group of the Year award from AAP. Mary Smyth, M.D., is group mentor and has been involved with it since 2015.
Today, the group has 270 members, and hosts more than 20 community outreach, professional development, and networking events every year. 
For 2018-19 and among other things the OUWB Pediatric Interest Group:
Hosted a Pediatric Subspecialties Physician Panel that featured five physicians of various subspecialties, in which they shared their valuable experiences within the field.
Strengthened collaboration with the CARE House of Oakland County, a nonprofit children's advocacy center that provides services to victims of child abuse and neglect.
Hosted (with CARE House) a Mandatory Reporting Education and Training event specifically for our medical students. Students learned appropriate steps in advocating for children in the legal system and recognizing potential abuse in patients as future pediatricians.
Hosted a two-part lecture series focusing on Adverse Childhood Experiences and Recognizing Child Abuse.
Showcased community advocacy skills by engaging community partners and gathering donations through phone calls, flyers, and social media platforms (e.g. Facebook) for its annual Roast fundraiser for CARE House.
Presented a poster on Promoting Adolescent Health and Well-Being in a Low-Resource School at the Michigan Adolescent Health Initiative, to advocate for the importance of improving adolescent health through education.
Savannah Fotheringham, 2018-19 vice president, OUWB Pediatric Interest Group, said receiving the award provides incentive to keep pushing forward.
"This award is further motivation to continue advocating for children and their families in our communities as well as a reminder to pursue excellence in anything we dedicate ourselves to on our journeys to becoming pediatric specialists," she said.
For more information, contact Andrew Dietderich, marketing writer, OUWB, at adietderich@oakland.edu.