Friday, Apr 17, 2020
OUWB student group roast raises $6K for CARE House of Oakland County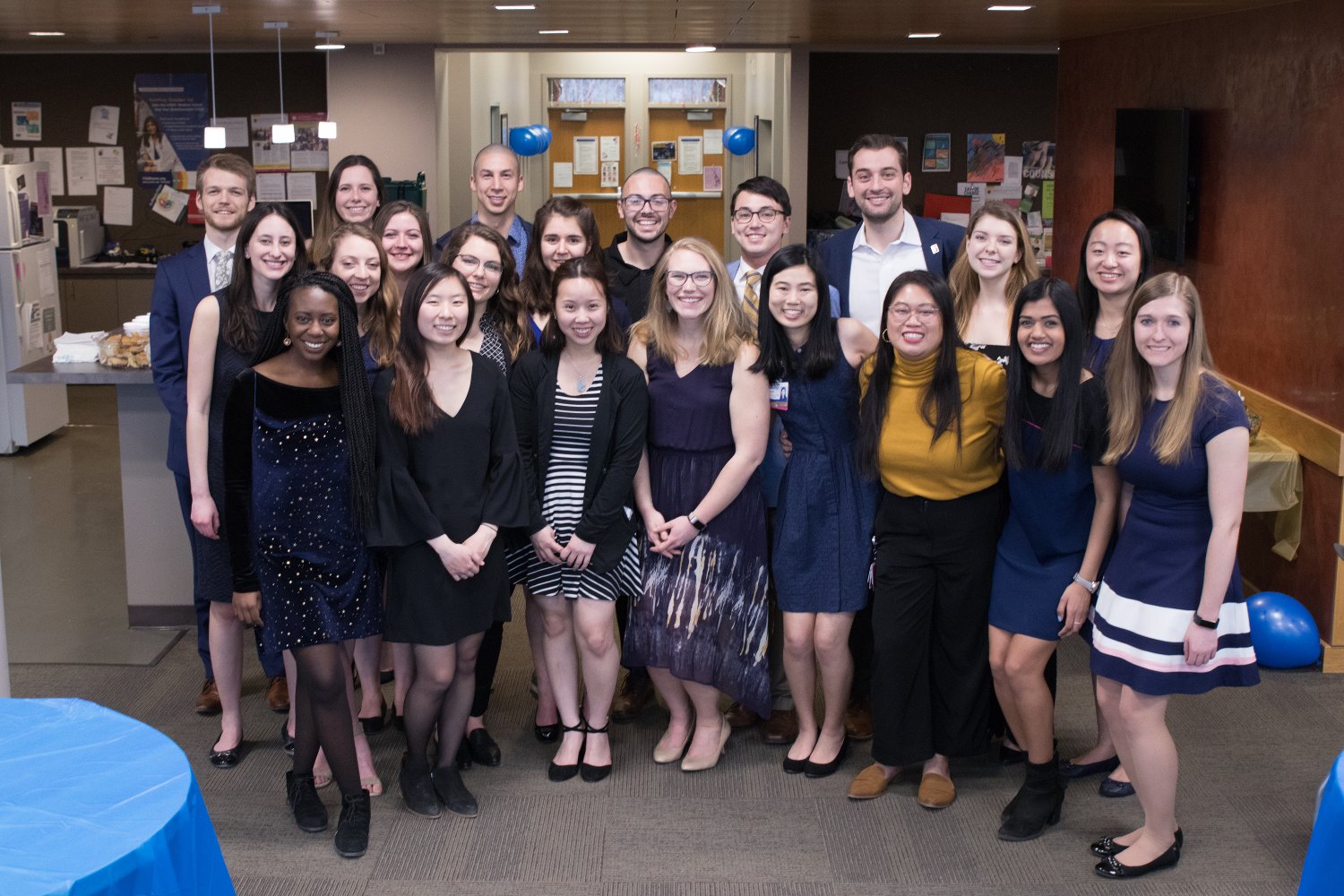 Members of OUWB's Pediatric Interest Group (PIG) recently hosted the group's annual PIG Roast.
An Oakland University William Beaumont School of Medicine student interest group recently raised about $6,000 for CARE House of Oakland County through a unique fundraiser.
The OUWB Pediatric Interest Group held its annual roast on March 6.
Just about anyone or anything associated with OUWB was fair game for roasters, said OUWB M2 Rachel Connell.
However, it was all in the name of fun and a good cause, she said, as the event raised about $6,000 through ticket sales and a silent auction.
That was in addition to about $7,500 raised at Bald, Brave, and Beautiful 2020, a fundraiser hosted by the OUWB Oncology Interest Group for St. Baldrick's Foundation (a charity dedicated to raising money for childhood cancer research). 
"A lot of time and effort goes into our annual roast," she said. "The money that we raise is great, but the awareness for CARE House is even better."
Connell said the OUWB Pediatric Interest Group hosts smaller fundraisers for CARE House throughout the year.
According to the CARE House website, its mission "is to be a leading resource in the prevention of child abuse and neglect, and the protection of children through advocacy, education, intervention, research, training, and treatment, in collaboration with the community. Our vision is to impact the safety of every child in Oakland County through intervention, prevention and treatment."
 "CARE House is a wonderful organization," Connell said. "A lot of businesses have standards for the types of organizations that they'll donate to. They're generally looking for those who have a direct impact on the community…CARE House provides a lot of support to a lot of areas in the community."
Planning for the Pediatric Interest Group's roast starts at the beginning of the school year and is done by a committee of about 20 students.
This year, the roast was held at Oakland Center, following a reception in the student lounge of Oakland University's O'Dowd Hall. It featured food donated by more than 20 organizations.
 The main event featured 10 acts, with most of them being videos produced by students. In one example, medical students read "Mean Tweets" similar to the popular segment on Jimmy Kimmel Live! (story continues below video).
Three of the acts separately OUWB Department of Foundational Medical Studies faculty members Jason Wasserman, Ph.D., associate professor, Department of Pediatrics; Gustavo Patino, assistant professor of Neuroscience, and Stefan Walter, assistant professor of Biochemistry.
Connell said faculty members took part in the roast after being chosen via a penny war in January. The mini-fundraiser allowed participating voters to put pennies in a jar representing faculty members. Those with the most pennies agreed to take part in the roast. 
Additionally, the fundraiser featured a silent auction for about 50 items that were donated. Items included go-carting passes, gift bag, tickets to movies and other events like wine tasting, and autographed books and sports memorabilia.
Connell said it's important to note that throughout the whole process — from the early planning stages to the final event — OUWB medical students never lose site of the intent.
"We talk about CARE House constantly," she said. "We talk about it with our friends and family…really anywhere we can spread awareness about it in the community."
For more information, contact Andrew Dietderich, marketing writer, OUWB, at adietderich@oakland.edu. 
Follow OUWB on Facebook, Twitter, and Instagram.
NOTICE: Except where otherwise noted, all articles are published under a Creative Commons Attribution 3.0 license. You are free to copy, distribute, adapt, transmit, or make commercial use of this work as long as you attribute Oakland University William Beaumont School of Medicine as the original creator and include a link to this article.