Friday, Oct 09, 2020
Annual OUWB bone marrow drive goes virtual for 2020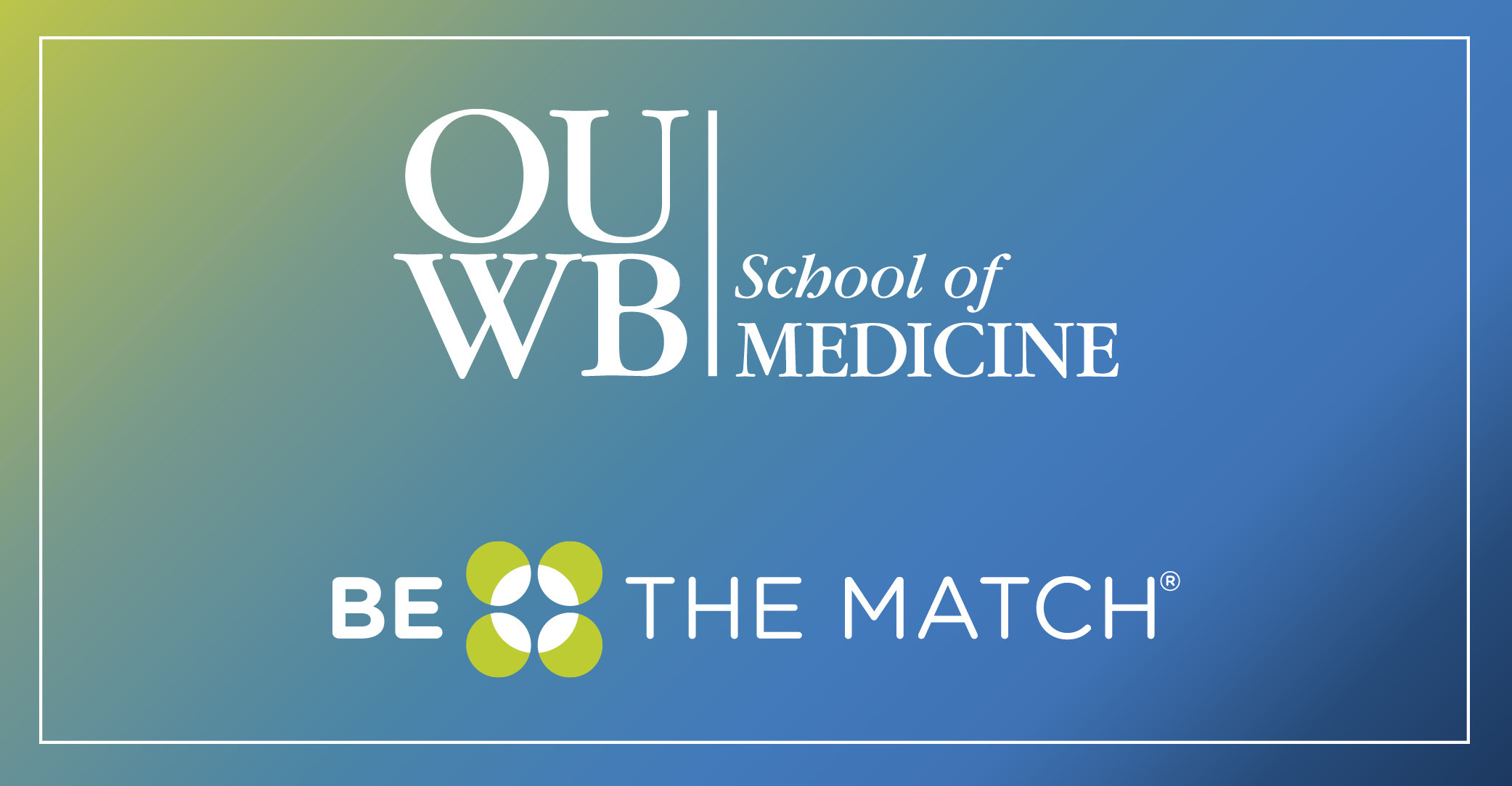 COVID-19 remains a top health concern, but the need for bone marrow donors continues and Oakland University William Beaumont School of Medicine is doing its part to help.
OUWB is partnering with Be The Match — the National Marrow Donor Program's annual bone marrow registration drive that's aimed at educating and signing up as many potential donors as possible.
OUWB will compete with other medical schools in Michigan to try and be the one that signs up the most people for the national bone marrow registry.
The campaign runs Oct. 15 through Nov. 15 and is a joint effort of the OUWB Student National Medical Association (SNMA), OU Cancer Awareness Society, Be the Match at OU, OUWB Diversity & Inclusion, and the OUWB Medical Library.
For 2020, the campaign is being conducted entirely online, said Stephanie Swanberg, MSI, associate professor, Information Literacy & eLearning Librarian.
"Though COVID-19 is at the forefront of our health news, there are thousands of people across our country waiting and hoping for a bone marrow match," said Swanberg.
Meeting a need
Bone marrow donations have the ability to help with more than 70 diseases that can be treated by a blood stem cell transplant, including leukemia and lymphoma, sickle cell disease, inherited immune disorders, and more.
According to the National Marrow Donor Program (NMDP), the COVID-19 pandemic has created "unprecedented obstacles" in the organization's efforts to deliver life-saving cells to patients who need them.
In a press release, the organization said that "This new reality creates a web of increasingly complex challenges in facilitating the timely collection and delivery of bone marrow products to patients who are in the midst of treatment protocols or whose conditions have deteriorated to the point that a bone marrow transplant is the only course of treatment that will save their life."
Last year, 9,780 patients did not find a match on the registry.Such challenges are on top of already existing obstacles for matching donors and patients.
Further, disparities exist among people of various ethnic backgrounds, said Swanberg.
About three out of four people who are Black or African American will not find a donor. Similarly, about two of four people who are Asian or Pacific Islander, Hispanic or Latino, and American Indian or Alaska Native will not find donors.
As a result, Swanberg said, Be The Match is emphasizing the need to diversify the registry in this year's campaign.
"This drive is so close to SNMA-OUWB's heart, because there are less minorities on the registry, while the need for transplantation does not decrease amongst minorities," said Kimberly Anyadike, a second-year OUWB medical student and president of the SNMA chapter at OUWB.
"It is our goal to encourage healthy individuals from all backgrounds to register to become bone marrow donors."
Potential eligible donors must be between the ages of 18-44, meet certain health guidelines, and be willing to donate to any patient.
To sign up, registrants can begin by texting MSOUWB to 61474. They will then receive a swab kit in the mail. The kit will instruct potential donors on how to swab their cheeks and return the swabs in the mail. Kits need to be returned via mail by Nov. 15.
Once in NMDP's system, matches are based on genetic typing involved Human Leukocyte Antigen (HLA). According to NMDP, there's a one in 430 chance that a potential donor will match with a patient.
'I know that this is a worthwhile campaign'
OUWB's 2020 bone marrow drive can be traced to 2012, when the school held its first organ donor registration drive in conjunction with a statewide effort called Michigan Libraries for Life. Swanberg said libraries get involved as an extension of their everyday service-based offerings and that more than 150 libraries participate.
In most years, OUWB is the only participant that does a dual organ donor and bone marrow donor registration drive. (The organ donor part of the drive has been temporarily suspended for 2020.)
OUWB added the bone marrow registration drive to its annual campaign in 2014, when OUWB's SNMA chapter proposed expanding the school's organ donor drive to include a bone marrow donor registration component.
Since then, nearly 250 people have registered to be potential donors — though organizers say it isn't just about the numbers.
"Our immediate drive success is based purely on the number of people that register during our drive," said Swanberg. "But, it's beyond the numbers — there are more qualitative measures. It's about the mutual feeling of doing something good and impactful with others that are just as passionate."
Anyadike echoed similar sentiments.
"So long as SNMA-OUWB is actively doing its part to get the word out about the significance of donating bone marrow, so long as we are doing what we can to spread the word during this drive, I know that this is a worthwhile campaign," she said.
"As long as I know we have done our part to let people know about bone marrow donation –what it means, what it has meant, and what it can mean for a number of people, then I know our participation in this campaign is worthwhile," she added.
For more information, contact Andrew Dietderich, marketing writer, OUWB, at adietderich@oakland.edu. 
Follow OUWB on Facebook, Twitter, and Instagram.
NOTICE: Except where otherwise noted, all articles are published under a Creative Commons Attribution 3.0 license. You are free to copy, distribute, adapt, transmit, or make commercial use of this work as long as you attribute Oakland University William Beaumont School of Medicine as the original creator and include a link to this article.