Thursday, Oct 08, 2020
Medical students from OUWB join national voter registration campaign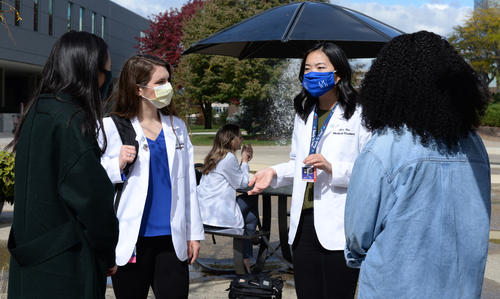 OUWB medical student Alice Hou (second from right) talks about the VotER campaign to several of her peers.
Medical students from Oakland University William Beaumont School of Medicine have joined a nationwide, student-led effort to promote voter registration in the weeks leading up to the November election.
VotER's Healthy Democracy Campaign is a civic health initiative intended to increase voter registration and turnout. VotER is a nonpartisan organization that has developed resources for health care workers so they can easily help patients register to vote. The project was started earlier this year by an emergency room physician at Massachusetts General Hospital.
OUWB second-year medical student Alice Hou, who is leading the student efforts, said she became aware of the campaign through her membership in the American Medical Association.
Hou said involvement in the campaign isn't about supporting one candidate or another — it's about helping as many people as possible get involved in the election process.
"We don't have an agenda," said Hou. "Our goal is just to promote democracy."
In late September, the Brennan Center for Justice (an independent, nonpartisan law and policy organization) found that — compared with 2016 — voter registration has declined by an average of 38 percent in 17 of 21 states the organization analyzed.
The way it works is simple: Participating medical students receive a "Healthy Democracy" kit that essentially consists of a badge that asks the reader if he/she/they is "Ready to Vote?" The reader can then scan a QR code or text "Vote OUWB" to 34444. Both options take users to a voter registration website with easy-to-follow instructions for their respective communities.
Additionally, the link www.vot-er.org/ouwb can be used to register to vote, get information about voting by mail and in person, and more. (To vote by mail in Michigan, ballots must be requested by 5 p.m. on Oct. 30 and postmarked by 11:59 p.m. on Nov. 2.)
VotER is keeping track of how many people sign up through medical students. According to its Medical School Leaderboard, nearly 14,000 people across the U.S. have either registered to vote or requested mail-in ballots since early August as a result of its efforts.
Additionally, the leaderboard shows how many patients have been helped by each medical school in what Hou called a "friendly competition among medical schools."
"The first week we started I got an email telling me that 10 people had signed up," said Hou. "Even if we get just one person signed up, I think this whole initiative will be worth it."
Hou said there is still plenty of time for students to get involved by requesting a Healthy Democracy kit at tinyurl.com/voteouwb.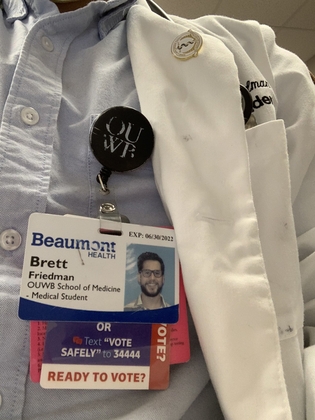 M3 Brett Friedman has his kit.
He has been wearing a VotER badge to his clerkships. Among other reasons, Friedman said there are patients in the ICU and other parts of the hospital who want to participate in the election, but may have limited access.
"For many patients, it can be the last thing on their mind," he said. "But the patients that we see that are very sick can be more on the marginalized population side of things."
Friedman said many of those same patients can mistakenly feel like they won't be able or can't participate in the election process.
"It's really all about the idea of advocacy that we signed up for…trying to give a voice to people that feel voiceless," he said.
For more information, contact Andrew Dietderich, marketing writer, OUWB, at adietderich@oakland.edu. 
Follow OUWB on Facebook, Twitter, and Instagram.
NOTICE: Except where otherwise noted, all articles are published under a Creative Commons Attribution 3.0 license. You are free to copy, distribute, adapt, transmit, or make commercial use of this work as long as you attribute Oakland University William Beaumont School of Medicine as the original creator and include a link to this article.