Wednesday, Aug 28, 2019
Summer Research Opportunity Program at OUWB exposes high schoolers to medical research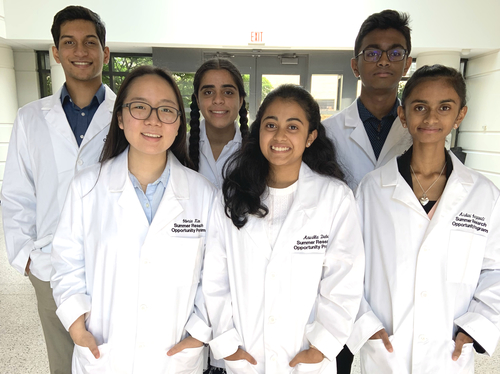 A select group of high school-aged students recently completed a six-week program at Oakland University William Beaumont School of Medicine that introduced them to the mechanics of medical research.
The Summer Research Opportunity Program (SROP) is led by the Office of Diversity & Inclusion, and co-sponsored by the Beaumont Research Institute.
The advanced course is available to only a few students each summer. This year — the fourth time OUWB held the program — there were six students.
OUWB Director of Diversity & Inclusion Caryn Reed-Hendon, Ph.D., said requirements include: submitting an online application; maintaining a GPA of 3.0 or above; and demonstrating an interest in medical research and health disparities. Preference is given to students who have previously attended the less intense, more inclusive OUWB Future Physicians Summer Enrichment Program.

Both pipeline programs aim to introduce students to the scope of opportunities available to them within the field of medicine.
"This program gives students another experience with medicine and the role they can play in seeking out medical innovations through hands-on research," said Reed-Hendon. "We spend a lot of time giving students exposure to human anatomy and social determinants of health in our other programs, it was important to share another critical side of medicine."
Misa Mi, Ph.D., M.A., Kyeorda Kemp, Ph.D., and Stephanie Swanberg, MSI, AHIP, were involved in the didactic part of the program, teaching the students about the importance of good journal research.
Thomas Guerrero, M.D., Ph.D., assistant dean for Diversity & Inclusion, Erin Baker, Ph.D., Stewart Graham, Ph.D., Matthew Sims, M.D., Ph.D., and Laura Lamb, Ph.D., all served as research mentors for the students. 
Participating students were: Gloria Kim (Bloomfield Hills High School), Anushka Dalvi, Amitesh Gargapeti, Aishani, Gargapati, Harmant Grewal (all of International Academy East in Troy); and Sameep Gawaskar (Troy High School).
Gawaskar is among the program participants who have also participated in the Future Physicians Summer Enrichment Program at OUWB.
"I want to be a physician in the future, and performing research through SROP seemed like the best way to get hands-on experience with the science part of the medical field," he said. "I also wanted to know how research is conducted in a hospital environment, how the data is analyzed, and how it is applied to improve the medical field. I was pleasantly surprised to know that SROP combined the science part with the real-life hospital part, making it the perfect learning experience for me."
Among other things, Gawaskar said he learned lab working skills such as collecting, processing, and analyzing samples, as well as effective researching skills.
He also learned to use resources such as PubMed and MedLine Plus.
"I believe that the most important thing I gained from this program was how to deal with problems in an effective and mature way," he said. "I saw how the people in my lab resolved issues in a calm and collected manner, while working together as a team. I hope to use this method of dealing with problems in the future, and I am glad that SROP provided me with this skill."
According to Reed-Hendon, students like Gawaskar who have gone into their first years of college after the program have stayed on track with their STEM-focused aspirations.
"The program opens the students' eyes up to research in medicine and how they can be a part of the process," said Reed-Hendon. "While their contributions may be small today, it opens up a world of possibilities for them in the future with medical innovation.
"They have also learned that medicine is more than just patient interaction and that lab research is just as critical to patient care," she added.
For more information, contact Andrew Dietderich, marketing writer, OUWB, at adietderich@oakland.edu.