Wednesday, Dec 11, 2019
OUWB alumni offer advice to current medical students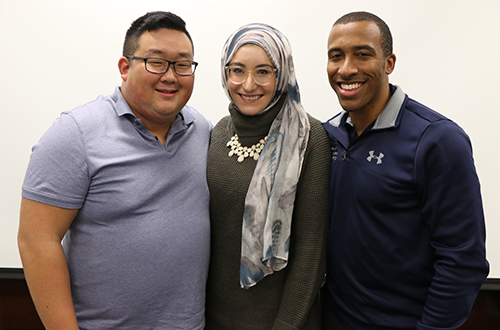 OUWB Class of 2016 Alumni (left to right) Andrew Koo, M.D., Fatima Fahs, M.D., and Travis Washington, M.D.
Three alumni from Oakland University William Beaumont School of Medicine's Class of 2016 recently offered insight into what it's like to be a young doctor – and how their time at OUWB impacted them.
Andrew Koo, M.D., Travis Washington, M.D., and Fatima Fahs, M.D., shared their experiences with current medical students during a Dinner with a Doctor event held at Beaumont Hospital, Royal Oak. It was co-sponsored by OUWB's Diversity & Inclusion and Alumni departments.
Koo is a gynecologist, Washington is an orthopedic surgeon, and Fahs is a dermatologist.
"The Dinner with a Doctor series is a worthy event because it puts practicing physicians in front of our medical students," said Caryn Reed-Hendon, Ph.D., director, Diversity & Inclusion, OUWB.
Reed-Hendon said that offering current students the opportunity to engage with alumni helps them, among other things, "get a slice of life as a practitioner of medicine after medical school."
"From a diversity and inclusion perspective, it is imperative to showcase practitioners from all walks of life, from all different kinds of specialties," said Reed-Hendon.
Pamela Holtz, alumni and parent program coordinator, OUWB, said the school is "always looking for new ways to connect our alumni with current OUWB students."
"We are so proud of their accomplishments, and they are a wealth of experiential knowledge that is so valuable to students," said Holtz. "This group discussion was an excellent opportunity for them to share the wisdom that they've garnered from their journey. We are hoping to repeat this event again in the near future."
Here are some of the questions addressed by the young alumni panel.
What are some things you wish you had known or not been so stressed about when you were in medical school?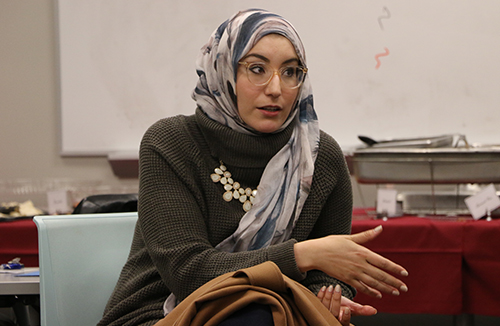 Fahs (right): I didn't know I wanted to do (dermatology) coming in. I really wish I didn't pigeon-hole myself into (obstetrics and gynecology). When I got to OB I was like… 'I don't like OB, what am I going to do?' It's good that you have interests, but just remember what you end up actually being interested in may be very different from what you think you're interested in.
Koo: It's important to have goals and think to yourself 'This is what I want to do.' But it's also important to keep an open mind. As a med student especially, you have seen nothing. You have done very little. You have this concept of what this job is supposed to be like, but until you actually do it, you can't envision your life that way. I had no plans of being an OB-Gyn. Not even a little bit. I thought I was going to be a pediatrician.
What are some things you wish you had focused a little bit more on during your four years of medical school?
Washington: At first, I felt like I was still kind of treating (medical school) like I was still an undergrad. A lot of cramming…not necessarily remembering a lot. (As doctors) we take our in-training exam every year (and the tests) have some of those basic science questions that you learned in first-year medical school. Put a little extra time into actually retaining as much information as possible because it will come back.
Fahs: Another big thing is relationships. When you're rotating through a bunch of different departments or specialties, you don't really know how people may come back into your sphere in the future. It happened to me multiple times where there were people that I had met along the way in medical school that ended up somehow impacting my career later.
Koo: Don't get complacent about studying. The sooner you learn that, the better habits you're going to build. Because if you don't do well on your Step 1 exam (United States Medical Licensure Exam – USMLE), that only affects you. When you become a physician, if you don't study hard enough, or you don't know your technique, or you're not up-to-date on how to do a procedure…that's another person's life. Your errors are amplified when you're caring for patients.

How did you make yourself stand out in interviews and residency applications?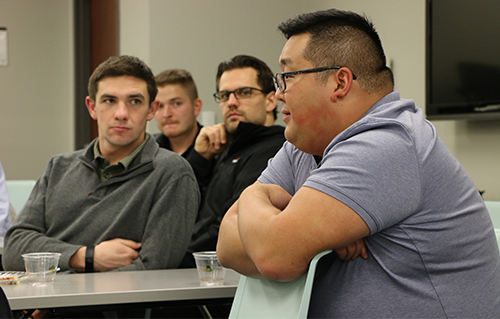 Koo (at right): I interview (potential residents) now. When I read through the applications, I don't really care where people went to school. I want to know what people had to say about you. I read evaluations. I read letters of recommendation. I read personal statements. Because it's about the little things about you that make a difference – it's got to be your personality, your learning style, and what you bring to the table. Do you have to be a good student? Yes. But what gets you in the door, and keeps the door open, are all the other things.
Fahs: I've sat on interviews (and) we had applicants from top tier programs, with top tier scores, and (I'm thinking) 'You're just really good on paper.' Your personality is going to make or break things for you.

Do you ever have "buyer's remorse" for going into your specialty?
Koo: I don't. I look at my profession and feel like I was uniquely made to do this job. I found this little niche of medicine that seems perfect for what I'm interested in and what I like. I think that comes from putting all of your heart and soul into wanting to be good at this job. Eventually, you're going to find out that as you get better at it, it becomes more fun, and then you mold yourself into what you want to be.
Fahs: I was all over the place and could see the positives in every single specialty. I was like 'How am I going to choose something?' I had this anxiety like, 'If I pick this am I going to regret it?' But you (medical students) need to realize there are so many opportunities that exist within your own specialty. There's a ton of different ways you can make it your own.
Washington: I think I could have done a lot of things and been happy. And how do you choose among those things that make you happy? I can't tell you.

In addition, the importance of having a positive attitude came up throughout the discussion. Here's just some of what the alumni said.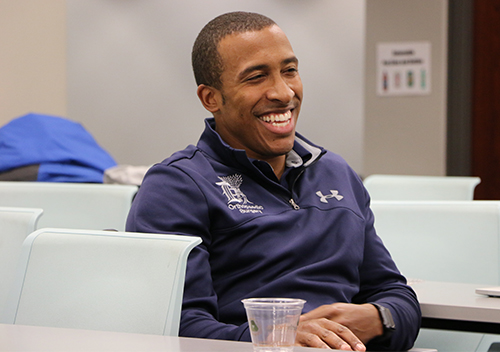 Washington (at right): When you're an undergrad, it's like 'This is tough stuff." Then, you get to medical school and you're like 'Undergrad was easy.' Next, you'll get to residency and be like 'Medical school was super easy.' It's important to keep in mind that it can really seem like you're struggling more when you're in it.
Fahs: People will know you and remember you for being smart or having good grades, but they're really going to remember you for your attitude, how you treated other people, how kind you were, what their experiences were working with you — all stuff that will come back to you one way or another.
Koo: You're a professional. You might still have the title of a student, but you're now a professional and you have to conduct yourself that way. You're going to get hooded (at the graduation ceremony) and all of the sudden, you're a doctor and that title carries a lot of weight. You should work on building that mentality now — how you want to treat people, how you talk to other professionals, even how you respond to emails and shake someone's hand. This is your time to practice all of those things.
For more information, contact Andrew Dietderich, marketing writer, OUWB, at adietderich@oakland.edu.