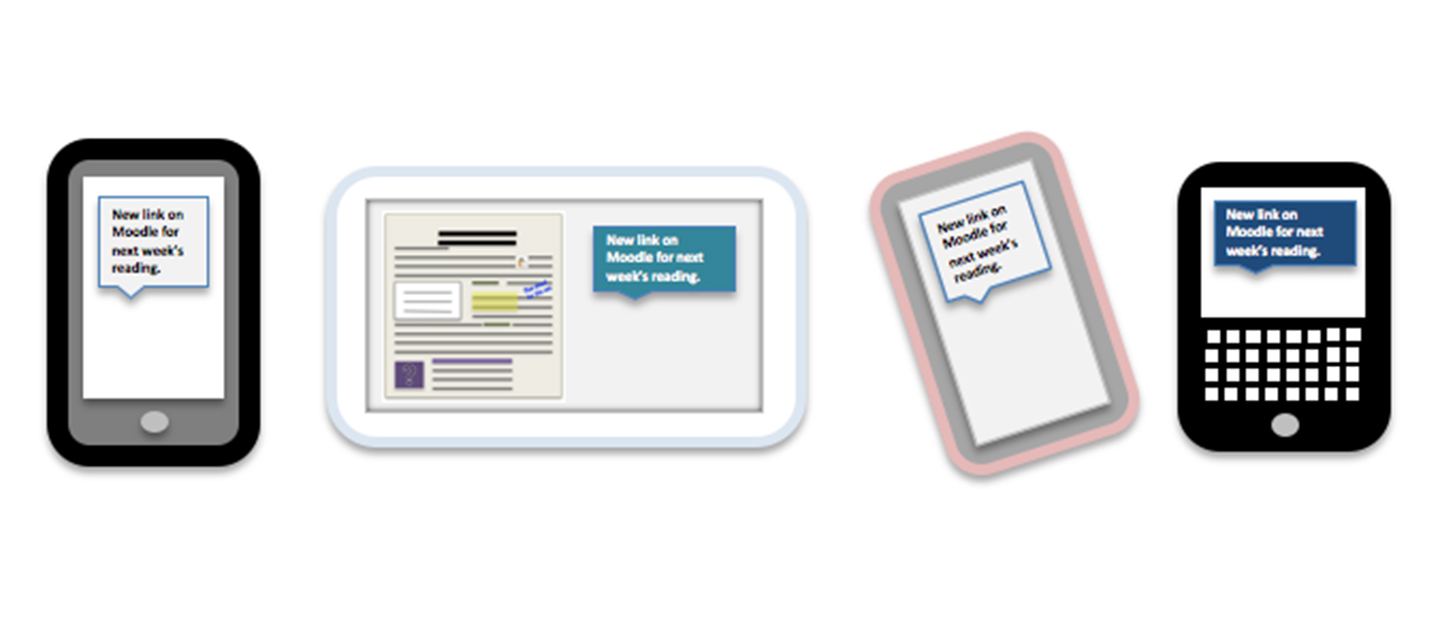 Communicate with Class Texts
You ask students to check their OU e-mail for course announcements, but are they doing so consistently? Your students are probably not checking their e-mail as often as you would like. The Wall Street Journal reports that young people in their teens and early twenties use e-mail primarily for formal communication – it's for "communicating with old people" (Mims, 2016). An effective supplemental way to reach students is by sending out class texts – course announcements sent as text messages. Short course announcements can be sent in their entirety. Long announcements can either be summarized, or you can just send the header for your e-mail message as a text and ask students to check their e-mail for the full message. An important caveat with class texts is that signing up for them must be optional, whereas asking students to check their OU e-mail for messages can be required.
Convert Students' Cell Phone Numbers into E-mail Addresses
Course announcements can be sent from your OU e-mail account as text messages by way of an SMS gateway – an e-mail address with the recipient's cell phone number and carrier in it. The recipient's cell phone number is followed by the carrier's gateway (e.g. 2483215432@txt.att.net). To create a class text mailing list, you will need to obtain each participating student's cell phone number and carrier, and then you will need to create a mailing list with that information. The main carriers and their gateways are provided in the next section. To find the gateways for other carriers, Google "list of SMS to e-mail gateways."
Use a Moodle Survey to Obtain Students' Cell Phone Numbers and Carriers
The most convenient way to obtain the mailing list information you need is through a Moodle survey. You can use the Survey tool in Moodle to create a "sign up for class texts" survey that collects participating students' information. After the survey has closed, you will need to download the information to create your mailing list (survey example on next page).
Create Your Class Texts Mailing List
You can download students' survey responses from Moodle as an Excel file. Once you have done that, delete all of the information except student names, cell phone numbers, and carrier gateways. Copy this information into a table in Word and add < > around the phone numbers and gateways. After you have your mailing list, you can copy and paste it into the BCC cell of e-mail messages you want to send out as texts.
Reminders about Class Texts
The most important detail to remember is to send all class texts as BCC messages so that students' cell phone numbers are not revealed. Address the message to yourself as the main recipient and copy and paste your class mailing list into the BCC cell.

Tell students that they can unsubscribe at any time by sending you a message with the word unsubscribe. Those who withdraw from your course will definitely need to do this!

Remind students that if your text message is cut off, they will need to check their OU e-mail for the full message.

Let students know that you will begin using class texts after the add/drop period is over. This will enable you to avoid having to update your mailing list when enrollments are still in flux.
Want to avoid collecting contact info? Use the Moodle Mobile App
Once students download the free app, the instructor can send a Moodle Message through the app, which will pop up as a notification on the smart devices where the app is downloaded.
Reference 
Mims, Christopher. "For Generation Z, Email Has Become a Rite of Passage." The Wall Street Journal 11 Apr. 2016. Web. 20 Jan. 2017
Save and adapt a Google Doc version of this teaching tip.
About the Author
Written by Helena Riha, Special Lecturer of Linguistics and past winner of the Excellence in Teaching Award at Oakland University.
Edited and designed by Christina Moore. Published March 27, 2017. Others may share and adapt under Creative Commons License CC BY-NC. 
View all CETL Weekly Teaching Tips. Follow these and more on Facebook, Twitter, and LinkedIn.